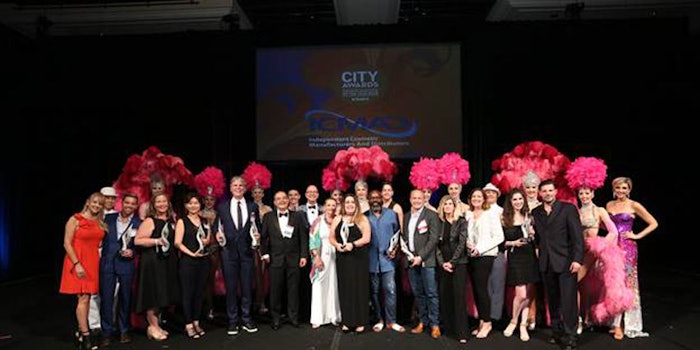 The Independent Cosmetic Manufacturers and Distributors Association (ICMAD) has announced the winners of its annual Cosmetic Innovator of the Year (CITY) Awards. 
The CITY Awards, which honor industry contributors, product innovation and advertising/marketing concepts, were announced during the CITY Awards dinner and gala celebration on July 30 in Las Vegas, in conjunction with Cosmoprof North America. 
The 2018 CITY Award Winners
Product Innovation
Face/Nails: AMAZINGCOSMETICS – Illuminate Primer Highlighter
Facial Skincare Product: COOLA Suncare – Full Spectrum 360° Sun Silk Drops SPF 30
Bath & Body: Visha Skincare – Face 2 Feet
Haircare: OUAI – Anti-Frizz Sheets
Accessories & Tools: FOREO – UFO (Ur Future Obsession)
Organic: Biomod – Nature Source Dry Mask
Luxury Items: House of Sillage – Limited Edition Lipstick
Marketing/Advertising
Campaign of The Year: Atlantic Coast Brands – I Want My Hair Back
Industry Contributor
Charitable Company: Arbonne Charitable Foundation
Entrepreneur: Sundial Brands
Best All Around Indie Brand: Skinfix Inc.
Best All Around Brand: COOLA Suncare
Green Brand: One Love Organics
Pamela Busiek, president and CEO, ICMAD, said, "Since the inception of ICMAD's CITY Awards in 1995, we have been recognizing and celebrating the creativity and ingenuity of our industry's professionals and their breakthrough innovations. ICMAD's 2018 CITY Awards dinner was a wonderful celebration of the collective success of the companies in our industry. I congratulate the finalists and the companies honored with a CITY Award."