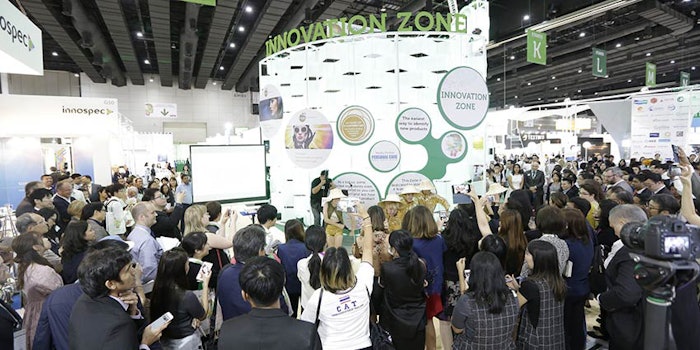 in-cosmetics Asia has announced the launch of a new series of R&D tours before the event.
The 1.5-hour tours will offer R&D professionals an opportunity to discover the latest ingredients and technologies in a quick, informative manner. They are:
Biotechnology Actives—Focused on next-generation ingredients developed using molecularly-identical, natural ingredients that can add active properties to skin care and cosmetic formulations.
Leadership in Microbiomics—An opportunity to learn about harnessing the body's natural, skin-friendly bacteria to create ingredients for healthier, more radiant skin.
Natural Ingredients—This tour will highlight a range of new paraben-free ingredients, as well as those created without synthetic ingredients and fragrances or nanoparticles.
Three R&D Tours will take place each day at 10:30 am–12:00 pm, 1:30 pm–3:00 pm and 3:30 pm–5:00 pm.
"The R&D Tours are designed to ensure that formulators don't miss any exhibitors showcasing ingredients essential to their future NPD," said Sarah Gibson, exhibition director, in-cosmetics Asia. "By grouping the tours according to these three core industry trends, we're delving into some of the most exciting new ingredient launches, helping visitors find the most innovative technology and maximizing their time at, and investment in attending, the show."
in-cosmetics Asia will be held Oct. 30–Nov. 1, 2018, in Bangkok.
Related: What's New at in-cosmetics Asia 2017