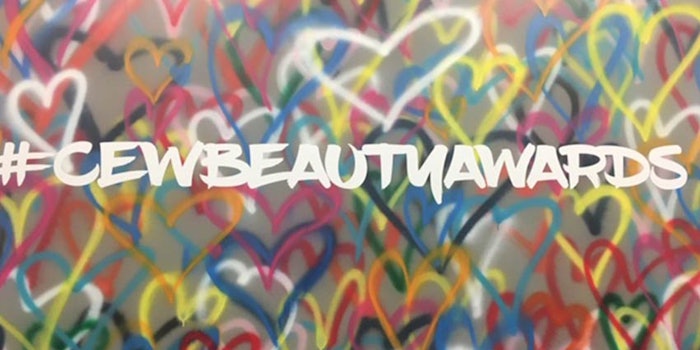 The 2019 CEW UK Beauty Awards hosted its product demonstration evening February 19, 2019, at London's Olympia Central.
CEW members who attended the event had an opportunity to speak with brand experts and test products. The following day, they were able to begin voting for their favorites.
Awards will be announced and presented during the Beauty Awards Lunch ceremony, to be held April 26, 2019, in London.
Related: [slideshow] 15 Top Innovation Trends from CEW's London and New York Product Demos
This year, the awards will debut six new categories—Best Skin Prep, Best Skintellectual, Best Targeted Skincare, Best Mask, Best Vegan Beauty and Best Beauty Supplement—each of which has attracted around 20 entrants.
"The CEW Beauty Awards celebrate authority and innovation in beauty. The awards' significance and importance to the industry have grown enormously. Since its launch in 2006 in the UK, it has grown from just 30 to 300 entries in 31 categories reflecting consumer demand," CEW UK president Caroline Neville, MBE, told us.
She continued: "Initially devised to highlight innovation in the industry, today they have become a major business driver for brands who get to win the coveted winners' seal. They are also a major launch pad for new start up brands and a showcase for established brands. Our theme this year is Accessibility – perfectly demonstrated by our Sponsors Amazon and Sainsbury's beauty initiatives. Part of CEW's mission is to promote the beauty industry and the annual CEW Beauty Awards are the foundation for achieving that goal."
The full list of categories includes:
MASS CATEGORIES
O            BEST NEW BODY PRODUCT – MASS
O            BEST NEW HAIR PRODUCT – MASS
O            BEST NEW SKIN PREP – MASS
O            BEST NEW SKINTELLECTUAL – MASS
O            BEST NEW TARGETED SKINCARE – MASS
O            BEST NEW MASK – MASS
O            BEST NEW FACE MAKEUP – MASS
O            BEST NEW EYE MAKEUP – MASS
O            BEST NEW LIP MAKEUP – MASS
O            BEST BEAUTY ICON – MASS
O            BEST NEW BRAND – MASS
PRESTIGE CATEGORIES
O            BEST NEW BODY PRODUCT – PRESTIGE
O            BEST NEW HAIR PRODUCT – PRESTIGE
O            BEST NEW SKIN PREP – PRESTIGE
O            BEST NEW SKINTELLECTUAL – PRESTIGE
O            BEST NEW TARGETED SKINCARE – PRESTIGE
O            BEST NEW MASK – PRESTIGE
O            BEST NEW FACE MAKEUP – PRESTIGE
O            BEST NEW EYE MAKEUP – PRESTIGE
O            BEST NEW LIP MAKEUP – PRESTIGE
O            BEST NEW FRAGRANCE – PRESTIGE
O            BEST BEAUTY ICON – PRESTIGE
O            BEST NEW BRAND – PRESTIGE
MASS & PRESTIGE CATEGORIES
O            BEST NEW SUN CARE OR SELF TAN – MASS & PRESTIGE
O            BEST NEW HAND OR FOOT PRODUCT – MASS & PRESTIGE
O            BEST NEW BEAUTY TOOL OR ACCESSORY – MASS & PRESTIGE
O            BEST NEW WELLBEING PRODUCT – MASS & PRESTIGE
O            BEST NEW VEGAN BEAUTY PRODUCT – MASS & PRESTIGE
O            BEST NEW BEAUTY SUPPLEMENT – MASS & PRESTIGE
O            BEST BRITISH BRAND – MASS & PRESTIGE