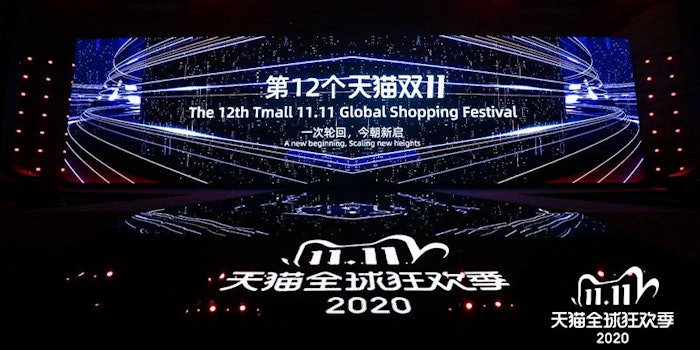 Alibaba Group Holding Limited has announced its 11.11 Global Shopping Festival's innovations and features to meet rapidly changing consumer trends. The event, popularly known as Singles' Day, broke its record in 2019 by approximately $7.5 billion, with more than $38.4 billion in sales, a 26% increase in gross merchandise volume. Top brands included Estée Lauder and L'Oréal, showing beauty has a major opportunity in 2020.
Related: Alibaba Group and Dufry Form JV for Chinese Investments
Previously: How Chinese Beauty is Adjusting to COVID-19
The festival has extended its reach by allowing merchants to double the promotions to consumers by adding a new sales window from November 1-3, 2020, which precedes the main event on November 11, 2020.
This year, the festival will have more than two million new products introduced, double the amount of last year. The goal is providing merchants, specifically new brands and small businesses, the opportunity to showcase its products and tell its brand stories amid the pandemic.
Tmall will also feature 14 million value-for-money products from more than 250,000 brands as well as Taobao Deals' "RMB1 Sales" campaign which will enable consumers to purchase goods at huge discounts with free shipping.
To meet Chinese consumers' increasing demand for international products, Tmall Global will bring more than 2,600 new overseas brands to Chinese consumers for the first time. Alibaba's cross-border e-commerce platform Kaola will also join the festival for the first time, featuring products from 89 countries and regions.
The event will have the largest international presence since it was founded in 2009. Shopping festivals such as 11.11 have also become one of the key industry growth drivers as local small-and-medium businesses participate in this biggest event alongside LazMall, the region's largest online mall with more than 18,000 local and international brands.
This year Lazada will continue its "shoppertainment" features ranging from live-streaming to new consumer games and innovations such as voice search to find items.
The festival will also include Alipay's digital lifestyle platform, which brings together nearly two million local service providers offering special promotions in more than 100 cities. Offline small-merchants and micro-merchants across China will be able to participate in the excitement of 11.11 by connecting with consumers through Alipay's digital lifestyle platform.
In addition, the event will also feature live-streaming with 400 company executives and 300 celebrities who have signed up to hold individual live-streaming sessions. 
Jiang Fan, president of Taobao and Tmall said, "Innovation lies at the heart of the 11.11 Global Shopping Festival, and we are more committed than ever to empower businesses to capture opportunities and growth through new ideas and initiatives in this year full of challenges. The pandemic has fundamentally changed consumer shopping preferences and accelerated digital transformation of many businesses. Through our expansion from 'single' to 'double,' 11.11 will be offering more opportunities for merchants both online and offline to engage with consumers as well as provide a better consumer experience overall."