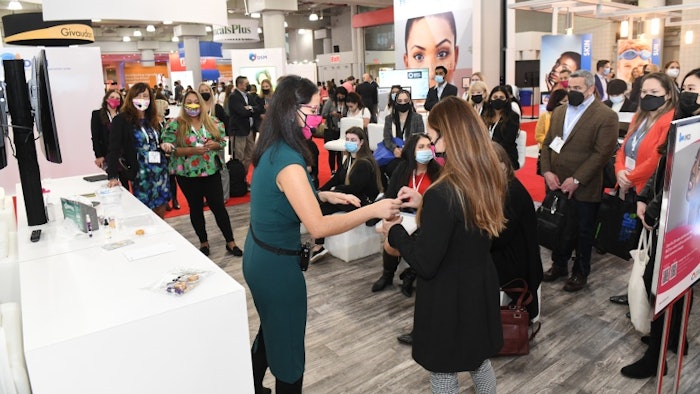 The New York Society of Cosmetic Chemists held its Suppliers' Day celebration on November 10 and 11, 2021, with more than 6,800 registrants and 380 exhibitors at the Jacob K. Javits Convention Center. There were participants from 30 countries, indicating a strong international presence for the event.
Related: Photos: NYSCC Supplier's Day 2021
NYSCC Suppliers' Day saw the debut of the Indie360 program, an educational and sourcing experience providing indie brands with insight, information and resources needed to succeed. It featured a half-day conference that included lively panel discussions with leading founders and an Indie Pavilion that spotlighted newer to market companies who are utilizing unique ingredients and formulations.
Suppliers' Day also featured standing-room-only Presentation Theater sessions that focused on green beauty, sustainability and certification and the global beauty marketplace.
The Future Chemists Workshop hosted students from Rutgers, Fairleigh Dickinson University, Long Island University, University of Miami Health Systems, Montclair State University, Fashion Institute of Technology and The University of Toledo. The participants competed in mini-challenges to create the best formulation.
The Digital Age of Beauty returned with presentations on trends, predictive analytics, modeling and a look at the digital buying process. Other programs at the event included Fragrance: The Invisible Art, Clean and Natural Beauty Panel, Back to Powerful Beauty with Peclers Paris, Regulatory & Compliance, presented by IBA and Conscious Inclusion, presented by Shakira M. Brown. 
Marie Thadal, business development executive-Americas at Coptis Inc., says, "NYSCC Suppliers' Day delivered on its promise of producing a high-quality face-to-face event for the industry despite the many obstacles and travel restrictions still in place because of the global pandemic.  Our engagement with attendees and leads from the event exceeded our expectations.   We were able to have meaningful and non-rushed conversations with our customers and new prospects. The event and awards night ceremony provided a safe environment for us to get back to business and network.  We are really looking forward to Suppliers' Day in May of 2022."
The NYSCC Education & Awards Night event took place on Wednesday, November 10th at HK Hall. Granpowder BBP-700 from Grant Industries won the CEW Beauty Creator's Award and will be recognized again at the full CEW Beauty Creator Awards Virtual Program on December 1, 2021.  
NYSCC also hosted a People's Choice Award where attendees cast their vote for the most innovative brand in both ingredients, delivery and branding/packaging in the Indie360 Pavilion. The inaugural People's Choice Award winner was Skin Moderne.
Richard Purvis, CEO of Skin Moderne, says, "Skin Moderne is dedicated to fostering a culture of innovation for skin wellness. We continuously probe, search, experiment, and craft new ways to improve our ingredients, technologies, and skin care products."
NYSCC will continue hosting engagement events over the coming month with Suppliers' Day Virtual Month of Beauty.
The 2022 NYSCC Suppliers' Day will return to its traditional timeframe of May 3-4, 2021 at the Jacob K. Javits Convention Center. 
Giorgio Dell'Acqua, chair-elect, NYSCC, says, "The show floor for Suppliers' Day 2022 will be as large as our expanded area in 2019. NYSCC will also strengthen its industry and media partnerships and continue to work closely with its members and the SCC to create the best global ingredients event for the industry, by the industry. Next year, the latest in cosmetic science and sustainability will be core focuses of the chapter."