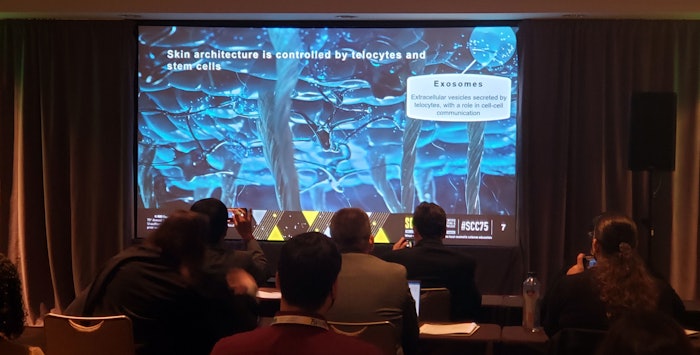 "Skin Care at the Forefront" thematically led discussions on Day 1 of the SCC Annual Scientific Meeting and Showcase, held Dec. 13-15, 2021, in New York. This session included talks ranging from phenotyping to support AI and machine learning, and 3D inflammation modeling, to stress and skin architecture, olfaction in skin's chronic stress response and more.
3D Microbial Inflammatory Skin Model
Sébastien Cadau, of BASF Beauty Care Solutions, presented a 3D model to study atopic dermatitis (AD), whose causes involve complex interactions between genetic factors and the environment. For example, AD has been associated with disordered inflammatory type 2 immune reaction, impaired epidermal barrier integrity and a microbial dysbiosis dominated by 
Staphylococcus aureus
(Sa), according to the event preview. While in vitro models reproducing some features of AD have been developed, none reproduce all pathophysiologies. This was the focus of the presented work.
Here, the authors developed a model reproducing the three main AD features: skin barrier disruption, inflammation and microbial dysbiosis. Reconstructed 3D Human Epidermis (RHE) was treated with an inflammatory cocktail (5 ng/mL) of IL-4, IL-13, IL-31 and TNF-alpha for 7 to 14 days. RHE was then exposed at day 13 to an AD clinical isolate of Sa for 24 hr and epidermal alterations were analyzed with a particular focus on keratinocyte differentiation markers, lamellar body trafficking and filaggrin processing.
Treated RHE exhibited alterations also observed in AD: spongiosis, dysregulated expression of differentiation markers (loricrin, filaggrin), caspase 14 decrease and strong IL-8 release. These effects worsened with the addition of Sa; indeed, Sa adhered and then grew better in the presence of the inflammatory cocktail. A plant extract pre-selected for its ability to limit virulence factors and biofilm formation was then tested on this model and shown to reduce AD characteristics.
Skin Phenotyping to Support Machine Learning and AI
Leslie Baumann, M.D., of Skin Type Solutions, explained how the lack of standardization and hierarchical classification systems for skin types, care products and regimens hinders the ability to collect high quality datasets for deep learning processes and accurate AI. "With AI, it's garbage in, garbage out; and we all want to sell products," she said. In relation, she presented work over the last 17 years carried out with the help of more than 100 dermatologists to develop and test a skin care routine recommendation engine based on a skin typing taxonomy. According to Baumann, the system is independent of brands and based on questionnaires administered by more than 250 medical providers.
The results narrowed skin types into 16 major categories with subsets therein. These were derived from skin typing data on 100,000+ patients, the finalization of 40,000+ skin care routine structures, and definitions of the skin care product requirements for "slots" in skin care routine steps. The standardized taxonomy and structure created allowed for the generalizability of collected skin type and skin care recommendation data. Such an infrastructure Baumann believes is necessary for accurate machine learning and deep learning used in AI. From this information, skin type solutions can be recommended based on specific ingredients, effectively "giving products rules to sell through the skin system," she explained.
During the Q&A session, she dispelled a common misconception that Black skin produces more sebum than White; according to Baumann, this was not found to be the case. One attendee also asked whether formulas would be created based on the system. "Yes, absolutely," said Baumann, adding, "We should track physiological properties." In addition, attendees were amused to learn that in some cases, during clinical testing, panelists who had supposedly tested products had not. "We put a chip in the bottle that showed they had not even opened it," she said, demonstrating that although the right product might recommended, there could still be the human challenge of compliance. 
See related: Roger McMullen, Ph.D., Honored at SCC 75th Annual Conference
Olfactory Receptors in Skin and Stress Response
Joan Attia, Ph.D., of IFF-Lucas Meyer Cosmetics, discussed the role of olfactory receptors (ORs) in skin's response to chronic stress. In aromatherapy, essential oils and odorants are well-known for relaxing and anti-stress effects in humans. As such, these researches sought to address the question of the potential involvement of skin ORs in handling chronic skin stress.
I think this will start a new trend—olfaction in skin."
In cultured human primary keratinocytes, the presence of randomly selected olfactory receptors (ORs) using RT-qPCR was investigated; interestingly, the mRNA expression of three ORs (OR10A6, OR11H4 and OR2AG2) never previously described in skin was identified. Their presence was confirmed by immunofluorescence microscopy analysis on NHEK and human skin explants. The three ORs also were localized at different epidermal layers of the skin.
A screening of 18 compounds then identified phenylethyl alcohol (PEA) to be an agonist of these three ORs. This molecule is prevalent in rose flower; as such, a rose extract ~56% PEA was tested in further studies. The rose extract was found to activate these receptors, and in turn, the activation of OR2AG2 was found to act on response mechanisms against skin stress both ex vivo and in vivo. The authors concluded these results reinforced the hypothesis that ORs could detect odor information in the skin and brain to engage physiological functions in response to stress. In addition, the rose extract could be used for cosmetic applications to fight stress-induced skin fatigue and to boost natural skin defenses against external and internal daily stressors.
During the Q&A session, moderator Akshay Talati observed, "I think this will start a new trend—olfaction in skin."
See related: Analyzing the Advances in Natural, Cleaner and Milder Formulations at SCC
Skin Architecture on a Cellular Level
Finally, Cristina Carreno, Ph.D., of Lipotec S.A.U. (The Lubrizol Corp.), took a deeper look at the human tendency to subconsciously detect beauty based on symmetry and an ideal harmony of facial features—known as the Phi or "golden ratio." Carreno showed how as we age, our facial proportions deviate from this ratio. In addition, epidermal kinetics and cell compartmentalization strongly support a role for the golden ratio in epidermal organization. So hypothetically, restoring skin proportions and bringing them closer to the golden ratio would help to rejuvenate older skin.
In relation, according to the event preview, telocytes (TCs) are a relatively new (2012) cell type identified in the skin. They maintain proper architecture and can participate in the regulation of stem cells, contributing to reparative and regenerative mechanisms and the maintenance of tissue homeostasis and organization. However, psychological stress has a negative impact in the skin, and cortisol is the primary stress hormone producing an array of effects that lead to premature skin aging.
This presentation showed the impact of increased cortisol levels on TCs and proliferating epidermal cells, and how they could affect the right architecture of the skin and Phi beauty proportions. In response, these negative effects could be minimized, in vitro and in vivo, with an extract of Bacillus ferment.
"Congratulations on this work thinking outside of the box," said Randall Wickett, Ph.D., during the Q&A session.