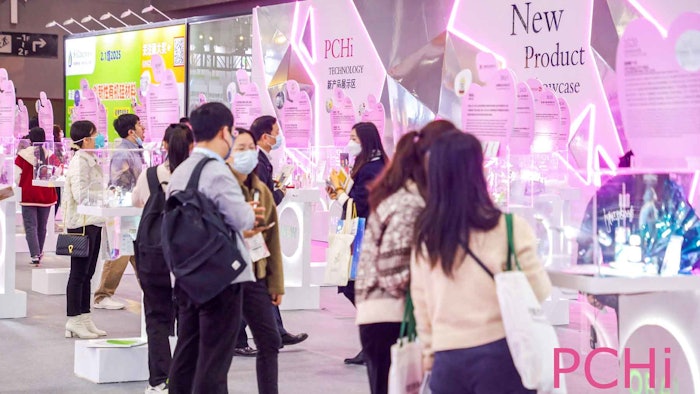 Products launched at the Personal Care and Household Ingredients (PCHi) exhibition, held Feb. 15-17, 2023, were displayed by participating companies in the New Product Showcase. The 57 entries ranged from a bio-derived hair fixative polymer, and water-soluble wax for increased moisture retention, to a natural extract to promote hair growth, and everything in between.
Sit back, relax and enjoy the following round-up. Information is provided per the companies; INCIs are listed where provided.
1. SiCare 2496F3 (INCI: Quaternium-80 (and) Butylene Glycol (and) Water (Aqua)): a macromolecular cationic polymer conditioner, aqueous solution, that can form clear water solutions; excellent conditioning to improve dry and wet hair combing to make hair softer and smoother, to improve glossiness and touching; applied in high-profile shampoo, hair care and related products, especially in clear amino acid shampoo to enhance softness and smooth touch; from: Hunan Silok Silicone Co., Ltd.
2. Natural spirit oil: Guaiazulene, the exclusive blue medicine derived from camanulene, promotes skin healing, relieves the skin and restores skin sensitivity. Bakuchiol, an ingredient from Psoralea corylifolia L., competes with retinol and has natural anti-aging, antioxidation, anti-acne and other effects. The combination of these two natural essential oils can nourish the skin with oil, and smooth and nourish the muscle bottom; from Guangzhou Xufan Trade Co., Ltd.
3. Skin Trit-Serum: EUK134 is an ultra long standby antioxidant, which can be used for anti-aging repair and post-sun repair. Ceramide Team is a multi-repeat combination of ceramides EOP, NP and AP. It can repair and moisturize from the barrier to the bottom of the muscle, for all-round nourishing repair. ALBIO-rHSA is an active carrier of high purity, which has the effect of anti-aging, anti-wrinkling and hydrating. This combination of three technologies achieves all-around skin beauty; from: Guangzhou Xufan Trade Co., Ltd.
4. BeriCos EUK 134: EUK-134, a small molecule antioxidant and anti-aging active substance, has excellent antioxidant properties. It has the dual effects of superoxide dismutase SOD and catalase CAT, which can inhibit the activity of matrix metalloproteinases, protect DNA and repair DNA damage, and effectively improve cell damage caused by oxidative stress; from Beri Pharma Co., Ltd.
5. BeriCos Azelamide MEA: As a azelaic acid derivative, Azelamide MEA is water-soluble and has better biological activity and efficacy than azelaic acid, so it is often used to replace azelaic acid in cosmetics. As a new, safe and non-irritating additive for whitening, acne and oil control, it has a good effect in brightening light spots, bactericidal acne and oil control; from Beri Pharma Co., Ltd.
6. Hyalacto-EGT: Hyalacto-EGT is an original composite raw material. Using the world's leading mitochondrial targeting research methods, with a scientific formulating ratio, it can perfectly synergize the mitochondrial oxidation protection function of ergothioneine and realize skin anti-aging in the true sense; from Shandong Baifu Freda Pharmaceutical Co., Ltd.
7. AM-03: AM-03 a is a natural, safe and effective whitening antioxidant substance, which is jointly developed by the Joint Laboratory of Tibetan Plateau Research Institute, Southwest University for Nationalities. AM-03 is composed of Astragali radix, Radix paeoniae alba, Scutellariae radix and Bletilla striata by the process of fabricating, extracting and separating effective substances through ancient methods, and finally combining. All the herbs are harvested from the pollution-free artificial planting base; from Shanghai Reshy Industrial Co. Ltd.
8. Kerascalp: Kerascalp stimulates and energizes the scalp for healthier, stronger hair, with a 55% reduction in white hair ratio, 29% increase in shine and 56% in hair thickness; from Provital, S.A./ rovital Trading (Shanghai) Co., Ltd. 
9. Sculpup: Sculpup is a patented active that can increase the bust by one cup size and the buttock perimeter by 3 cm in 84 days. It uses the proadipogenic activity of blackberry and, as a smart ingredient, boosts volume without fibrosis; from Provital, S.A./ rovital Trading (Shanghai) Co., Ltd. 
10. Polyglyceryl-10 Myristate: An ultra micro, low toxic, non irritating, hydrophilic, fat-liquoring emulsifier (HLB: 14); good dispersing agent and softener that can soften and moisturize the skin; stabilizer and accelerant of foam; in amino acid washing and care products, it can neutralize the rough and dry feeling brought by other high concentration amino acids; from Silver-UN Technology Co., Ltd.
11. Universal bacteriostatic agent: Good general antibacterial compatibility, green and safe; from Silver-UN Technology Co., Ltd.
12. Soya SPL 75H: This product can repair sensitive skin and moisturize skin deeply, keeping skin healthy. It also has an anti-aging effect; from Suzhou Nanohealth Biotech Co., Ltd.
13. N-acetylneuraminic acid (Sialic acid): At the same concentration, the ability to promote the formation of type I collagen was seven times that of bose; IC50 is slightly better than 377 in the human arginase model(hTyr); at low concentration, the anti-inflammatory effect is equal to 0.01% dexamethasone (commonly used anti-inflammatory drug); 98% pure concentration; microbial fermentation, carbon neutralization; from Wuhan CASOV Green Biotech Co.,Ltd.
14. Carrier products with penetration promotion and skin benefits: HydroSA carrier products with penetration promotion, moisturizing and repair properties; BrightenSA carrier products with penetration promotion to brighten skin tone; RenewSA carrier products with penetration promotion for anti-aging; ceramide moisturize and repair carrier products with penetration promotion for moisturizing and repair; and astaxanthin brightening-skin carrier products with penetration promotion to brighten skin tone; from Wuhan CASOV Green Biotech Co., Ltd.
15. Biomenta BF: Bifidobacterium adolescentis is isolated independently by JAKA for exclusive construction of UVAP7TM cells, which can simulate both intrinsic aging and photoaging; patented pending; from Shanghai JAKA Biotech Co., Ltd. 
16. EneSoothe-MIX-Manuka: EneSoothe-MIX-Manuka is native to New Zealand, Australia, and the local Maori call it Maluka. It has a very good effect on skin redness, swelling, itching, pain, inflammation, barrier damage and other problems caused by skin sensitivity or irritation; it is especially for relieving redness and swelling; from Guangzhou Eneplus Biotech Co. Ltd.
17. Ascorbyl Tetraisopalmitate: Excellent transdermal absorption; inhibits intracellular tyrosinase activity and melanin production; reduces UV-induced cell/DNAdamage; prevents lipid peroxidation and skin aging; good solubility in common cosmetic oils; SOD-like activity; collagen synthesis and collagen protection; stable to heat and oxidation; from Beijing THTD Pharmaceutical Technology Co., Ltd.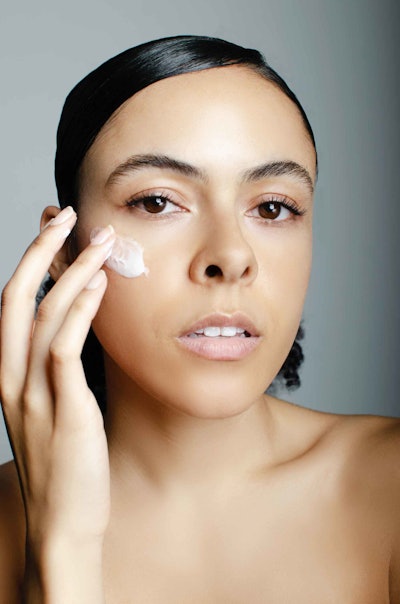 18. Hydroxypinacolone Retinoate: Antioxidant, improves fine lines and wrinkles, promotes collagen production; cures acne, improve roughness and reduces skin peeling; lightens skin pigmentation and reduces age spots; controls oil and inhibits sebum secretion; compared with retinol, it has higher stability and lower stimulation; no metabolic conversion required; from Beijing THTD Pharmaceutical Technology Co., Ltd.
19. Bentone Hydroclay 2100: Bentone Hydroclay 2100 is a COSMOS-approved natural mineral rheology modifier. It can provide excellent suspension and dispersion performance for UV filters, pigments, etc., while not increasing the system viscosity by much. It enables low-viscosity systems easily cope with the challenges of high and low temperature stability. The 100% natural hectorite has a light and non-sticky skin feel, leaving the skin a non-oily appearance; from Elementis
20. Bentone Gel TN V: Bentone Gel TN V is a non-animal origin, organically modified hectorite in C12-15 alkyl benzoate. It is an alternative to traditional polymer or cellulose-based thickeners. Bentone Gel TN V provides thermostable viscosity control of the emulsion's oil phase, has very good compatibility with UV filters, especially organic UV filters. It can also raise the wash-off resistance of sunscreen products, and help to boost SPF performance; from Elementis
21. ReVitAlide: Encapsulated retinol by Sederma, ReVitAlide provides enhanced stability of retinol, easing its formulation. It also improves retinol bioavailability into the skin reinforcing its efficacy; from Croda China Trading Co.,Ltd.
22. Zanthocare: Zanthocare  is a multifunctional ingredient providing proven balancing, protecting and soothing effects. It is a perfect ingredient for body care, due to its effects on various factors: reduction of bad body odour, protection against early ageing of the skin, reduction of inflammatory reactions, while respecting the skin microbiome. Zanthocare™ is ideal for an inclusive beauty care; from Croda China Trading Co.,Ltd.
23. LEKE LeFeeling: LEKE LeFeeling is top quality hydroxypropyl tetrahydropyrantriol; as colorless as pure and purified drinking water; best isomer ratio; anti-aging efficacy with proven data; from Guangzhou Zeal T&D Co., Ltd.
24. LEKE HPR: A next-generation retinoid, this hydroxypinacolone retinoate is of a high quality, without tretinoin and isotretinoin; from Guangzhou Zeal T&D Co., Ltd.
25. PrincipHyal Cube3: Roelmi HPC has developed a full spectrum technology: the next-gen of hyaluronans focused on a specific efficacy much like a fingerprint, working in synergy with our biochemical mechanisms as they naturally happen in skin. It is ideal to improve skin aspects (immediate lifting, smoothed, healthier, quick moisturization, re- structured barrier effect) and able to improve the permeation of actives (both hydrophilic and lipophilic molecules); from Roelmi
26. Equibiotics LRH: This probiotic-derived ingredient obtained from L. rhamnosus LRH020 is able to adopt cross-talk mechanisms with the skin ecosystem, favoring the skin's natural defenses and a balanced skin microbiota, counteracting the damage caused by aggressive multifactorial agents. It also demonstrates a particular efficacy in helping to strengthen the natural skin defenses, in preventing pathogen colonization and in providing metabolic support to the physiological skin microbiota; from Roelmi
27. HTcare_Hand Root: This ingredient contains a unique hand root polysaccharide that can repair the inflammation and DNA damage caused by ultraviolet (UVA and UVB), fight off the redness and barrier damage caused by stimulation on the skin, give high moisturizing effects, impart anti-inflammation effects and a superior soft and rich sensory to the skin; from Shanghai Hope-Tec Biotechnology Inc.
28. OLP-6300 Cellpolypid UV Attenuation Titanium Dioxide: This ingredient has been developed using Cellpolypid in a powder modification. The "steric hindrance effect" of Cellpolypid makes the powder easy to disperse, which can bring better sunscreen ability, a transparent makeup effect and formula stability; its "molecular nail effect" can bring better skin feel and anti-migration ability; from Shanghai Oli Enterprises Co., Ltd
29. OLI-2181AP Aqua Glabridin: This high purity glabridin is an aqueous solution modified by Cellpolypid. It can achieve excellent whitening effects by "three enzymes and one hormone" multi-targeting the inhibition of melanin production, transport and proliferation of melanocytes. After being surface-modified, it can improve glabridin's solubility, stability, transdermal penetration and bioavailability; from Shanghai Oli Enterprises Co., Ltd
30. Total solution for sun protection: This one-stop service offers special certificates for sun protection; project proposal formula development; special certificate applications; supply chain integration; a full set of sunscreen in vitro testing; professional regulation team; five years' experience in applying for sunscreen special certificates; and global supply chain resources; products include children's, sports, sensitive-skin and whitening sunscreens; from Guangzhou CD Lunion Biotechnology Co., Ltd./Shanghai CD Lunion Chemistry Co., Ltd.
31. S3D Jawline Reshaper featuring Gravityl: S3D Jawline Reshaper is a 4-in-1 firming cream empowered by three potent cosmetic ingredients known for their well-ageing efficacy. S3D Jawline Reshaper is capable of boosting skin elasticity, regenerating cells, reorganizing collagen and providing antioxidant benefits. This memory contour cream is formulated with a new active ingredient crafted by marine biotechnology and coming from a red macro-algae: Gravityl; from Givaudan Active Beauty
32. S3D Step Up featuring Neoporyl and CristalHyal e-Perfection: S3D Step Up highlights the benefits of two active ingredients, Cristalhyal e-Perfection and Neoporyl. This non-tinted skin perfector will improve skin quality and texture day after day while improving skin complexion and minimizing pores with repeated use. Above all, S3D Step Up is genderless and contains no silicones. By incorporating it in a quick, efficient routine, you will match the skinimalism and clean look trends; from Givaudan Active Beauty
33. SymSave 5E: SymSave 5E has both product protection and support for a healthy skin microbiome, and is very suitable for use in products for infants and children. It can be added to the formula at room temperature; from Symrise China Holding Co., Ltd.
34. SymBright Plus: SymBright Plus provides a perfect skin-lightening effect. It can effectively target the biological mechanism of uneven skin tone, protect the skin from oxidative stress caused by UV rays, and at the same time significantly resolve pigmentation problems, improve skin tone and texture, and reduce the appearance of dark spots; from Symrise China Holding Co., Ltd.
35. Pepha-Tight CB: Pepha-Tight CB can provide the "fast lane" to superior skin tightening. It combines short-term and long-term efficacy at the same time which can meet the dual needs of consumers for "quick effect" and "high efficiency." The product is the unique combination for efficacy and sustainability: a special growth by photobioreactors, for maximum quality and sustainability; from DSM Vitamins (Shanghai) Ltd.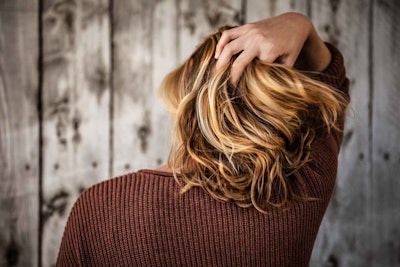 36. Hyanutra-RH Hair Nourishing Shield: Hyanutra-RH is a new moisturizing conditioner for damaged hair. It is a combination of HA and brown rice ferment filtrate with different molecular weight. Through the construction of a three-dimensional water-locking repair system, the active substance can effectively penetrate into the hair core to play the role of water-locking so that the hair will be moist, smooth and strong from the root; from Bloomage Biotechnology Corp., Ltd.
37. Snowvelvet: A new multi-functional fabric for mask sheets (patent applied); besides the characteristics of being light, thin and transparent, it has improved moisturizing and air permeability effects for adding xylitol, Centella (cica) and Tremella; available for product concepts for moisturizing, repairing and relieving skin, with high quality and value; from S&F Science
38. Crystalgel: This unique combination of hydrogel and nonwoven fabrics is medical grade can absorb heavy metal and maintain liquid 30 times its weight. It perfectly adapts to skin, feels like jelly and is applicable for urgent moisturizing and repairing product concepts; from S&F Science
39. EffeMIX - Cynthia: This liposome composition accurately compounded by high-purity molecules such as VEN, aiming at different types of dark circles and comprehensively improving the state around the eyes; from Shanghai Coachchem Technology Co., Ltd.
40. Anallerg - Pure-origin: Coachchem is committed to the research and development and production of retinol and its derivatives, breaking the monopoly of international giants and achieving mass production in high-purity (> 99%). Its pure retinol crystal products offer high quality, tonnage capacity and batch stability. At the same time, the production of wrapped 10% micron lotion is realized (a more convenient for application); from Shanghai Coachchem Technology Co., Ltd.
41. Munapsys: This ingredient was awarded first prize at the 2019 BSB Awards for Most Innovative Raw Material in the cosmetic actives category. It also obtained the Best Active Ingredient Bronze award at the in-cosmetics North America in 2018. Munapsys is a botulinum toxin-like peptide obtained by in silico design in collaboration with experts in neuroscience. It is the first cosmetic ingredient able to act both in the pre- and post- synaptic pathways of muscle contraction and targets a key protein for the SNARE complex; from Lipotrue
42. Natpure Xco Choco CC864 - 100% natural extract obtained from by-product of the chocolate industry: Natpure Xco Choco CC864 is a 100% natural derived water soluble extract with a stable, nice brown color based on upcycled cocoa husk. It is globally, COSMOS and halal-compliant. It can be used for easy incorporation into skin care, makeup, hair care and personal care. It does not contain preservatives, imparts a natural brown color to formulations and can be used as a substitute to caramel dye. Containing a high amount of polyphenols, it gives antioxidant effects and protects the skin; from Sensient Technologies Corp. (China) Ltd.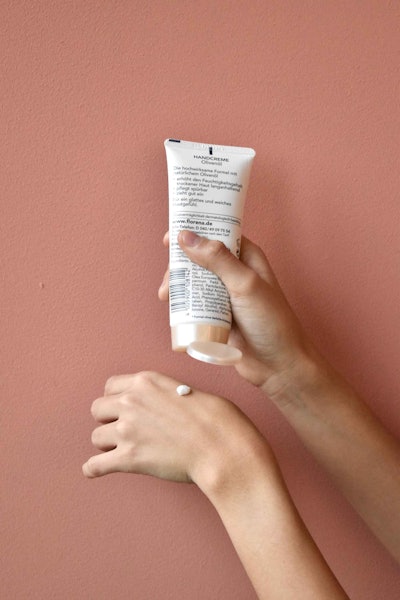 43. Preparation Series:  i) AC-EUK-134 Sanio 0.5%, a water-soluble niosome, contains an enzyme-like small molecule antioxidant EUK-134. It is easily absorbed and self-regenerates. ii) AC-Ceramide NP Sanio, a water-soluble liposome, contains natural skin lipid Ceramide NP. It can enhance the skin barrier, improve skin tolerance and reduce skin sensitivity. iii) AC-HPR-W2 SACOS, a water-soluble HPR, is developed by using co-solvency technology. It can improve rough skin, brighten skin tone and reduce the appearance of wrinkles; from SOHO ANECO Chemicals Co., Ltd.
44. VC Freeze-dried Powder: VC Freeze-dried Powder is a whitening composition of natural origin. The main ingredient is the original vitamin C, compounded with powerful antioxidants such as ergothioneine, glucosylrutin, etc., for the stability of vitamin C by multi-channel protection. The composition can be hermetically stored for one year and kept open for three months in the finished product. To a certain extent, this solution solves the biggest problem in the application of vitamin C; from SOHO ANECO Chemicals Co., Ltd.
45. AMIN SGNa (Sodium Stearoyl Glutamate): AMIN SGNa, sodium stearoyl glutamate, is a mild amino acid anionic surfactant with strong emulsifying ability. It is suitable for use as emulsifier and can achieve good emulsifying performance with low dosage. Its pH value is close to that of skin and it is mild to the skin and hair. It demonstrates very low irritability and is readily biodegradable. At the same time, the product is EO-free, has high safety and is suitable for natural formulas. It can be widely used in creams, lotions, shampoos, body wash and facial wash; from Guangzhou Tinci Materials Technology Co., Ltd.
46. Napure C-FA (Sodium Methyl Cocoyl Taurate): Napure C-FA is a liquid product that has excellent foaming ability, producing rich, fine and dense foam. It can bring a soft and moist feeling when applied in cosmetics. Napure C-FA is easily biodegradable, safe to use, and is in line with the clean beauty trend as a mild amino acid surfactant. It has excellent synergistic effects when combined with other anionic surfactants. It is widely used in high-end facial cleansers, shampoos and bath products; from Guangzhou Tinci Materials Technology Co., Ltd.
47. BotaniButter; from Cargill NV
48. Conoxin peptide: Conoxin peptide acts on the postsynaptic membrane of the nerve by blocking the neuromuscular electrical conduction, so as to instantly lighten wrinkles and achieve the effect of instant wrinkle removal in 5 min. The patented product holds third-party human efficacy certification; from VangBrand
49. Mussel Adhesive Protein (MAP): This non-hormonal natural repair anti-inflammatory substance has anti-inflammatory effects stronger than dexamethasone. Five years of clinical testing in a third class hospital show its effect is clear, with no dependence or adverse reactions. Complete data is available, from cell test to human clinical trials. It is supported by more than 300 Chinese and English papers, and more than 10 domestic and international invention patents; from Jiangyin USUN Biochemical Technology Co., Ltd.
50. Nikkol Lecinol MFL: Asian consumers consider visible pores as an 'early aging' sign but rather than resorting to over-cleansing, it can be tackled by improving the skin barrier. Nikkol Lecinol MFL lysophosphatidic-rich phospholipid- works by: i) addressing parakeratosis by modulating epidermal differentiation and triggering pro-filaggrin and ceramide production; ii) stimulating the expression of tight junction proteins critical to skin barrier formation; and iii) reducing visible pore areas with parakeratotic skin condition; from Nikkol Group
51. Moracare Oxy: Moracare Oxy is an excellent brightening ingredient. Oxyresveratrol is the main active substance and is obtained from Morus alba root bark extract using bioconversion tech. Four phenolic hydroxyl of the Oxyresveratrol endows the product with high performance. Moracare Oxy can effectively inhibit tyrosinase and the formation of skin pigmentation. Its China invention patent is authorized; from Ingredi Biotech Co., Ltd.
52. Ingredi Ferment YOLO: Ingredi Ferment YOLO is an age-defying ingredient. The molecular weight of Polygonatum kingianum polysaccharides is decreased (MW < 1,000 Da) through fermentation of its extract. The antioxidant effects increase after fermentation. The product can inhibit ROS, MMP-1 and the degradation of collagen-I and elastin significantly. Its China invention patent is authorized; from Ingredi Biotech Co., Ltd.
53. Oil-dispersed Silicone Elastomer Gel BT-9502:  Comprised of 100% naturally sourced plant-based ingredients;  hydrating and synergistic lifting effect; superior velvety skin feel; high-end skin feel enhancer for personal care products; from Guangzhou Batai New Material Technology Co., Ltd.
54. New Type Sunscreen Composite Powder BT- 9118:  Sunscreen powder produced using a patented technology to help companies become a "unicorn" in the market; offers a technical key to high sun protection and a soft, powdery feel; adds a moderate degree of resistance to light aging; offers good skin adhesion and flattering, breathable, soft-focus; from Guangzhou Batai New Material Technology Co., Ltd.
55. SpecBio SL: SpecBio SL is a green biosurfactant, belonging to glycolipids, and bio-sourced. Its INCI name is: Candida Bombicola/Glucose/Methyl Rapesete Ferment (and) Water (Aqua). SpecBio SL has good surface activity; unique antibacterial properties including excellent bacteriostatic activity against Staphylococcus aureus and Propionibacterium acnes; and good safety. It is green, environmentally friendly, 100% biodegradable and has a low carbon footprint; from Spec-Chem Industry Inc.
56. Rheasome CeraBoost: Rheasome CeraBoost is a biotechnologically and naturally derived delivery system. It can deliver sphingolipids/ceramides through the skin barrier into the deeper viable epidermis; enhance the skin's own lipid pool and promote ceramide production and diversity regeneration by refilling skin barrier lipids and reorganizing into the lipid lamellae; and improve skin moisturization for a well-aged skin; from Evonik Specialty Chemicals (Shanghai) Co., Ltd.
57. Varisoft EQ 90: This ester quat provides efficient conditioning properties for hair and skin. It is a viscous liquid, solvent-free and 100% active matter. Varisoft EQ 90 is a sustainable product produced predominantly based on renewable sources. It is readily biodegradable, chemical hydrolysis, with lower aquatic toxicity.