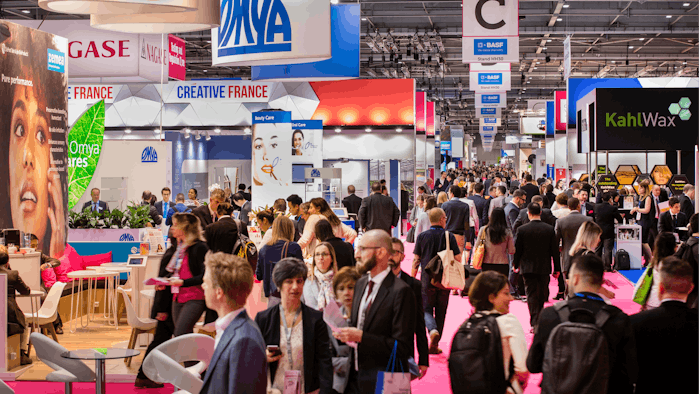 The Global Sustainability Corner is returning to the in-cosmetics Global 2022 event from April 5 to April 7, 2022. The program will discuss the latest advancements in sustainable raw materials and business structures. The event also features a technical seminar on ingredient production and exhibits on testing and regulation.
Related: Givaudan x Victoria's Secret Take the Stage at WPC 2022
Speakers at the Global Sustainability Corner include DSM, Lubrizol Life Science, Givaudan Active Beauty, Clariant and Cargill BioIndustrial. The exhibits focus on circularity and what it means for brand owners and R&D professionals. The circular beauty challenge is an emerging trend for beauty and cosmetic brands, as the industry looks at production methods and ingredients life cycles to reduce its impact on the environment.
The show will also include new brand innovations. Alessandra Adduci, product manager at Roelmi HPC, will be presenting four new products: its Olifeel high-technology ingredients derived from non-edible olive fractions, Cytofruit Waters BIO99 life-enriched waters deriving from inner plant phytonutrients, Celus-BI Feel biodegradable alternative to microplastics and BeauSens lightweight emollient ester, oil-in-water emulsifiers and mild surfactants.
The Technical Seminars will focus on hyperpigmentation, clean beauty solutions and the impact of natural actives on contemporary stress. Speaking on the technical side of ingredient production will be Lubrizol Life Science, Seppic, Evonik Operations GmbH and Lucas Meyer Cosmetics. Representatives from The Garden of Natural Solution, Lanxess Distribution GmbH, Active Concepts, Clariant and bitop AG will speak on the latest multifunctional ingredients responding to growing consumer trends for simplified skincare.
Roziani Zulkifli, exhibition director of in-cosmetics Global, said, "This year's education program is second to none—with the Sustainability Corner and a multitude of Technical Seminars on offer, we are extremely excited to showcase and deliver a program packed full of personalized expertise which covers every corner of the beauty and personal care industry. There is certainly something on offer for everyone at the show this year in Paris."
Zulkifli continued, "What's more, attendees can catch up on missed sessions online during our Virtual event and gain access to an exclusive program of Marketing Trends sessions. This hybrid approach to networking and education will help extend the excitement experienced on-site over the three days. We look forward to welcoming our exhibitors, attendees and speakers both in-person and online this coming April."
in-cosmetics Global takes place at the Paris Expo Porte de Versailles in Paris from April 5 to April 7, 2022. More information on the event is available here.