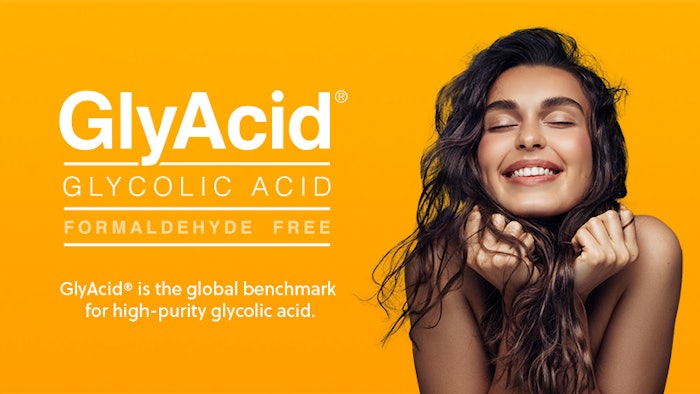 There is a reason why established and emerging brands in anti-aging and wellness seek out Coast Southwest's high-purity GlyAcid® for their formulations: GlyAcid® is the next generation, formaldehyde-free glycolic acid specifically developed for personal care applications from head to toe.
For brands that prioritize today's tenets of clean beauty, high-purity GlyAcid® is the ideal ingredient for a wide range of personal care applications, from scalp and hair care to skin care. Combining GlyAcid® with innovative, anti-aging active ingredients advances personal care and wellness formulations into new territory.
Typically, active ingredients are not stable when combined with acids. But, two contemporary ingredients from Buenos Aires, Argentina-based Novachem have proven to remain stable in lower pH formulations without impacting the aesthetics of formulas. Both ingredients are derived from the maqui berry, a native plant of the breathtakingly beautiful Andean region of Patagonia.
When creative chemists combine Lumiglow™ and CapilAcid™ with high-purity GlyAcid®, the landscape of formulating possibilities for more efficacious anti-aging products expands in exciting directions. 
The effectiveness of these ingredients has been validated with analytical and clinical studies. Both are Ecocert- and Cosmos-approved.
Lumiglow™ For Face
About Lumiglow™: This natural active ingredient, rich in delphinidins and ellagic acid, is obtained from the antioxidant-rich fruit of the maqui tree. For centuries, healers in the Mapuche indigenous community have used maqui fruit for its reputed restorative powers. Maqui trees are unique to Andean Patagonia and play a special role in the ecosystem as the first plant to grow after a natural disaster.
How Lumiglow™ Works: The delphinidins neutralize ROS (free radicals) and decrease the expression of tyrosinase, which leads to a decrease in melanin production. The ellagic acid chelates copper, thereby decreasing ROS and protecting against oxidative stress.
In Combination with GlyAcid®: Lumiglow™ is pH-stable from low pH up to 6.5, so it is ideal to combine with GlyAcid® for a high-performing, skin-brightening application that increases cell turnover and promotes barrier function.
Benefits: The ingredient has been shown to reduce hyperpigmentation, increase luminosity, even out skin tone, decrease redness, and provide high levels of antioxidant activity.
CapilAcid™ For Hair
About CapilAcid™: This natural active, likewise based on the maqui plant, is rich in anthocyanins.
How CapilAcid™ Works: Designed to protect the lipids of the outermost layer of the hair fiber (F-layer), CapilAcid™ works to maintain hydrophobicity, low porosity, and hydration.
In Combination with GlyAcid®: CapilAcid™ is pH-stable from low pH up to 6.5, so it is ideal to combine with GlyAcid® to help strengthen and protect the hair's bonds.
Benefits: CapilAcid™ serves as a capillary lipid protector, strengthening and protecting the hair fiber and epicuticle. It prevents lipid peroxidation and keratin oxidation of hair fiber and maintains the natural lubricants of the hair. While helping balance the capillary static charge in acid treatments, CapilAcid™ prevents capillary porosity and improves silkiness, while providing great antioxidant capacity.
High-purity and versatility make GlyAcid® a natural fit for anti-aging and wellness brands seeking product differentiation. In addition to anti-aging formulations, GlyAcid® is applicable in hair care, skin care, scalp care, body care, and nail care.
Offered in a 70 percent solution and as a 99 percent crystalline, GlyAcid® is produced using a proprietary acid saponification and purification process that does not use formaldehyde. Through this process, GlyAcid® delivers the benchmark for high-purity glycolic acid used in personal care lines worldwide. With GlyAcid®, chemists satisfy consumer demand for clean beauty products that produce effective, long-lasting results.
To learn more about GlyAcid® and Coast Southwest's comprehensive portfolio of anti-aging ingredients, please contact us at info@coastsouthwest.com.

Disclaimer:
The above paid-for content was produced by and posted on behalf of the Sponsor. Content provided is generated solely by the Sponsor or its affiliates, and it is the Sponsor's responsi­bility for the accuracy, completeness and validity of all information included. Global Cosmetic Industry takes steps to ensure that you will not confuse sponsored content with content produced by Global Cosmetic Industry and governed by its editorial policy.