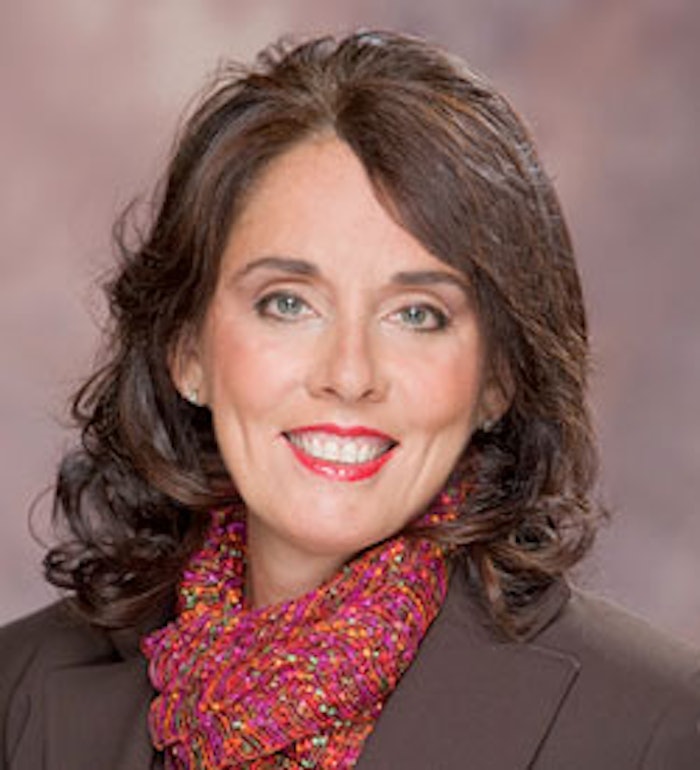 Adrienne Kramer, President, Mirabella, www.mirabellabeauty.com
It's not every day a chemical engineer has the opportunity to lead a beauty brand. Although, when executives from Mirabella Beauty Cosmetics were interviewing presidential candidates, they knew Adrienne Kramer—with her diverse experience in R&D, as well as in marketing, operations and sales, spanning the naturals and salon industries—would fit the role perfectly. Kramer's job is to grow business by expanding distribution through new spa and salon partnerships to reach not only beauty professionals, but their clients, as well.
While Kramer says the Mirabella brand, which was developed in 2001 by makeup artists, is used widely by salon professionals on themselves, she hopes to equalize that success at the retail level for their customers. "Many years ago, the salon industry abdicated its role in creating the overall beauty effect of a client when they virtually eliminated carrying cosmetics," Kramer says. "When a woman has her hair color done, the salon is the most appropriate—and convenient—place for her to pick up a new lipstick for her new hair color or review her foundation with the change in season. Mirabella wants to return the industry to those days to make sure women have the opportunity to look and feel their best when walking out of the salon."
Kramer's first initiative is to broaden the range of shades Mirabella's cosmetics offer to women of all colors, as well as the education its artists receive about those products. "We are building a strong education initiative to be the leading partner of cosmetology schools to help educate our future professionals," says Kramer. "Mirabella offers eight different classes from basics to business building with cosmetics. One of our most requested classes is Cosmetics for Photography, and we expect that to continue to grow."
With Kramer's experience in the naturals market, developing the launch and distribution strategies for companies such as Ecco Bella, she realized the importance of implementing education about not only product usage but also sustainability in business practices. So, under her guidance, Mirabella has been removing talc and parabens from its makeup and integrating strategies for using post-consumer recycled materials and reducing waste in packaging.
In addition, Pure Mirabella, the brand's natural mineral makeup line, has outsold its other products eight-to-one, according to Kramer, and her long-term plan to embrace emerging technologies and packaging innovations for future product launches will only further the success of the line. "Mineral makeup is here to stay, both domestically and globally," she says. "For the salon industry, this has been a rally cry for years, and it will be a strong focus of Mirabella."
Growing business for natural and salon brands is a skill Kramer knows well. In previous positions, she successfully increased the profitability of businesses on the decline, and she boosted distribution for leading hair care brands such as Clairol, Revlon and Wella. Similarly, her plan for Mirabella is to improve supply chain management, to acquire complementary companies in parallel markets, and to partner with customers in a more meaningful way by offering salons hardware and testers at no charge to maximize their profitability.
But most of all, Kramer hopes to reconnect the appeal of buying color cosmetics at the spa or salon with the mass consumer. "In times of economic challenges like we are facing right now, women turn to things that offer immediate gratification," Kramer says. "No one item meets that need more than a new lipstick. Every woman can throw a new lipstick in her bag and feel good about herself. Fulfilling that need is a role we plan to help salons meet on a daily basis."