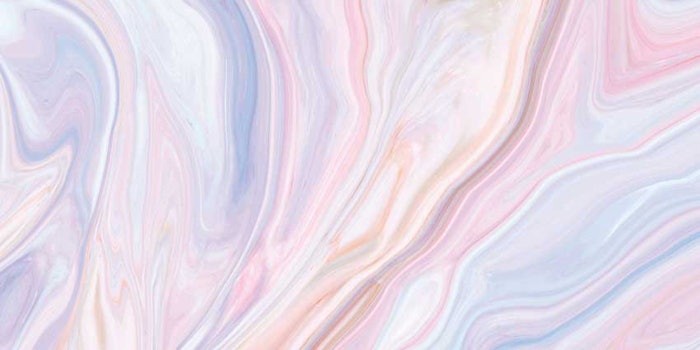 Beyond clean beauty, this year's ingredient trade shows—including in-cosmetics Paris and the NYSCC Suppliers' Day—have focused on the theme of ethical sourcing, the value proposition of sustainability and, as always, amazing effects. Here's a roundup of some of the ingredient innovations, industry insights and concept products presented at these events.
Jojoba Desert: On-trend Naturals
As always, Jojoba Desert arrived at in-cosmetics Global with its trademark range of sustainable jojoba-derived ingredients, paired with concept formulations that displayed the wide range of the ingredients' capabilities in finished products.
A rich serum comprised the company's Jojoba Golden Oil to stabilize a mix of natural essential oils such as rose hip and lavender; a moisturizing lip balm included vegan Jojoba Butter; and a revitalizing eye cream included the oil-in-water Jojoba aqua cream base to impart a smooth, easily absorbed texture that can accommodate up to 20% oil, wax, silicon, water extracts, active ingredients and more. Jojoba Desert's technologies can also extend and stabilize CBD, offering a key performance booster for a booming category.
Rethinking Fragrance for the Clean Beauty Age
Sozio, a fragrance house that has existed since the late 18th century, recently presented a range of fragrances built around the constraints of various standards. A range of scents appropriate for COSMOS Natural-certified cosmetics reduced the available palette of natural raw materials that could be used by 80%, determined in part by how they were obtained and the implications for waste recycling. The results included Cocooning Dream, comprising orange rose, coconut and vanilla, as well as Blooming Softness, comprising bergamot, petitgrain, freesia and ylang.
The COSMOS Organic-compliant scents drew from a palette that had been reduced by 97%, resulting in Forest Barks, comprising bergamot, sage, cardamom, patchouli and vetiver, and Golden Amber, comprising bergamot, geranium, patchouli, tonka bean and amber.
The ISO 16128-compliant natural fragrances resulted in Hygge Mood, featuring mint, petitgrain, tea, orange blossom and guaiac wood, as well as Warm Feelings, featuring geranium, patchouli, amber, birch wood and white musk.
The Ecolabel-compliant scents were composed under specific allowable ingredient thresholds, as well as an allowance for certain synthetics, which grant greater creative flexibility. The resulting scents included Spring Water, featuring mint, lilac, aqueous notes and vanilla, as well as Tropical Evasion, comprising pomegranate, acai berry, jasmine, rose and sweet notes.
Finally, Sozio presented aromatherapy-inspired formulations that comprised natural materials with specific benefits. The scents included Purifying Walk, containing tea tree essential oil (anti-inflammatory and antibacterial), pine, eucalyptus, lavender (antiseptic properties) and tonka bean, as well as Morning Detox, featuring grapefruit essential oil (stimulating, draining), lemon, green notes and peach.
Sozio's accompanying literature noted that the creative and price barometers for these various specifications were often inverse of one another. For instance, COSMOS Organic-compliant scents are likely to be the most expensive, while offering the least creative flexibility, similar to ISO 16128-compliant natural fragrances that offer high price and low flexibility.
On the opposite end, Ecolabel-compliant scents are among the least expensive, while offering moderate creative freedom. Interestingly, COSMOS Natural is relatively moderate in price, while offering high flexibility. Aromatherapy, which features no set standards, was the most creatively freeing of the categories.
Eco-ethical Extracts
Natural Sourcing recently launched its Praan Naturals wholesale brand, which focuses on eco-ethical sourcing. The brand's name is derived from a Sanskrit word meaning "vital life," which highlights the company's commitment to responsible natural ingredient innovations.
"We've been increasing our focus on upstream sustainability and ethical business practices," said Anáil Mitra, CEO of Natural Sourcing. "I strongly believe that it's not enough to be ethical ourselves, but that we are responsible for creating integrity throughout the life cycle of our ingredients."
Praan Naturals offers more than 500 certified organic and conventional natural ingredients for cosmetic, spa, massage and aromatherapy applications, including berry seed oils, Amazonian oils, vegetable butters, exotic fruit, vegetable and nut oils, CO2 extracts, clays and exfoliants.
Praan Naturals' range of CO2 extracts include Cinnamon Bark Burmannii Total, which is produced in Germany using the bark harvested from Indonesian Cinnamomum burmannii. The resulting material reportedly has a characteristic spicy cinnamon aroma that is somewhat fresher and sweeter than distilled oils. It is also more affordable than CO2 extracts produced from Cinnamomum zeylanicum.
The company also produces a Frankincense Select CO2 Extract from the resin of Somalian Boswellia carterii trees, producing a resinous, sweet, rich and slightly deeper profile compared to essential oils. The CO2 extraction's low-heat process boosts the material's shelf life, according to Praan.
A Hops Total CO2 Extract produced from the cones of Humulus lupus, or hops, produced a partially bitter, herbal aroma, while the Organic Amaranth Seed Total CO2 Extract from organic Peruvian amaranth seeds produced a material rich in linoleic acid, as well as monounsaturated fatty acids, squalene, plant sterols and tocopherols that are helpful for maintaining healthy skin, supporting skin elasticity, soothing problem skin, minimizing the appearance of wrinkles and supporting those with maturing skin.
Natural, Sustainable Multifunctional Protection
Symrise has introduced a green version of glyceryl caprylate, SymLite G8, a multifunctional technology that acts as a co-emulsifier, moisturizer and product protection enhancer, ideal for pared-down minimalist formulas. In particular, the material allows brands to reduce or replace conventional preservatives. SymLite G8 is derived from Mass Balance RSPO palm kernel, Ecocert- and COSMOS-approved, and halal. The readily biodegradable material can be applied to surfactant systems, color cosmetics, aquatic solutions and more.
Where is Clean Beauty Going?
During a private reception hosted by Aprinnova, Amyris CEO John Melo spoke about clean beauty trends in the industry, including the downsizing of the ingredient panel and the continued greenwashing of some products. He noted that fermentation is an enabler of improvements in the clean beauty space because it's both sustainable and relatively accessible as a technology. Melo noted that Givaudan's (an Amyris partner) biotech-derived BisaboLife, which contains (-)-a-bisabolol, is an ideal example of these principles in action.
Amyris and the Nikkol group have partnered to scale up Aprinnova, a biotech group that has generated Neosance Squalane, a sustainable material that requires no animal inputs—most notably sharks. The material's growing popularity in the wake of high-performance cruelty-free beauty will lead to 70% to 80% growth for the company this year.
This is in part due to European brands integrating the material into products, reversing a massive downward trend in animal-derived squalane. According to Aprinnova, Neosance Squalane is now formulated into 3,000-plus brands, including Chinese brand Native Beauty, whose debut product sold out within the first six hours.
Preservation in the Clean Beauty Age
Preservatives, critical to product shelf life and consumer safety, have faced criticism, particularly in the online beauty conversation. Sharon Laboratories, an expert in preservation of beauty products, has developed a number of technologies that provide protection and efficacy while helping to satisfy shopper worries—whatever their validity.
For instance, the patent-pending, broad-spectrum, non-pH-dependent SharoSense Plus offered a "bridge between synthetic and natural" that delivered enhanced hydro-solubility for leave-on, rinse-off, baby care and wet wipe formulations at levels of about 0.5%.
The Sharomix Amplify line, meanwhile, offered broad-spectrum activity at a notably low use level—about 0.5% in leave-on, rinse-off and wet wipe formulations. The range is free of parabens, isothiazolinones and formaldehyde, and has phenoxyethanol-free options.
Finally, the Sharon Biomix line of natural preservatives for green and natural formulations comprises organic citrus extracts produced in partnership with the Biosecur company. The water-soluble, heat-stable technology is reportedly ideal for leave-on and rinse-off products, can be used at a level of less than 1% and is suitable for a wide pH range.
Marine Cellular Waters
Water is a vital and increasingly scarce environmental resource, a key challenge for personal care. Seppic/WeSource has launched its Hydralixir range, which can be used in place of freshwater in formulations in order to curb water usage while adding additional benefits to the finished product.
The cellular plant-based waters are by-products of the evaporation of seaweed in existing industrial production, which saves energy and resources. The seaweed itself is sustainably harvested from Brittany, France, where it grows in seawater (as opposed to freshwater). The line includes:
Hydralixir CC (INCI: water (aqua) (and) Chondrus crispus extract (and) Gigartina stellata extract)—Based on red algae, this fresh water ingredient's raw materials face an exposed habitat, inspiring their adaptation strategies in order to retain seawater.
Hydralixir LD (INCI: water (aqua) (and) Laminaria digitata extract)—The brown algae that this ingredient is based on is naturally filled with seawater, which can be extracted to benefit cosmetic products.
Sustainable Texture
Seppic has launched Sepifine BB (INCI: amylopectin), a sustainably and ethically sourced texturizing agent validated by Origens Brasil, which sustains biodiversity while engaging in economic sharing. The product is derived from the mesocarp of the babassu nut, producing a readily biodegradable fine white texturizing powder for application in powders, gel creams (to boost whiteness, spreadability, playtime, softness and other factors) and emulsions (minimizing the stickiness in sun care). The material's oil absorption performance may make the technology appropriate for long-term sebum control, according to Seppic.
Biodegradable Dimethicone Alternative
Seppic has introduced Emogreen C69, a biodegradable sensory alternative to dimethicone oil. The material is produced from traceable palm oil and produces a soft and extra-comfortable powdery veil, according to the company. In formulations, it boosts whiteness and spreading, while offering low stickiness. Its afterfeel produces a richness, dryness, softness and filmogenic effect.
How to Build a Successful Clean Beauty Product
Lonza recently presented research into the aspirational consumer who is looking to make smarter, healthier and eco-ethical choices but finds it difficult to know which decision is the best one. The supplier noted the strong growth in the last few years among organic, bio-based and free-from formulations. It also acknowledged that instituting consistent positive choices is easier said than done because ethical choices aren't always fun for the consumer, while shoppers find it difficult to understand what's truly better for the planet and their own health.
The solution the research offered was to design eco-ethical options to have strong sensory impacts to maximize the attractiveness of responsible choices, enhance the naturalness and sustainability of the back label and to create clear on-pack communication for maximum transparency, and to ensure that efficacy and performance aren't lost in the product development process to ensure that responsible options become the easy, obvious choice.
The company recently introduced a trio of bioactives, including H2OBioEV, a bioactive functional for skin rejuvenation, which "moisturizes by replenishing essential humectants, which provide an optimal environment for epidermal proteins to form and maintain a strong barrier, thus restoring a smooth and radiant appearance," according to Vanessa Arruda, PhD, Lonza's global market development manager; Xpress EV, a skin care ingredient designed for areas where consumers seek firmer, fitter skin—primarily the face and neck, but also the hands; and ScreenLight Block (INCI: Physalis alkekengi calyx extract (and) caprylic­/capric triglyceride (and) beta-carotene), which seeks to protect skin from the effects of blue light and environmental stressors by preventing increases in melanin production resulting from exposure to visible light and pollution.
Speed-to-Market for New Ingredients
Faster beauty innovation has focused on finished products, but now Symrise has acquired Italian biotech firm Cutech to apply similar principles to active ingredients. Cutech's bio-analytical methods for predictive ex vivo models provide pre-clinical screening services that can accelerate the efficacy testing of cosmetic ingredients, shortening the time between ideation—whether within the Symrise organization or external innovation partners—and market deployment. The technology can also be applied to finished formulations for more rapid efficacy testing.
Optimizing Sun Care Digitally
In addition to its rambutan-based ingredients, which were profiled in the April 2019 issue of this magazine, BASF presented its EcoSun Pass technology at in-cosmetics Global in Paris. The platform allows brands to calculate the environmental impact of the UV filter systems they are using or planning to use by assessing against eight parameters, including biodegradation, aquatic toxicity and endocrine disruption. The tool supplements the company's Sunscreen Simulator, an online lab for developing sun care formulations that can be altered for different performance parameters. The system allows for dynamic calculations and side-by-side comparisons among multiple UV filter compositions. The goal is to optimize formulas quickly to support speed to market.
Solving Text Neck Wrinkles
Givaudan Active Beauty has launched Agefinity, a cosmetic active which is designed to address issues associated with heavy usage of smartphones, which can create wrinkle-inducing stress in the neck area.
Agefinity is a mannose-6-phosphate complex that utilizes a vegetal source and green chemistry to replenish the energy of cells and reshape skin cells. Anti-aging benefits include reducing age spots, crow's feet and wrinkles, and increasing neck firmness.
To showcase the ingredient, Givaudan created an anti-aging serum, S3D Mystic, which also comprised rose of Jericho extract and diamond powder.
Instagram-ready Effects
Sandream Impact has introduced its prestige SilikMira silica-based color travel technologies, which create mesmerizing effects in makeup applications such as liquid eye shadows and lip products in part due to their flop, which is generated with fine particle sizes of 10-60 micromerters that provide comprehensive coverage and smooth laydown. The pigments deliver high chroma and a silky texture and comprise silica, synthetic fluorphlogopite, titanium dioxide, iron oxides and, in some shades, ferric ferrocyanide. The range includes no chromium and offers effects such as color shifts from yellow to green to blue, blue to violet to red and red to orange to green.
The company also presented six shades of its Fiesta line—Baby Blue, Frosty Lavender, Hydrangea Blue, Lemon Yellow, Mint Green and Sky Blue—which comprises synthetic fluophlogopite (synthetic mica) with particle sizes of 20-80 micrometers and TES coating to enhance coverage, wear and hydrophobicity. The effect enhances pastel shades and is globally compliant.
Instant Blurring & Metallic Effects
Merck presented a number of technologies, including the RonaFlair Flawless, which offers a powdering and rolling texture on the skin and a soft focus effect. The matte-powder is peach-colored and can be blended into skin-toned formulations. The RonaFlair LDP White fills in wrinkles and diffuses light. The white material has no color impact on the final product. In addition, the powdery, dry formulation offers a velvety impact on skin.
Meanwhile, the Ronastar Iconic Copper featured a mirrorlike shimmer and multi-dimentional sparkle and metallic effect without the presence of metal. Similarly, Ronastar Quantum Gold offers a shimmer and glimmer that boosts luster and sheen while delivering a non-metal metallic effect.
Ethical Mica
Synthetic mica alternatives have proliferated as the industry and global consumers grapple with the ethics of mica mining in places like India. One company, Paradigm Science, recently presented natural PSI Mica that is ethically mined. The material has an iridescent pearl-like luster ideal for mineral makeup, according to the company. The mica can enhance other colors in formulations such as eyeshadow, lip glosses, nail polishes, contour kits and blush. Granule sizes range from 10 micrometers to 150 micrometers.
Formulating Toward Trends
Innospec presented an array of concept formulations built around leading trends, including food-inspired products (Sugar Cane Foaming Scrub, Sea Salt 2-in-1 Scalp Treatment Shampoo), water scarcity (Small but Mighty Shampoo Butter, Powder-to-Foam Facial Cleanser), mild care (Gently Bubbles It Mild Shampoo, Velvet Oil Body Wash) and multi-step rituals (Balm-to-Oil Facial Cleanser, 2-in-1 Clay Mask & Cleanse).
Reshaping Innovation for a Changing Beauty Industry
Ingredients matter; they must prove their worth to today's brands and consumers, while addressing key market needs such as:
emotional wellbeing and wellness (including microbiome-friendly technologies), sustainability (ex: microplastics replacement, biotechnology, natural solutions)
lifestyle needs (ex: versatile, selfie-ready, anti-pollution and digitally enhanced beauty)
performance and efficacy (ex: sensory and textures, microfluidics for encapsulation and delivery systems, device-enhanced beauty rituals, film formers and thickeners)
regionalism (so-called "glocal" formulations)
As such, Evonik has adjusted its activities to meet the emerging needs of consumers, as well as brand innovation. During a special presentation at in-cosmetics Global in Paris, company representatives discussed the rounding out of its portfolios in areas such as Care Solutions, which pairs the personal and household care businesses with its oleochemistry platform. Representatives also discussed Evonik's move to expand into color cosmetics, as well as its investment in skin diagnostic startup MySkin, which has produced a handheld device, Oku, that measures various skin qualities and generates product recommendations from the data. The stake is part of Evonik's larger digitization strategy.
To facilitate brand innovation, Evonik has launched IntoBeauty (intobeauty.evonik.com), an online tool that delivers ingredient information and documentation and concept formulas on a centralized platform. Product developers can view videos and leverage tools such as the Sensory Kaleidoscope and Ceramide Knowledge Center.
Evonik has also launched its Caretain Toolbox on the same platform, which offers data on 40 ingredient sustainability factors such as RSPO certification, biodegradability, COSMOS status, vegan status and place of origin. The instrument allows product developers to optimize products through the sustainability lens by changing ingredient variables from a collection of 300 products.
The company also presented a range of technologies, including NeoPlanta Withania, which appeared in the April 2019 issue of this magazine, as well as the Tego Pep Up biomimetic tetrapeptide, which reportedly protects skin against blue light damage from digital devices and increases the production of collagen and other fibrous proteins to create a lifting effect. The technology was designed to address the 157 times millennials check their phones each day.
Finally, Evonik presented "A Natural Formulator's Guide" collection of concept formulas such as a Natural Green Body Mask, Liquid to Powder Formulation, and Natural Face & Body Cleansing Stick.
Vegan Beauty on the Rise
Mimicking a massive movement underway in food and fashion, beauty technology is increasingly delivering vegan-friendly solutions.
1. Vegan collagen
Geltor recently debuted halal and PETA-certified HumaColl21, a, animal-free human Type 21 collagen biodesigned for cosmetics formulations. The collagen has strong biocompatibility with human skin cells, according to the company, and can improve skin collagen content, reduce wrinkles, firm and tighten the skin, improve elasticity and boost moisturization/hydration. HumaColl21 is currently a key ingredient in ACH's Ageless Real Eye Cream for the Face, a Korean anti-aging face cream manufactured by Kolmar Korea.
2. Sustainable, vegan retinol alternative
The Lubrizol Corporation recently acquired Laboratoire Phenobio, a Bordeaux, France-based specialist in subcritical water extraction (SWE) of botanical biomass that leverages energy-economic and eco-responsible technologies. Laboratoire Phenbio also possesses expertise in a technology used to extract phytoactives from botanical raw materials, commonly known as pressurized low polarity water, which extracts a broad range of phytoactives that are not normally obtained with only water.
The partnership has led to the generation of novel botanical extracts that are compliant with Ecocert and COSMOS standards. The first product coming to market from the partnership is a stevia-based, SWE-extracted vegan alternative to retinoids for skin smoothing and anti-wrinkle activity. In vitro, Stevisse was shown to improve skin's response against oxidative stress and prevent the degradation of key extracellular matrix proteins, while reducing skin inflammation.
Culturally Specific Extracts
Lipotec's Actismart botanical extracts include a range derived from "mythic trees" with strong cultural origins. The extracts are derived by the application of ultrasound and microwaves to derive biomolecules quickly without degradation or oxidation. Extracts include yuzu peel, which helps strengthen the skin barrier by boosting lipids and preventing cells from dehydrating, and mistletoe, which boosts type IV collagen and thereby speeds up the regeneration of damaged skin.
On-the-Go/Convenient Beauty
To capture specific and extraordinary aspects of personal care's future, Lipotec designed a set of skin, hair, bath and shower formulas under the name of Infinite Beauty. These concepts are said to celebrate individuality with maximal personalization, to empower consumers.
Examples include Illuminating Silky Facial Cream; Pre-workout Control Spray, which comprises more than 98% materials of natural origin; On-the-Fly Sun Care Stick SPF 30, which can also protect tattoos; Pre-Shampoo Hair Oil Serum; Family Cleansing Kit (with shower gel and boosters that offer a personalized experience with different benefits); After-party Micellar Gel; All-night Hair Mask; Everyday Skin Cleansing Beans, which deliver on the rising tide of packaging-free products; and Extra Daily Care Shampoo.
A Biofunctional, a CBD Alternative and a Dry Shampoo Innovation
Ashland's latest ingredient technologies include Rosaliss, a natural biofunctional extract derived from Rosa centifolia grown in the Provence region of France. The company's proprietary Plant Small RNA technology is designed to capture entities from the fresh petals that function in the rose's metabolism to help it resist environmental changes. These reportedly help skin to achieve flawless repair and bring a new dimension to natural and environmentally conscious extracts.
Meanwhile, Ashland's CB2-skin is a biofunctional made from patchouli that acts similarly to cannabidiol (CBD) oil for calming, soothing and well-aging properties in skin care. The product is presented as an alternative to controversial cannabis derivatives, with reportedly superior benefits for modulating the skin's CB2 cannabinoid receptor.
Finally, the company's New Advantage Revive polymer is based on a unique polyvinylpyrrolidone (PVP) chemistry, designed to leave hair feeling cleaner and looking shinier. The product imparts the appearance of freshly washed hair to give consumers next-day hair that looks as good as the first day. The polymer is designed for use in aerosol and nonaerosol dry shampoo applications.
Sustainable Innovation from the Amazon
Beraca presented a number of technologies, including ARS, a natural skin active revitalization complex that comprises açaí, passion fruit, rice and babaçu oil to deliver flavonoids, gamma-oryzanol, lauric acid and omega 6. The technology is reportedly ideal for tattoo care due to its heavy moisturizing cream, which comprises 30% oil without a greasy after-feel. The company also presented its Andiroba Repellent Active System, a moisturizing multifunctional insect repellent base featuring andiroba oil.
A Universal Skin Architect
Lipotrue's SkinArch peptide boosts levels of Mohawk, which reportedly promotes the formation of new and well-organized collagen I and collagen III fibers to produce ideal biotensegrity within the skin. Skinarch also works on the four collagen families—fibrillar collagens, connecting and anchoring collagens, network-forming collagens and collagen-like membrane proteins. Lipotrue's research claims that the technology has efficacy against the appearance of wrinkles and sagging among light-pigmented and dark-pigmented volunteers.
Retinoid Alternative, Natural Deo and Thermal Defense
Chemyunion has released three new technologies, including Revinage (INCI: Bidens pilosa extract (and) Elaeis guineensis (palm) oil (and) Gossypium herbaceum (cotton) seed oil (and) Linum usitatissimum (linseed) seed). The ingredient reportedly acts on the same receptors as retinoids but can still be used during times of sun exposure due to its high stability to oxidation and UV radiation.
Agen (INCI: canola oil (and) Malus domestica fruit extract (and) Zingiber officinale (ginger) extract) works through the regulation of miRNAs to reduce and slow down signs of skin aging, including wrinkle reduction, improved skin resistance and fostering a more uniform skin tone.
Chemyunion's ThermoShield N (INCI: water (aqua) (and) Salvia hispanica seed extract (and) trehalose (and) ethyl linoleate (and) ethyl oleate) is intended to keep hair temperature low during heat styling, preventing overheating and retaining water in the hair fiber. This ingredient serves as an alternative to silicone-based heat protectants, and reportedly preserves cuticle integrity for increased luster, softness and combability with a long-lasting straightening effect.
Finally, the company addressed the declining popularity of conventional deodorant formulations due to health and environmental concerns. Its vegetable-based Hebeatol Plus Deo (INCI: xylityl sesquicaprylate) reportedly eliminates nearly all body odor-causing microorganisms, acts as a bactericide in certain applications, and performs as an emollient, solvent, solubilizer and co-emulsifier.