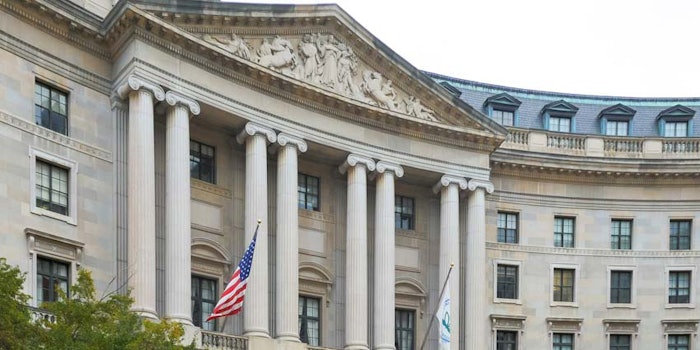 According to a report from the National Law Review (NLR), on Oct, 18, 2021, the U.S. Environmental Protection Agency (EPA) unfolded its Roadmap to manage per- and polyfluoroalkyl substances (PFAS) across industries and under various agencies.
This action follows a study published in June 2021 in Environmental Science & Technology Letters, which as previously reported, surveyed some 231 cosmetics and revealed the presence of high levels of fluorinated compounds in some products. According to the authors, this "indicates the probable presence of PFAS and calls the safety of the products into question." As a result, U.S. senators introduced the "No PFAS in Cosmetics" Act, to ban PFAS from makeup and personal care products.
EPA Roadmap
According to the NLR, the EPA's Roadmap is centered on the following strategies: 1) consideration of the full lifecycle of PFAS; 2) a focus on prevention of PFAS entering the environment as a "foundational step" to reducing potential risks; 3) investment in scientific research to ensure science-based decision-making; 4) holding polluters accountable; and 5) prioritizing protection of disadvantaged communities. Key regulatory actions, some of which are currently under way, are said to reflect "bolder new policies" and are assigned to specific EPA program offices for implementation, with expected time frames ranging from 2021 to 2024.
In relation, The Washington Post declared in a recent headline, the "Biden Administration "Moves to Curtail Toxic 'Forever Chemicals,'" also describing these moves by the EPA to regulate lasting human-made chemicals that persist in the environment. The source cited the same June 2021 study published in Environmental Science & Technology Letters and reported that millions of Americans are exposed to these chemicals in cosmetics, dental floss, food packaging, clothing and cleaning supplies.

Notably, the study measured total fluorine levels and identified the presence of precursors to PFCAs, such as fluorotelomer compounds including alcohols, methacrylates and phosphate esters, in foundations, mascara and lip products. Perhaps more importantly, a lack of labeling disclosure for these compounds was identified, exposing a gap in U.S. vs. Canadian labeling laws.
'PFAS are not commonly used in cosmetic products and the specific substances which are used do not pose an unacceptable environmental risk. They have very different properties from substances of concern...'
Clarification: PFAS in Cosmetics
Emma Meredith, Ph.D., director-general for Europe's Cosmetic, Toiletry and Perfumery Association (CTPA), shed some light on this topic of PFAS in her latest Cosmetics & Toiletries column. 
"PFAS is the term given to a large group of substances, with different properties. PFAS can be used in some consumer products such as textiles, carpet, leather and paper and in industrial products such as paint and fire-fighting foam. These substances can end up in the soil during production, their use and in the waste phase, and they do not easily degrade in nature."
She noted that high concentrations of certain PFAS in the environment can have an adverse effect on the environment and our health. That is why the use of PFAS is strictly limited at UK and European level.
However, she added, "PFAS are not commonly used in cosmetic products and the specific substances which are used do not pose an unacceptable environmental risk. They have very different properties from substances of concern such as perfluorooctane sulfonate (PFOS) and perfluorooctanoic acid (PFOA)." She continued, "... As no unacceptable environmental risk has been demonstrated, the concern relates to persistency."
Critically, in terms of European regulations, she added, "[R]egulating large groups of chemicals as a matter of policy is setting a worrying precedent and CTPA does not support regulatory action on chemicals based solely on persistence when a risk of harm to the environment has not been shown."
It appears the U.S. may be following suit with European regulators.
"The PFAS group includes a vast number of substances with very different environmental properties, including many substances which do not degrade to substances of concern and are not bioaccumulative. Demonstrating persistence of a chemical is not sufficient to demonstrate an unacceptable risk."