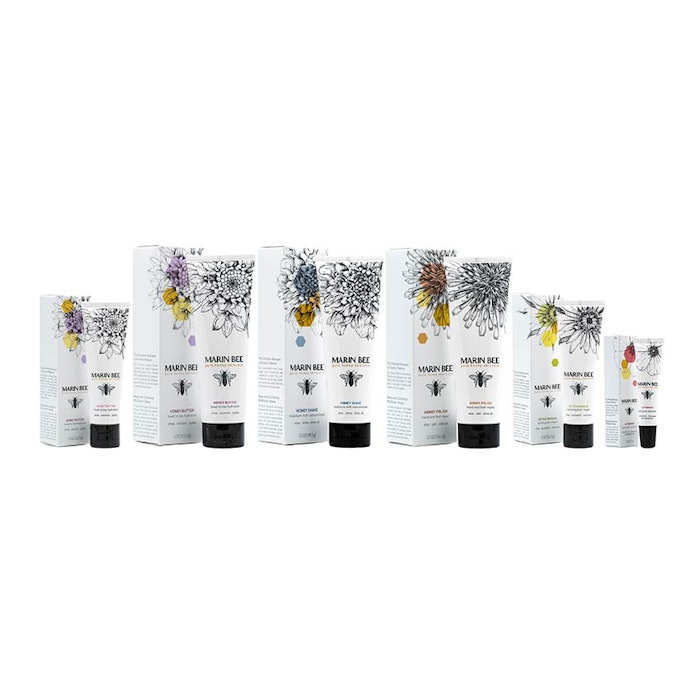 Cosmoprof North America 2017 hosted 1,278 exhibitors and more than 36,000 visitors. This year, the event enhanced its focus on emerging brands in the consumer and professional space, multicultural beauty as well as a significant focus on 49 "green brands."
What's next: • Belleza y Salud Bogota, September 27-29, 2017 • Cosmoprof/Cosmopack Asia, November 14-16, 2017/November 15-17, 2017 • Cosmoprof Bologna, March 15-18, 2018 • Cosmoprof North America, July 29-31, 2018 • Cosmoprof Mumbai, September 10-11, 2018 • July 29th through 31st, 2018.
Marin Bee is a honey-based skin care brand that provides nourishment and detoxification. The company's sustainable honey is derived from California wildflower honey, which acts as a humectant, as well as a source of probiotics and enzymes, antioxidants, minerals and vitamins C,D and E, in addition to B complex.
The skin care products are boosted by other natural materials such as aloe, shea, olive, coconut, jojoba, salt and oatmeal. A portion of the brand's sale support the Planet Bee Foundation, an educational nonprofit.
Marin Bee's body care products include Honey Butter, Honey polic for hands and feet, and the moisturizing Honey Shave. The brand's face care range includes the Detox Masque, comprising pumpkin, clay and oatmeal, and Lip Repair, which comprises calendula, beeswax and pomegranate.
Viñali is an organic skin care brand built around grape resveratrol. Its face oil offers anti-aging, cell regeneration and hydration activity, according to the brand. Viñali's line also includes a vitamin E-rich dry face oil that also contains John's Wort to soothe the skin and improve elasticity and impart a smooth and revitalized feel. It also offers a three-wick massage candle for spas and at-home use, which includes grape extract and sweet almond oil.