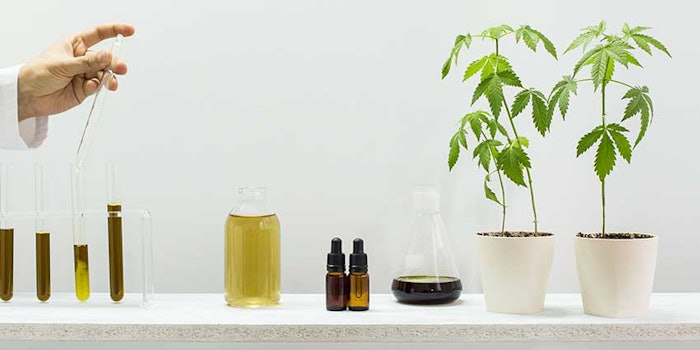 Beraca will launch two products at in-cosmetics Global on March 31, 2020: Beracare CBA (INCI: Not Provided) and Açaí Extract (INCI: Euterpe Oleracea Pulp Powder (and) Glycerin (and) Water (Aqua)).
Beracare CBA is a cannabinoid active system containing Amazonian oils to reduce the effects of premature aging related to inflammatory activity, as well as stimulate the production of β-endorphin. These oils contain high levels of terpenes and unsaturated fatty acids such as linoleic, which is an important component to increase in skin's permeability and improve the efficacy of the active. The product is positioned as a safe alternative to CBD since it is not approved in many countries for cosmetic use. Beracare CBA reportedly has versatile uses and applications in different cosmetic products such as tonics and gels, lotions, creams, soaps, scalp products, etc.
See related: Sytheon's 'Blissful' CBD Aid
"Beraca is always concerned to develop products in a way that is sustainable and ethical while measuring its direct impact on nature and society," explained Daniel Sabará, CEO of Beraca. "Beracare CBA, in addition to being developed within these guidelines, is an avant-garde active compound because it aims to answer the current consumers' demand, who increasingly seeks beauty products for mindfulness. Beracare CBA has well-being and stress-relieving properties, promoting several benefits to the skin, such as a feeling of relaxation, improvement in healing activity and overall comfort."
Beracare CBA Testing
Three efficacy tests were conducted for this CBD-alternative: anti-inflammatory activity, protective effects and wellness properties. In human skin cultures in an inflamed microenvironment, the ingredient showed a 55% reduction in interleukin IL-1β and a significant 25.2% decrease in interleukin IL-6, supporting claims the ingredient acts as an anti-inflammatory agent and has a protective effect on the skin.
To test wellness properties, the skin culture was stressed by the inflammatory agent lipoteichoic acid (LTA), causing a 39.6% reduction in β-endorphin. On the other hand, the ingredient prevented this decrease by stimulating β-endorphin production by 92.2%, demonstrating efficacy for skin healing.
Açai Extract
The second ingredient that will be launched is the Açai Extract, which is claimed to be a natural and sustainable anti-aging active. It reportedly contains no additives and is made from the berry, native to the Amazon Region. Açai has the ability to mitigate wrinkle formation, improve skin's vitality and glow, and protect and repair against external aggressions.
"Our launch fits into the worldwide concept of aging with quality. The term anti-aging is giving way to the pro-aging (well-aging) movement, where people are realizing there is no reason to condemn the advancement of age, but rather to embrace it in the best possible way," says Marianna Cyrillo, marketing manager at Beraca. "Açaí Extract enhances the pro-aging trend because it is a powerful antioxidant, proven through efficacy tests, which also revealed excellent anti-glycation and anti-pollution results."
In in vitro tests, a 58.5% final reduction in the negative effects of pollution was observed. These tests exposed cells previously treated with the extract to impurities. Furthermore, glycation was examined. This phenomenon is the connection of sugars to skin proteins, which reduces luster and shine. Cells treated with the product, however, exemplified a 56.7% reduction in the formation of these glycation agents. The extract also protected cell cultures and prevented the production of superoxide anion.
For more information, visit the Beraca website.