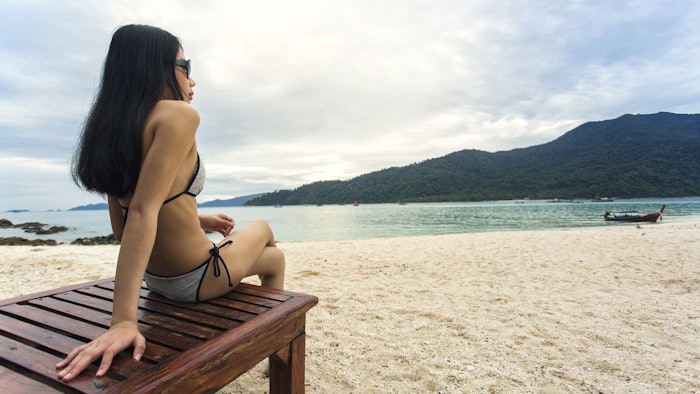 Bloomberg Law reports Edgewell Personal Care, LLC, was recently dismissed in a federal court from a suit alleging its Hawaiian Tropic sunscreen claims to be "reef friendly" when it contains ingredients that are not; namely, avobenzone, homosalate and octocrylene. According to the source, however, a clarification on the product label demonstrated the brand complies with Hawaii law. Its SPF30 and 50 Broad Spectrum Sheer Touch Lotion Sunscreen, as shown on Amazon.com and Walmart.com, lists "Reef Friendly*" (with asterisk) on the front label and on the back label, clarifies, "*Hawaii Compliant: No Oxybenzone or Octinoxate."
See related: Bondi Sands 'Reef Friendly' Sunscreen Hit with Class Action Suit
This is not the first time Edgewell has been under fire for a reef friendly sunscreen product claim. In 2021, a class action suit was filed against its Banana Boat brand Sport Ultra Sunscreen Lotion SPF 15-50+, Sport Ultra Sunscreen Spray SPF 15-50+, Sport Coolzone Sunscreen Spray SPF 30-50+ and Ultra Sunscreen Stick SPF 50+. Such products were clearly identified as being "reef friendly" through the omission of oxybenzone and octinoxate. According to the plaintiff, however, this was misleading as these products contain avobenzone and octocrylene, which can cause coral bleaching and negatively impact the reproduction of coral reefs. Per Justia filings, it appears this case was voluntarily dismissed by the plaintiff within months of its filing.
Hain Celestial's Alba Botanica, however, is still in the hot seat. As Bloomberg reported, the brand is similarly being sued for claims that its products are "reef friendly" when according to the plaintiff, they contain "substances known to harm coral reefs and marine life." The company has until March 2, 2023, to file a response.
These examples call into question what it means to consumers when they see the "reef friendly" claim on a label. In formulating a reef safe sunscreen, as Lam-Phaure previously described, this has generally been accepted to mean using ingredients that do not harm coral reefs or marine life, although there is some debate over the scientific evidence. This brings us back to consumer perception, which the industry knows usually sets the agenda and makes or breaks ingredients.
In relation, in the Hain's case, the law firm Frankfurt Kurnit Klein + Selz explained, "In California, false advertising and similar claims are governed by the 'reasonable consumer' standard. This standard requires more than a mere possibility that a claim 'might conceivably be misunderstood by some few consumers viewing it in an unreasonable manner.' Rather, it must be 'probable that a significant portion of the general consuming public or of targeted consumers, acting reasonably in the circumstances, could be misled.'" The court deemed it plausible, in this case, that the claims on the product could deceive a reasonable consumer.
The firm also underscored, "as regulators (and self-regulatory organizations) in the U.S. and around the world are turning their attention to environmental marketing claims, this case highlights some issues that most marketers should be thinking about right now."
The bottom line? From reef-friendly, to sustainable, clean, etc.: choose your words wisely, but also educate consumers.