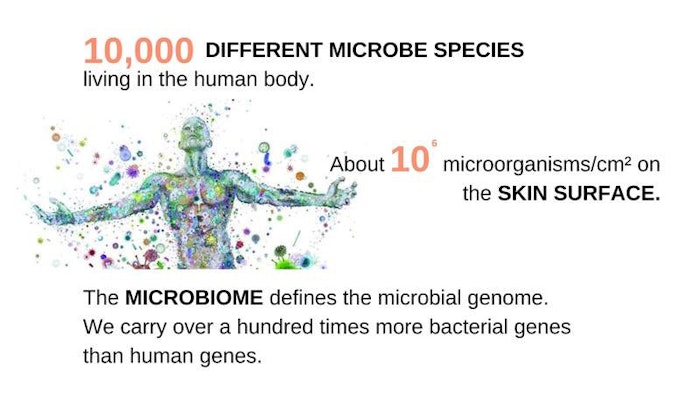 The microbiota is composed of a well-balanced population of commensal, symbiotic and pathogenic microorganisms. They interact with each other and with human cells. This interaction between a host organism with its microbiota, a unique ecosystem composed of bacteria, fungi, yeasts, viruses, phages, mites, is called holobiont.
To understand the interactions between the human body and its microbiome, it is necessary to consider the ubiquitous nature of host-associated microbes and their central role in host biology, ecology and health. Therefore, considering the skin, it is no longer a three-layered system. The microbiome is the fourth layer of the skin and it significantly impacts the homeostasis and health of other layers.
At the skin level, exposome and internal stress generate imbalance of this microbiota/organism collaboration inducing significant damage that affect skin's appearance and protective function. Imbalance of this ecosystem harmony is correlated with:
Inflammatory skin issues
Barrier function alteration
Dryness
Dandruff
Skin aging
Eczema
Acne
Rosacea
Atopic skin
Psoriasis
Skin microbiota and holobiont, as the skins fourth layer, have a lot of secrets to reveal and represent plethora of opportunities for the cosmetic industry.
Discover Sederma's solutions to protect the microbiota harmony from the exposome and internal imbalance:
BB Biont®: Healing the holobiont for a blemish-banned, smooth and healthy skin.
Being awarded three times in a row since its launch two years ago (PCHi Fountain Award 2023, ICI Award 2022, I Feel Good Innovation Award 2022) BB-Biont® is a biomimetic peptide and a gentle alternative to aesthetic medicine allowing to smooth the appearance of pockmarks.
BB-Biont® protects the fourth skin layer by selectively slowing down the growth of Cutibacterium acnes and deconstructs its biofilm to avoid inflammatory skin damage. It also preserves the microbiome biodiversity promoting a healthy skin.
BB-Biont® bans the cutaneous blemishes and helps to naturally achieve a flawless skin appearance. Indeed, tested on two independent mixed panels, 1% BB Biont® significantly reduced the volume of pockmarks (-18.9% / placebo, p<0.01) and skin roughness (-6.5% / placebo, p<0.01) after two months of application. IECIC and RSPO compliant, BB-Biont® is water soluble and recommended for use at 1 %.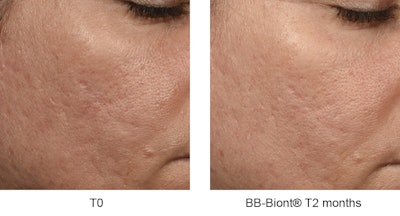 Click here to request literature and/or sample, or to be contacted by one of our sales reps.
Apiscalp®: Purity and comfort for a happy scalp
Apiscalp® helps fight against dandruff, itching, dryness and hyperseborrhea to provide beauty and comfort to both oily scalp and dry scalp. It controls the local microflora (Malassezia) proliferation, restores the scalp stratum corneum integrity and regulates the epidermal differentiation and desquamation.
After using Apiscalp® for 21 days, 100% of the volunteers said that their scalp was less itchy and 93% with less dandruff. These results were confirmed by instrumental and dermatological evaluations: Apiscalp® markedly helps reduce scalp itching and dandruff size and intensity against placebo on both oily scalp and dry scalp. Sebum production of oily scalp has significantly decreased (up to -47 %, after only seven days) while all scalp types are moisturized.
Apiscalp® is a plant-based ingredient obtained from the sustainable supercritical CO2 extraction process. It complies with the Chinese regulation for cosmetic ingredients.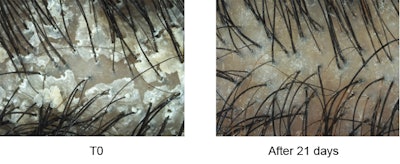 Click here to request literature and/or sample, or to be contacted by one of our sales reps
Ecodermine™: Holistic care rebalancing the skin's microbiota
As a selective and adaptative prebiotic, Ecodermine™ reinforces fragile and vulnerable skin, limits dryness and itching. It provides the skin with well-being and comfort with a multi-area approach on dry (face, arms, legs), moist (intimate area) and oily area (scalp moist and oily areas.
Click here to request literature and/or sample, or to be contacted by one of our sales reps
Additional resources:
This presentation will review the scientific discoveries that reveal how this ecosystem plays an important role in our metabolic, immune and neurological functions and it is directly related to our health and well-being. Differentiate probiotics, prebiotics, postbiotics and other microbiota-control solutions that are available to restore, maintain and protect skin microbiota harmony.
Disclaimer:
The above paid-for content was produced by and posted on behalf of the Sponsor. Content provided is generated solely by the Sponsor or its affiliates, and it is the Sponsor's responsi­bility for the accuracy, completeness and validity of all information included. Global Cosmetic Industry takes steps to ensure that you will not confuse sponsored content with content produced by Global Cosmetic Industry and governed by its editorial policy.