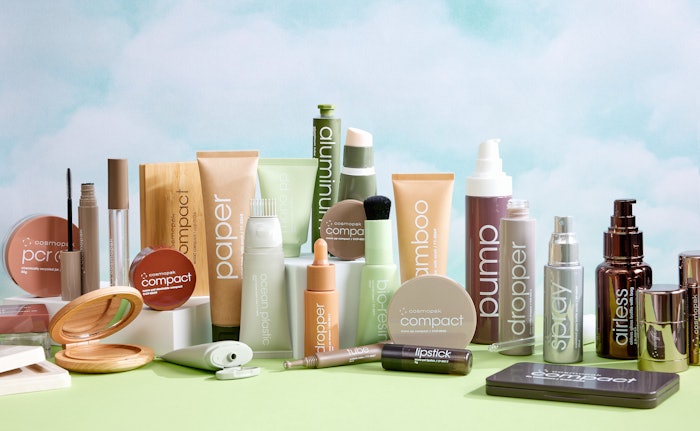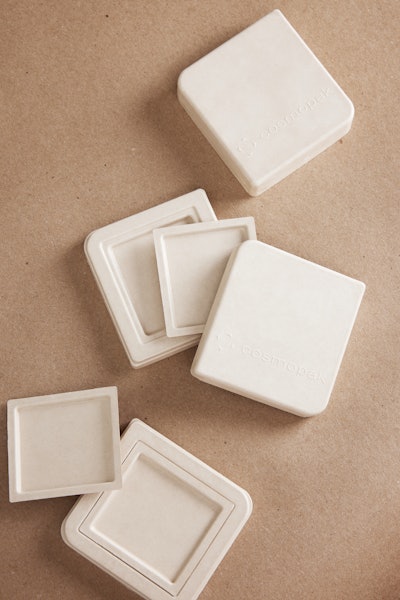 Cosmopak's new Rooted in Beauty packaging collection features a rane of sustainable formats, including monomaterial, biodegradable and refillable formats, as well as sustainable materials like glass, metal, wood, paper, PCR and biomaterials.   
The wide range allows brands a large variety or ways to approach sustainability in a way that aligns with their values, leveraging sustainable packaging and/or offset options.  
Sustainable Materials
Cosmopak's collection includes packaging made with sustainable materials, including:
aluminum tubes
glass packaging, including a 50 ml glass bottle dropper, airless glass bottles with a bag on valve system and a 100 ml glass bottle with pump
Monomaterial Formats
Rooted in Beauty features monomaterial designs, including:
36 ml monomaterial PP dropper
one-piece monomaterial PCR tube
monomaterial PET stackable compact
5 g monomaterial PET lipstick
one-piece large monomaterial PP compact
monomaterial tin compact with a stainless steel mirror
Refillables
Rooted in Beauty offers refillable formats, including:
30 ml and 50 ml refillable aluminum deo stick
50 ml aluminum refillable deo stick
refillable mascara vial
refillable lip gloss vial
Post-consumer/Recycled Materials
Cosmopak's collection taps an array of post-consumer materials, including:
ocean-bound plastic tubes with a comb applicator,
50 g chemically recycled resin jar
50 g mechanically recycled PCR jar
Bio Materials
Rooted in Beauty features designs in a number of bio-based materials, including:
round and rectangular wooden compacts
bio-resin tube
80 ml paper tubes with ethylene vinyl alcohol (EVOH)
80 ml bamboo tube with EVOH
stackable paper pulp compacts
"We are excited to introduce our Rooted in Beauty packaging collection, which reflects our dedication to sustainability and innovation," said Dan Wolfe, SVP of business development at Cosmopak. "Through our Ecoforward framework, we aim to empower beauty brands to make conscious choices that align with their sustainability goals without compromising on creativity, functionality, or brand aesthetics."