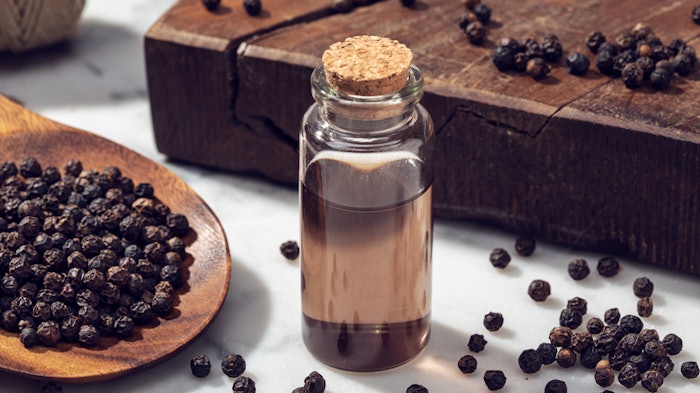 Sabinsa has expanded its portfolio to over 400 granted patents and more than 900 registered trademarks. Several of the patented flagship brands, such as BioPerine (INCI: Not Provided), Curcumin C3Complex (INCI: Not Provided), LivLonga (INCI: Not Provided), among others, are market leaders, according to the company.
The company's portfolio started with the grant of a U.S. patent issued on July 16, 1996 for BioPerine (INCI: Not Provided), a black pepper extract that improves gastrointestinal absorption of nutrients. The ingredient contains 95% piperine, according to Sabinsa.
Related: Inolex Appoints CFO, Vice President of Operations
In the cosmetic sector, Proscalpin (INCI: Emblica Officinalis Fruit Extract, Cocos Nucifera (Coconut) Water, Methylseleno Carboxypropylglutamine), an herbal hair care product comprising Cococin (INCI: Cocos Nucifera liquid endosperm), Saberry and PeptiSeLect (INCI: Not Provided), prevents hair fall and promotes hair growth. The company continues to manufacture safe herbal-based cosmetic ingredients which cater to the needs of the industry, according to Sabinsa. 
In the skin care section, the reduced curcumin metabolite, SabiWhite (INCI: Tetrahydrocurcumin), when combined with Ethyl ascorbic acid, a stable vitamin C variant, improves cosmetic benefits by inhibiting melanogenesis.
Muhammed Majeed, Ph.D., founder and chairman of Sabinsa, commented: "I'm extremely proud that the Sami-Sabinsa R&D team has demonstrated both scientific rigor and imagination in expanding my vision of using modern research to unlock new aspects of the wisdom of Ayurveda for so many decades."