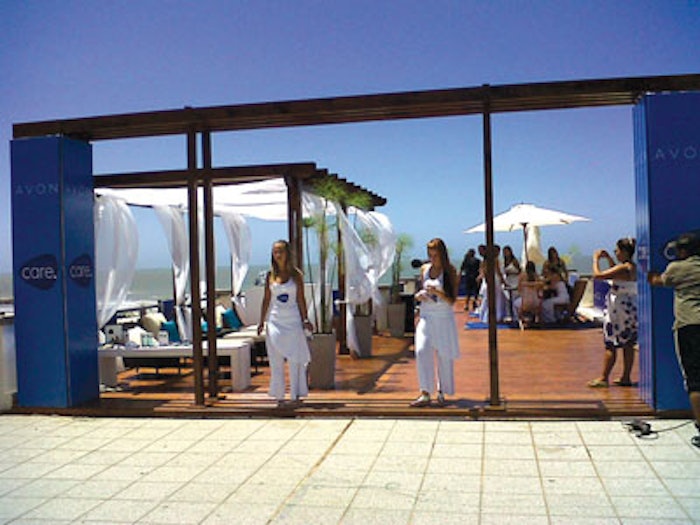 Through a joint venture with South American-based Grupo Axo, Sephora entered the Mexican prestige beauty market. The agreement will allow Sephora a retail presence through two stores that will open in the second half of 2011. A significant number of additional store openings are targeted each year thereafter, according to a report.
Grupo Axo has more than 15 years of expertise in the strategic and commercial development of prestige brands in Mexico—representing and distributing LVMH's Marc Jacobs, Etro, Guess and Tommy Hilfiger, among others. Shiseido Enters Colombia and Panama In January 2011, Shiseido commenced sales of its global brand prestige skin care and makeup lines in Panama, deploying a prestige marketing strategy centered on Europe and the Americas.
Shiseido is currently promoting various initiatives in seeking to become a global player representing Asia with its origins in Japan. Among its overseas business, Shiseido is focusing on expansion of operations in new markets and strengthening of operating bases in existing markets as key thrusts.
Panama is the fourth country for Shiseido to promote development of its cosmetics products in the Latin American market subsequent to Brazil, Mexico and Colombia—where the company commenced sales in November 2010. In Panama, there is an increasing expectation for rising demand for prestige cosmetics products due to stable economic growth since 2004, according to the company.
Product imports and sales will be handled by the WISA Group, a Colombian distributor. In the first year, sales will be launched in five selected stores with a proven performance in counseling sales for prestige cosmetic products. These comprise local cosmetics specialty stores managed by the WISA Group and independent cosmetics specialty stores.
Argentine Beauty Company Expands to Spain
Argentine beauty brand and retailer Universo Garden Angels, will inaugurate its first point of sale in Madrid, during the first quarter of 2011. Company president, Mónica Verdier de Pérez, told GCI magazine, "This store will be the initial step for other openings in [Spain], where a local entrepreneur has acquired [franchise rights]."
Universo Garden Angels launched in the late 1990s and gained recognition for its original approach to beauty, under the concept of "aromacolortherapy"—defined as the mixture of aromatherapy, chromotherapy and floral therapy.
The company has a presence in Argentina, Mexico, Bolivia, Brazil, Chile, Paraguay, Puerto Rico, Venezuela and Saudi Arabia.
Avon Targets Argentine Resort Cities in Campaign
Avon launched a marketing campaign for its Care brand—recently launched in Argentina in the coastal cities of Pinamar and Mar del Plata, two of the main holiday destinations in the country. It is the first time the company has developed a campaign in the beaches of Argentina for the summer holiday season.
Avon set up a "hydration space" on Playa Grande, one of the most renowned beaches in Mar del Plata. The company also executed a sampling campaign, delivering products to the families vacationing in Mar del Plata and Pinamar.
Puig Chooses Panama for Regional Office
Spanish beauty and fashion company Puig opened a new regional office in Panama, from where it will run the operations for its Latin American activities. According to the Panamanian Industries and Commerce Ministry, this region accounted for 17% of Puig's sales in 2009, and grew 9% over 2008 in that year.
The location was chosen due to the Panamanian 41/2007 law, which grants multinational companies that install regional offices in this country several tax exemptions and migration benefits for its foreign employees, among other benefits.
Puig operates in more than 21 countries around the world—including Argentina, Brazil, Peru and Chile.
Natura's New Manufacturing Strategy Takes Shape
Originally reported in the November 2010 issue, Brazilian direct seller Natura will begin production through third parties in other South American countries. It has now been reported that Argentina, Colombia and Mexico have been chosen for production sites.
According to an interview given with João Paulo Ferreira, operations and logistics vice president for Natura, an Argentine facility will be charged with producing packaging for fragrances and manufacturing body and face care products and sunscreen. In Colombia, one outsourced company will produce soap bars and another will manufacture makeup, body care, sunscreen and packaging for perfumed products. In Mexico, hair care products and fragrance packaging will be produced.
The moves support Natura's strategy to continue expanding operations in Latin America. The company's international operations posted 39.6% growth in local currency in the first nine months of 2010, year on year.
Natura operates in Brazil, Argentina, Chile, Mexico, Peru and Colombia.
Argentine Lingerie Brand Launches Fragrance
In December 2010, the renowned Argentine lingerie company Caro Cuore entered the beauty market when it introduced its first fragrance—Caro Cuore. For launch, the brand organized an event for VIP guests and select press at the prestigious Alvear Hotel in Buenos Aires. Through a magic show inspired by the story of the Greek myth of Narcissus, the company revealed the new fragrance.
The scent was developed by Caro Cuore with Argentine fragrance company Cannon Puntana in a four-year joint effort. Cannon Puntana is charged with production and marketing, and has previously created beauty products for other Argentine fashion brands such as Paula Cahen D'Anvers, Prüne and Gino Boganni.
Caro Cuore has more than 40 points of sale in Argentina, Bolivia, Brazil, Spain, Paraguay, Peru, Uruguay and Venezuela.
Cristina Kroll is a business journalist specializing in the beauty sector and living in Buenos Aires, Argentina. She has written for the main Argentine magazines related to the beauty business, and was a correspondent for French magazine Beauty Business News.