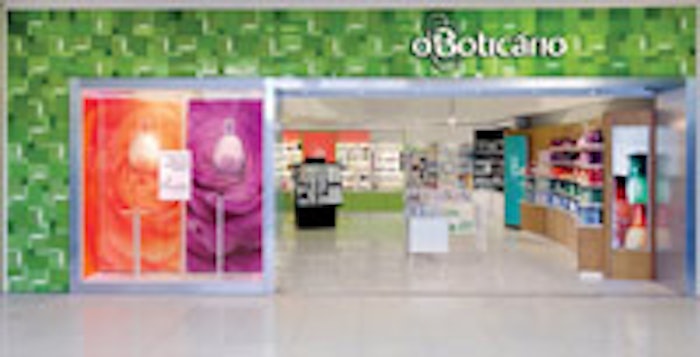 With revenues of R$5.5 billion and 3,260 stores, 795 of which opened between 2008 and 2011, O Boticário has surpassed McDonald's to become Brazil's largest franchise chain. The company is now targeting smaller cities and plans to open another 250 points of sale in 2012. Currently, the company is present in 1,600 cities.
"We're targeting towns with a minimum population of 30,000 inhabitants," says Andrea Motta, sales and marketing director of O Boticário.
In 2008, O Boticário executives wondered whether the market would support a large-scale franchise expansion, and considered entering the direct sales market—a strategy later adopted by the company's Eudora brand. To support O Boticário's growth, the company created a new design concept for all stores and invested in the diversification of the product mix. In 2011, 430 new products were launched in the market.
According to franchise experts, O Boticário's main competitors haven't grown at the same speed. Figures from the Brazilian Association of Franchising (ABF) reveal that retail chains such as L'Ácqua di Fiori and Água de Cheiro account for approximately one-third of the number of stores and one-fifth of the revenues recorded by O Boticário.
Color Sales Increase 15.7%
Accounting for 7.9% of total beauty sales in Brazil, the color cosmetic segment increased 15.7% in 2011, reaching sales of US$3.7 billion, according to Euromonitor International.
The arrival of a greater variety of products designed to suit the tropical climate (products that remain as applied in hot and humid weather) is among the factors that have contributed to the increase in makeup sales, and international brands are stepping up their efforts to take advantage of the opportunity the market offers.
Estée Lauder's MAC Cosmetics opened 23 stores throughout Brazil over the past decade, and Sephora is planning the launch of five multibrand outlets by the end of the 2012. U.S. nail brand OPI, which entered the Brazilian market in late 2011, has been able to set the price point of a bottle of nail polish at R$35 in approximately 300 points of sale, including online stores and beauty salons.
Another indicator of the vibrance of the color cosmetics segment in the Brazilian market, French company Beauteam, which organizes the MakeUp in Paris and MakeUp in New York trade shows, announced the launch of its first São Paulo edition in 2013, with date and venue to be confirmed.
L'Oréal to Market Kiehl's Across Brazil
With eight new stores scheduled to open by the end of 2012, L'Oréal is working to spread its Kiehl's brand across Brazil. Kiehl's currently has two stores in the country, both of which are located in São Paulo. The expansion plan also includes the opening of new stores through franchise agreements, initially in southeastern Brazil, with potential for expansion to other regions.
With a presence in Brazil for more than 50 years, L'Oréal offers the market 23 product lines, 95% of which are produced locally. The French group is also investing in R&D, aiming to manufacture raw materials for cosmetics and perfumes at L'Oréal's new research center in Rio.
"We will invest R$150 million in infrastructure over the next two years, of which R$70 million will be exclusively directed toward the research center," says Didier Tisserand, president of L'Oréal Brazil since September 2011. In the wake of a slowdown in traditional markets, Brazil has gained momentum and is now L'Oréal's largest market for hair care products.
Belcorp to Invest in Brazil
Peruvian direct sales company Belcorp will invest US$200 million in its Brazilian operations through 2015. After spending three years assessing the market, the third largest cosmetic company in Latin America will enter Brazil to compete against direct sales giants such as Natura and Avon.
Owner of brands L'Bel, Ésika and Cyzone, Belcorp projects revenues of R$400 million in the next three years, with 200,000 consultants on board. Currently, Belcorp imports most products, with a small number outsourced and manufactured in the city of Jundiaí, in the state of São Paulo. But to meet the expected demand, Belcorp plans to open its first owned Brazilian plant, where around 80% of the products would be manufactured.
Belcorp currently operates in 16 countries, and the delay in entering the Brazilian market is justified by the company's expansion model, which prioritized countries culturally similar to Peru. Belcorp's operations are primarily concentrated in Latin America and the U.S.
Professional Market Study Assesses Product Use
ABIHPEC (Brazilian Association of Cosmetics) and Sebrae (Brazilian Service of Support to Micro and Small Enterprises) have formed a partnership to conduct market research on beauty salons throughout Brazil and to create a list of recommendations for the segment.
The main goal is to assess behaviors related to the use of cosmetics by beauty professionals and their clients. It is estimated that retail products account for 10–30% of salons' revenue.
A commission has been created to propose specific rules for salons in topics such as education, management, building installations, environment preservation and safety. A law that recognizes the practice of activities such as hairdressing, beauty therapy and makeup artistry is also in line to be approved.
Hypermarcas Installs New Leadership
Former president of Nivea Brasil Nicholas Fischer was hired by Hypermarcas to take over its consumer division, which markets personal care brands such as Monange, Bozzano and Risqué.
Hymermarcas has struggled in recent years, culminating in the sale of some of its assets in 2011. In an attempt to get back on track, the company created a strategic plan that includes the addition of Fischer to promote a sustainable and profitable growth.
German-born Fischer has spent 17 years in Latin America. He was president of Wella Chile and CFO of Procter & Gamble. From 1996 to 2001, he was CFO of Nivea Brasil and later became its president. He gained popularity for having doubled Nivea Brasil's sales in five years. Until a replacement is named, Nivea's operations will be run by financial director Ricardo Basque.
Fernanda Bonifacio is a Brazilian journalist who focuses on the beauty industry, and has been published in the U.S. and Europe. She represented ABIHPEC and its member companies globally from 2002–2008.