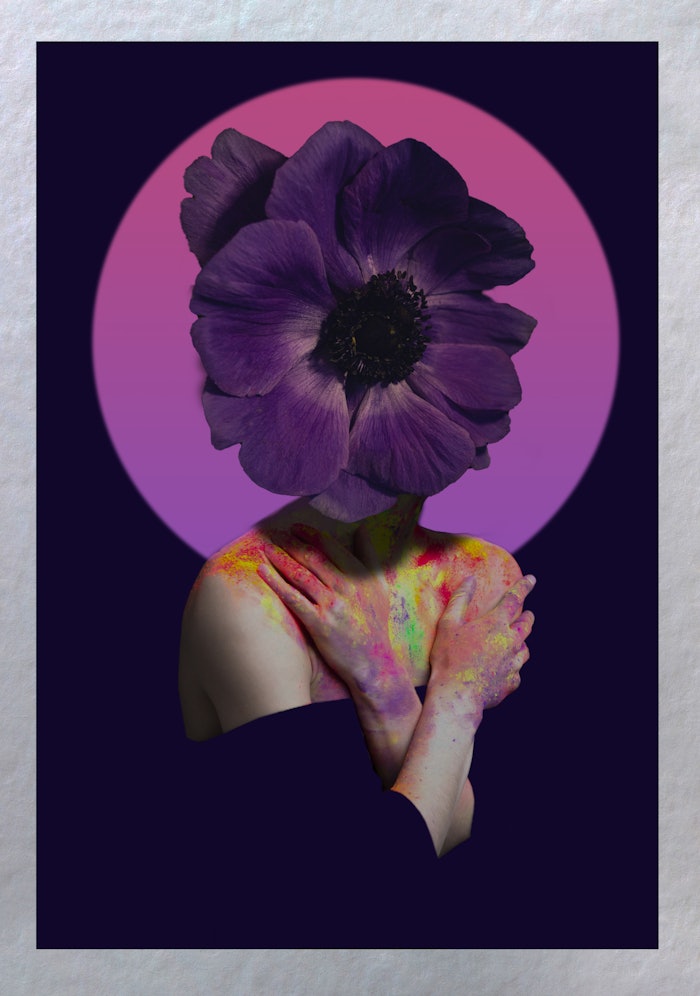 Are you ready for some good news?
First, let's start on the prestige side of the beauty business. U.S. prestige beauty sales in 2021 grew 30% year-over-year, totaling $22.3 billion, compared to $20.9 billion in pre-pandemic 2019, per data presented by Larissa Jensen of NPD at CEW's annual "State of the Beauty Industry Report."* The top 10 U.S. beauty markets were up 2% compared to 2019, while the remaining U.S. was up 10% compared to pre-pandemic levels. Propelling this growth were the 4.7 million non-prestige beauty shoppers who have begun purchasing in the prestige category.
Rewind: Read our breakdown of 2020-2021 beauty sales.
The rate of growth in 2022 is expected to slow relative to the boom of 2021. For instance, results in January 2021 benefited from stimulus checks, resulting in a flat year-over year comparison in January 2022. That said, NPD is predicting total U.S. prestige beauty dollar sales will remain elevated above 2019 numbers through 2024, though each category will experience varying levels of success.
81% of searches on Amazon are unbranded...
There are headwinds to keep in mind, despite these positive forecasts. Key factors impacting every tier of beauty and personal care include inflation, supply chains and, of course, the course of the pandemic. How each factor ascends or recedes will significantly impact the next year or so. More on that in a bit.
Taking a wider view, all markets tracked by NPD's reporting posted growth compared to pre-pandemic times—except Europe. Compared to less-than-great 2020 comparables, North American prestige beauty sales were up 29% in 2021, while South America was up 63% and Europe was up 9% (the region is actually down 12% compared to 2019 figures). China, which has followed a different growth trajectory than much of the world, experienced a 27% year-over-year jump, though NPD only tracks the market's e-commerce.
Now let's talk mass beauty, which is undergoing a renaissance amid an escalation in brand partnerships at Target, Walmart and other big-name retailers. According to data presented by Tara James Taylor of NielsenIQ, U.S. mass beauty and personal care sales rose 16% in 2021, totaling $88.7 billion, $62.8 billion of which took place in-store (a rise of 12% year-over-year) and $25.9 billion of which took place online (a 27% year-over-year rise). Online sales now comprise 29% of total mass beauty sales, up 2% from 2020.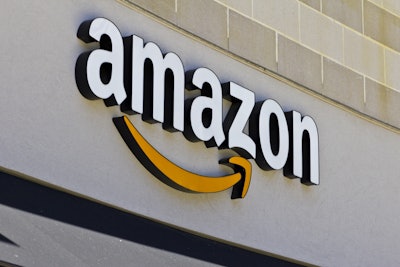 What's Happening with Beauty Retail?
While brick-and-mortar retook its dominance in 2021, e-commerce remained elevated compared to 2019, per NPD data. As of the end of January 2022, brick-and-mortar channels comprised 65% of sales, compared to 35% for online channels; this represents an uptick for physical retail, compared to earlier in 2021. Physical retail brought shoppers back with promotions/discounts. That said, beauty promotions declined in 2021, compared to 2020, per NPD.
Throughout 2021, top beauty specialty and department stores regained market share. And special partnerships are paying off. For instance, Kohl's gained two points of beauty market dollar share following the launch of its Sephora partnership last year. Yet Jensen noted that 100% of surveyed prestige shoppers have bought outside prestige channels, even as new shoppers are migrating into the prestige space.
Meanwhile direct retailers mostly faltered, excepting in the bath and body category. The total sales volume in 2021 for the direct retail sector was $10.7 billion, representing a 5% year-over-year decrease.
65% of consumers have ordered beauty products online versus 51% pre-pandemic...
Taylor explained that 65% of consumers have ordered beauty products online versus 51% pre-pandemic, according to NielsenIQ Omnishopping Fundamentals. In 2021, 29% of total beauty sales came from online.
What's notable is that 81% of searches on Amazon are unbranded. Shoppers are looking for benefits, attributes and price rather than brand names. To compete in such a space, brands need to push claims and attributes to the forefront.
Beyond shifting consumer priorities, online shopping has spurred demand for new experiences, according to Mintel's Sarah Jindal, including virtual try-ons. 
Meanwhile, social media continued to propel launches in 2021, though the big story was the explosion in livestream shopping options offered by social platforms, brands and retailers alike. In China, where livestreaming is more widely embraced, two influencers, Austin Li and Viya, reportedly sold $3.1 billion worth of products during one night of the Singles Day/11.11 shopping festival. Notably, the shopping festival generated $4 billion in prestige beauty sales in November 2021.
Let's Talk Price
The U.S. inflation rate totaled 7.5% in January 2022, a 40-year high. It's no surprise, then, that beauty is facing average unit price increases of 10% year-over-year, according to NielsenIQ data. The categories facing highest inflation include color cosmetics and nails (up 19%), facial skin care (up 31%), and hair care (up 15%).
In addition, department stores and mass channels are both experiencing 20% increases in pricing in the beauty sector, per NielsenIQ. Mass brick-and-mortar beauty prices were up 7.5% in 2021. Price increases have been spurred by a decline in promotions (a reversal from recent norms, as reported by NPD in 2021), premiumized offerings and shifts in product mix.
80% of surveyed fragrance consumers are willing to pay more for a scent they really like...
These price increases are notable because 36% of beauty consumers are financially constrained, which could lead to cutbacks in purchases of color cosmetics, nail care and fragrances. Taylor explained that brands can boost loyalty by offering hygiene/safety, affordable prices and environmental benefits. She added that consumers are responding well to premium innovation launches.
Sparks & Honey's Courtney Emery noted that Gen Z is the best-educated, most financially literate generation. In this context, "cheap" is being reframed as "financially inclusive." This opens up opportunities for multifunctional products and brands to deliver maximum ROI, while supporting young consumers' "financial wellness."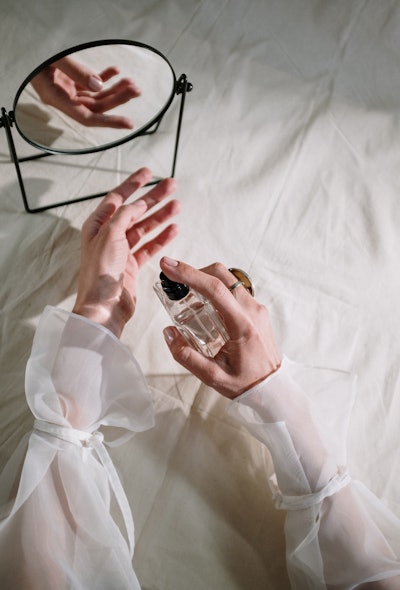 Fragrance Challenges Skin Care
Prestige fragrance sales in 2021 were up 49% year-over-year, totaling $6.3 billion, per NPD data. On the mass side, sales were up 45%, per NielsenIQ.
Notably, the prestige sector's growth was up in the double digits compared to 2019. In addition, fragrance comprised nearly 45% of 2021 holiday beauty sales. But most impressive was the fact that, for the first time ever, fragrance sales matched the heights achieved by the skin care segment. And, in department stores, fragrance was actually bigger than skin care.
Sales of perfumes, colognes and other fragrance "juices" rose by 61%, year over year, while sales of candles, reed diffusers and other home scents grew by more than 20%.
The final quarter of 2021 accounted for 45% of fragrance category sales revenue, per NPD, growing by 35% during the holiday selling season.
U.S. prestige skin care sales were up 18% in 2021...
What drove all this growth? About 12 million buyers coming into the category, per NPD, with spend per buyer rising 26%. As NPD data shows, 80% of surveyed fragrance consumers are willing to pay more for a scent they really like. Other drivers include self-gifting; 47% of consumers purchased a fragrance as a treat for themselves.
Per NPD, 70% of consumers will pay more for higher concentration fragrances that offer long-lasting performance. This accounts for the popularity of eau de parfums and parfums with high concentrations, which have gained six points in total market share. Meanwhile, super-premium brands priced above $160 gained one point. At the same time, luxury lines from designer brands grew 93% year-over-year.
One other shift worthy of comment: fragrance marketing has shifted away from sexuality and toward a greater focus on the scent and its notes.
Top Fragrance Launches
The top prestige beauty launch in the U.S. market was a fragrance, Gucci Flora Gorgeous Gardenia EDP (the SKU was also the top launch in Germany). Meanwhile, 212 Men Heroes EDT Spray was the top launch in Mexico, while Dior Sauvage Elixir Parfum was the top launch in the United Kingdom and Italy.
The top 10 U.S. fragrance launches in 2021 were Flora by Gucci Gorgeous Gardenia EDP, Carolina Herrera Very Good Girl, Ralph Lauren Ralph's Club, Paco Rabanne Phantom, Miss Dior 2021, Estee Lauder Beautiful Magnolia, YSL Y Le Parfum, Azzaro The Most Wanted, Michael Kors Gorgeous! Eau De Parfum and Burberry Hero.
The top five women's parent brands in 2021 were Chanel Chance, Chanel Coco Mademoiselle, Carolina Herrera Good Girl, Daisy Marc Jacobs and Mis Dior. The top five men's parent brands in 2021 were Dior Sauvage, Chanel Bleu De Chanel, Armani Acqua Di Gio Pour Homme, YSL Y Homme and Gucci Guilty Homme.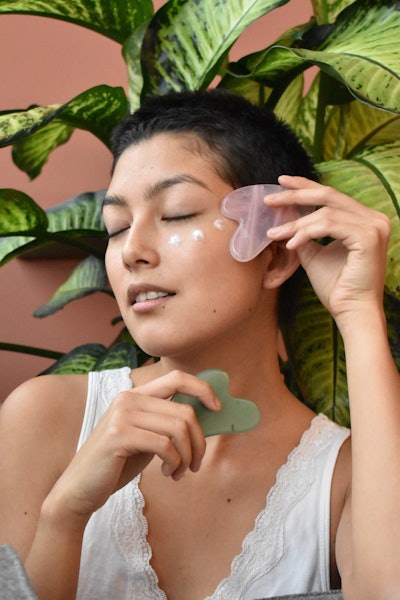 Clinical Skin Care Reigns 
U.S. prestige skin care sales were up 18% in 2021, totaling $6.3 billion, per NPD. Clinical skin care brands posted the greatest revenue gains in skin care in 2021, per NPD, with the sector surpassing natural as the highest-revenue brand type in skin care. That's not surprising, given that doctor-backed brands are prioritized by 68% of surveyed shoppers, per NPD.
Other drivers of prestige results included facial exfoliators. Facial cleansers, creams and serums grew in the range of 15-24% year-over-year. Increases were also seen for targeted care (ex: lip, eye). Notably, online sales were down year-over-year.
There were 30% more beauty searches on Google in 2021 compared to 2019...
On the mass beauty side, facial treatment sales jumped 54%, facial skin care sales rose 21%, sun care sales grew 38%, and hand and body lotion sales grew 21%, while bath and shower product sales declined 1% (the latter of which had strong year-over-year comparables). In the same period, deodorant sales rose 11%.
What is the shopper looking for? According to NPD, 35% of female Gen Z skin care users say anti-aging ingredients are important, while 52% of Gen Z consumers take skin care information from social media, primarily Tik Tok, where dermatologist influencers have risen to prominence. According to Google's Flynn Matthews and Spate's Yarden Horwitz, key personalities include Dr. Dray (@drdrayzday) on Tik Tok and Dr. Sam Ellis (@drsamanthaellis) on Instagram.
Top Skin Care Launches
The top prestige beauty launch in Peru and Chile was the Estee Lauder Advanced Night Repair Multi Recovery Complex, while Clinique Moisture Surge 100H Auto-Replenishing Hydrator led in Brazil.
The top U.S. prestige skin care launch of 2021 was Clinique's Moisture Surge 100H Auto-Replenishing Hydrator. Clarins dominated the face serum and eye treatment sector, while Kiehl's Creme de la Corps Refill led the body cream/lotion category, La Mer's Lip Balm led the lip treatment subsegment and Clinique's All About Clean 2-in-1 Exfoliating Jelly led the facial cleanser sector.
The top five brands ranked by total measured market for 20211 were Clinique, Estee Lauder, Lancome, The Ordinary and La Mer. The Ordinary jumped up two spots, from six to four, since last year. Per NielsenIQ, The Ordinary experienced an 83% increase in sales in 2021, totaling $299 million, making it the top Gen Z skin care brand.
Top Skin Care Trends
According to a presentation from Matthews and Horwitz, there were 30% more beauty searches on Google in 2021 compared to 2019. Top trending skin care brands based on jumps in average monthly searches were La Roche Posay, Hero Cosmetics, Paula's Choice, Frownies and Laneige. Skin care brands posting largest year-over-year growth percentages in searches were Topicals, Acnecide, Frownies, Refresh Skin Therapy and Apostrophe.
SPF searches are spiking all year round, not just in summer, according to Matthews and Horwitz. The term is making its way into makeup searches and is manifesting in searches for sunscreen mists and pills and scalp sunscreens.
Reflecting NPD's insight into the rise of clinical skin care, Matthews and Horwitz noted that "dermatologist recommended" is trending among searches. This is a boon for patches and hyperpigmentation treatments.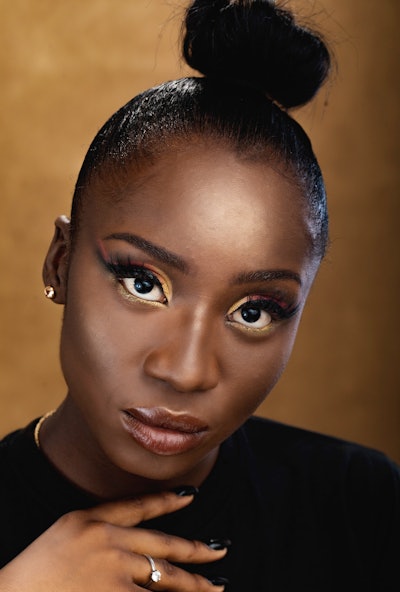 Color Cosmetics Rebound
U.S. prestige makeup sales for 2021 were up 23%, totaling $7.1 billion, per NPD, in part powered by nail care. Recovery was seen in the makeup foundation sector amid more away-from-home activity. Notably, average prices rose 2% in the sector, while online sales were down year-over-year.
The foundation, primer and tinted moisturizer sectors grew double digits in 2021, as did makeup-setting sprays and removers. Growth was also seen in social media darlings such as cream and stick blushes.
Lipstick monthly average searches have exploded more than 700% year-over-year...
Also of note, per NPD: "brands born from makeup artists and social influencers had the highest revenue gains among all the makeup brand types."
On the mass beauty side, sales of color cosmetics and nail products grew 17%, per NielsenIQ, while sales of false eyelashes and eye cosmetics grew 37% and 21%, respectively.
Top Makeup Launches & Brands
Lancome Lash Idole Mascara_01 Glossy Black was the top prestige beauty launch in Argentina, while Yves Saint Laurent The Slim Velvet Radical was the top performer in the Chinese sector (online only tracked). In the United States, Dior Addict Lip Glow Balm was the top makeup launch in 2021 by dollar volume sales.
The top five prestige makeup brands in 2021 were MAC, Benefit, Clinique, Lancome and Tarte. Benefit, Lancome and Tarte all moved up year-over-year.
What's Trending in Makeup?
Complexion product searches are growing per Spate and Google data, particularly tinted moisturizers, foundations, and both SPF-infused and conventional setting sprays.
In addition, lipstick monthly average searches have exploded more than 700% year-over-year (2021 vs 2020). Also trending are makeup sticks, including eyeshadow, contour and blush sticks. In addition, eyebrow stamps, eyeliner stickers and cream-to-powder foundations are among top-growing color cosmetic searches. Matthews and Flynn noted that consumers are turning to Amazon for eyeliner stickers, surfacing "no-name" brands with poor performance. This presents an opportunity for innovation.
U.S. prestige hair product sales were up 47% year-over-year in 2021...
Meanwhile, older consumers are searching for eye creams and solutions for hooded eyes.
Top-trending makeup looks include white eyeliner, soap brows, 70s makeup looks, butterfly eyeliner, Gyaru makeup (Japanese fashion subculture) and smudged eyeliner. 
The color cosmetic brands posting largest year-over-year growth percentages in searches, per Spate and Google, are MAC Cosmetics, Clinique, L'Oreal Paris, Charlotte Tilbury and Estee Lauder.
Color cosmetic brands posting largest year-over-year growth percentages in searches, per Spate and Google, are Jones Road Beauty, Glisten Cosmetics, Vieve, Makeupo by Mario and Undone Beauty.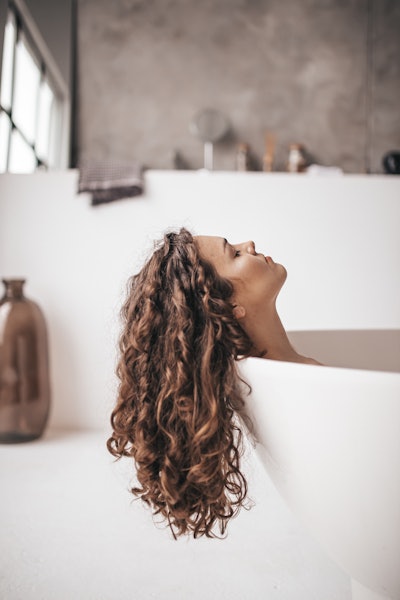 Hair Care: Growth Leader
2021 U.S. prestige hair product sales were up 47% year-over-year in 2021, totaling $2.6 billion. Results were in part powered by a 45% jump in hair styling product sales amid a return to greater away-from-home activities. During this period, an additional 6.7 million hair care buyers came into the prestige hair space, while spend per buyer rose 29%.
Big jumps were seen in scalp care (up 49%), clinical brands (up 34%), and skin + hair brands (up 32%—double volume achieved in 2018) per NPD. The jump in clinical sales reflects Spate and Google data that showed search gains for dermatologist-recommended shampoo and dermatologist-recommended hair growth products.
Styling winners included hairsprays, gels and mousses, among other formats.
Across categories, plastic-free beauty sales grew 900% in 2021...
The price sector within prestige hair care that had the largest gains was the $20-25 range. At the same time, Black-founded prestige hair brands experienced 70% sales growth in 2021, yet they still only comprise 4% of the prestige sector.
For 2022, the sector is expected to jump 15% year-over-year, while expansion for the category is anticipated through 2024, per NPD. This is reflected in shopper data, which shows that more than 90% of consumers plan to purchase some type of hair product in the next six months.
On the mass side, hair care grew 17%, per NielsenIQ, while hair removal sales grew 10% and hair treatment sales grew 28%. The top in-store hair launch in the mass space was Function of Beauty at Target, which garnered $41 million in sales.
Top Hair Brands & Launches
Top brands by total measured market were Olaplex, Redken, Biolage, Pureology and Living Proof, per NPD.
Olaplex No. 8 Bond Intense Moisture Mask was the top 2021 U.S. prestige hair care launch by dollar volume sales. Redken had the top launches in the daily rinse shampoo, treatment and daily rinse conditioner segments, while Living Proof's Perfect Hair Day Advanced Clean Dry Shampoo led the dry shampoo/conditioner sector and Oaui's Curl Cream dominated the styling category.
According to Matthews and Horwitz, top trending hair care brands in terms of increases in average monthly searches were Olaplex, Nutrafol, Redken, Viori and K18. Hair care brands posting the largest year-over-year growth percentages in searches, per Spate and Google, were Monday Haircare, Method Men, Viori, Odele and K18
Hair Care Search Trends
According to Spate and Google data, top hair care concerns based on year-over-year growth in search volume and increases in monthly average searches include: hair loss, thinning, oily, colored, greasy, oil control, hair shedding, toxic, pregnancy-safe and postpartum care.
As shown by search data, pandemic and overall stress is spiking "hair loss," "hair thinning" and "hair shedding" searches. In addition, hair loss shampoo and conditioner search volume in the 12 months ending December 2021 grew significantly year-over-year, while rice water shampoo searches grew 53.8%.
Finally, top-trending hair ingredients per Spate and Google are rosemary, pumpkin, minoxidil, caffeine, menthol, tsubaki, oregano, zinc pyrithione and tamanu oil.
Clean & Sustainable Revolution
Clean beauty sales in the U.S. mass sector totaled $517 million in 2021, a gain of 14.6% year-over-year, per NielsenIQ's Taylor.
According to Mintel's Jindal, 60% of U.S. beauty consumers care about using brands and products aligned with their values. It's no surprise, then, that NielsenIQ reported that 15.7% of beauty shoppers buy products meeting the strictest clean definition. Clean concepts are notably taking off in lower income households ($40K and below). In addition, Black consumers are reportedly 36% more likely to buy clean beauty than their consumer counterparts.
Ethical considerations are also making an impact. Per NielsenIQ data, cruelty-free beauty gained eight points of household penetration in 2021. In addition, fair trade beauty spending was up 7.5%. Elsewhere, per NielsenIQ, the gluten-free beauty spend grew by $8 per household in 2021. Notably, Hispanic households spent $16 more on gluten-free beauty in the same period.
"For Gen Z, 2D identity is out … Every Gen Z consumer is multiple consumers."
Across categories, plastic-free beauty sales grew 900% in 2021, per NielsenIQ's Taylor. Yet, Sparks & Honey's Emery warned that, while consumers are willing to sacrifice cost to be more sustainable, they are less willing to sacrifice convenience. She added that the bar continues to rise, with terms like "carbon-negative" and "biodesigned" gradually replacing more generic terms such as "green."
Mintel's Jindal pointed out that fear-based selling has been seen across the beauty industry. She noted that brands need to find a new way to connect and guide consumers on their sustainability journeys by giving shoppers positive reasons to adopt sustainable lifestyles. She added that sustainability is a collective step forward and that shoppers will gravitate toward forward-thinking, transparent and authentic brands.
Inclusion: More Work to Do
As NPD's Jensen noted, while gains have been made in terms of inclusion in beauty, Black-owned brands still comprise a small percentage of the prestige market. More work is needed.
Sparks & Honey's Emery discussed the movement for radical inclusion, in Eurocentric beauty standards are dismantled, neurodivergent-conscious products and experiences are designed, and anti-ableist concepts are kept front-of-mind.
She added a word of warning regarding oversimplifying any consumer's identity: "For Gen Z, 2D identity is out … Every Gen Z consumer is multiple consumers."
Mintel's Jindal explained that the pandemic has led to an ongoing search for connection, leading to the reclamation of beauty and uniqueness through cultural traditions. She added that brands that uncover and learn about traditional beauty will drive longer term value with customers who are engaged in their culture.
She also sounded a note of caution regarding cultural appreciations versus appropriation: authenticity must tie back to beauty heritage and culture.
In conclusion, she added that brands must change conversation toward positivity, empowering younger consumers by pivoting away from "aspirational" and embracing complex diversity.
Digital Revolution
No doubt, 2021 was the year NFTs made a splash, including from brands such as Nars, Givenchy, e.l.f. Beauty and Clinique. But Mintel's Jindal noted that digital technology will reshape beauty in an even wider range of ways. For instance, tech will boost open sourcing, supporting the collective activity consumers increasingly find most impactful. Digital tools will also allow consumers to adopt online avatars and digital identities that give them flexibility.
Critically, said Jindal, tech needs to focus to the emotional side of beauty. She noted that metaverse interest is peaking at a time when reality feels dystopian. Brands therefore need to think about "virtual first" products/services and create unique products that exist in multiple realities. These "realities" will also give rise to meta influencers that brands will need to leverage to build connections.
*Elements of this reporting includes previously reported insights and data.