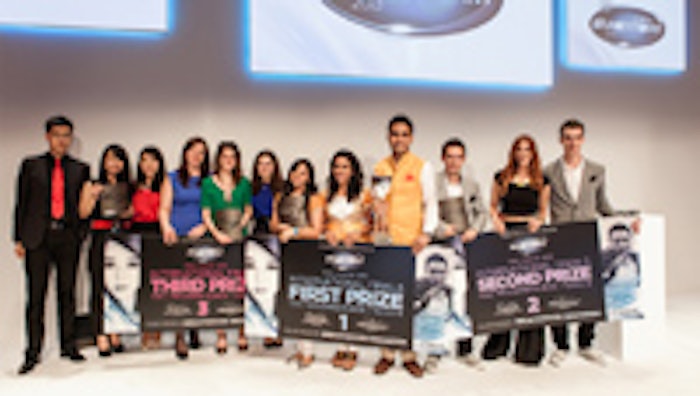 Thirty-seven student teams from around the world gathered in Paris to compete for the top prize at the 2013 L'Oréal Brandstrom International Finals, held at the Grand Palais. Team Les Avant Gardes from the S.P. Jain Institute of Management and Research in India were crowned the Brandstorm 2013 champions, bringing home the coveted prize of a trip to a city of their choice worth €10,000. Second place went to the Greek team, "A for Athens", from the Athens University of Economics and Business, who also won the People Choice Award with 19,000 "likes" on Facebook. "Innova Team" from France's engineering school Agro Paris Tech landed the third prize. The Best Digital Campaign Price went to team "Fashion Greek" from China's University of International Business and Economics.
The distinguised jury of this year's Brandstorm consisted of top L'Oréal executives, including Jérôme Tixier, executive vice president, human relations; Marc Menesguen, executive vice president, strategic marketing; and Cyril Chapuy, brand global president, L'Oréal Paris; as well as Nannette Dufour, president McCann beauty team, McCann World group.
This year's Brandstorm saw the participation of 10,000 students from 320 partner universities in 45 countries. To broaden its scope, L'Oréal introduced the Wildcard Cycle, giving students from non-partner campuses the opportunity to participate in the Brandstorm. Two thousand students from various universities and specializations competed in teams of three, submitting a video presentation of their project via YouTube. The projects were evaluated by L'Oréal's international human resources department and influential bloggers specializing in human resources, communication and marketing. Team Neat Plus from the University of Minho in Portugal won the first-ever Wildcard Cycle, receiving an all-expense paid trip to Paris to compete with the national teams during the International Brandstorm Finals.
"L'Oréal Brandstorm is at the forefront of business games and innovative recruitment, remaining relevant for more than two decades through constant renewal," said L'Oréal's employer branding director Alexandra Edleston-Leroy. "The introduction of the Wildcard Cycle is driven by the desire to enlarge our candidate pool, underlined by the importance of talent diversity to the continued success of global companies like L'Oréal."
Responding to students' desire to gain hands-on professional experience, L'Oréal pioneered this innovative marketing competition 21 years ago, allowing young talents from around the world to transform classroom lessons into concrete projects. Every year, Brandstorm challenges teams of three undergraduated to unleash their creativity in order to propose a product or service launch for one of L'Oréal's 27 international brands in line with latest market developments and trends.
For this edition, teams were invited to put themselves in the shoes of the head of the L'Oréal Paris ASEAN (Association of Southeast Asian Nations) hub to promote innovation for the hair care and styling category. With the thriving ASAEN cosmetics market, this year's case gives students the opportunity to experience the real-life challenges of a marketing professional working at the world's leading cosmetics group today.
In addition, students also have the opportunity to discover careers within the company and get talent-spotted. Every year, between 150 and 200 students are recruited via Brandstorm, many of whom have gone on to have thriving careers.