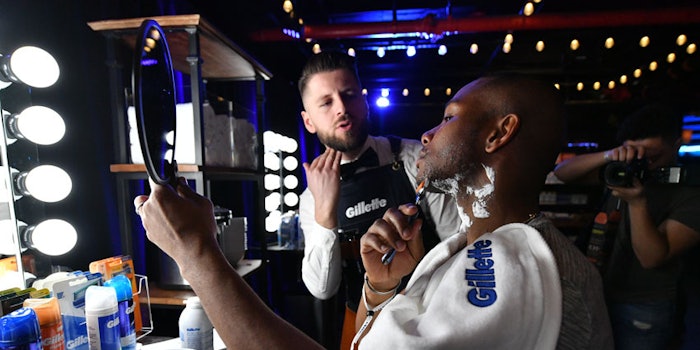 Gillette has added five new products to its razor lineup. 
Gillette debuted its new razors with the notion "one size does not actually fit all, especially when it comes to shaving." The brand explained that skin type, hair type, budget and lifestyle all factor into how male consumers purchase razors.  
A 2018 survey of 884 U.S. men found that nearly two-thirds believe it's important for razor brands to offer more than one blade option. A separate survey found that a large number of men are looking for high-quality refillable razors below $10.
The New Razors Include 
Sensor3 Cool: Gillette's cooling technology offered in a disposable option ($4.99 for a pack of three, $5.99 for a pack of five);
Gillette3 and Gillette5: Refillable razors available with Gillette's new Aqua Grip handle for control in the shower ($7.99); and
Gillette Mach3

 and the 

Fusion5:

 Both razors have been upgraded with finer, thinner blades and low-resistance coating for less cutting force and a more comfortable shave( $9.99 and $14.99 per pack of four cartridges, respectively).
Kristina Vanoosthuyze, senior manager, Gillette Scientific Communications, said, "The R&D teams at Gillette have spent decades studying both the similarities and unique differences between men, including virtually every factor that impacts their grooming choices. Through our years of research, we know that no two men are the same. There is often more than meets the eye, and similarities we may see on the surface are often more distinct from each other or can be undone completely by differences in life experiences and personality. Knowing this enables Gillette to design smarter, better products that bring variety to the market and meet real needs."
Pankaj Bhalla, director, Gillette & Venus North America, added, "Gillette knows that all men are unique. Each one has a very specific look, style, preference or budget and that's something to be celebrated and recognized. It's our mission to design, build and offer every man options when it comes to his grooming choices, allowing him to prioritize the features he values most, be it convenience, experience, comfort, closeness, price or otherwise. Gillette's range of products means we have a razor for every guy, and variety that's not offered by any other company or brand—and that's something we're proud of."