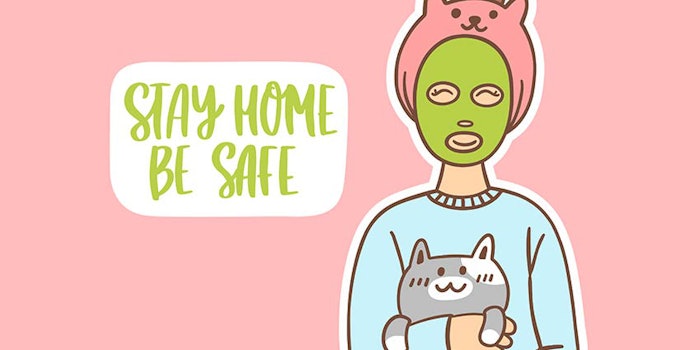 In a new video posted by CEW (members only), Larissa Jensen, beauty industry adviser, NPD Group, outlines highlights of U.S. prestige beauty's Q1 sales. She notes that year-over-year dollar performance for the period was down14%. Through February, prestige beauty had actually been growing, but then March sales alone ended down 37% year-over-year.
Skin, makeup and fragrance all declined in the double digits in Q1, Jensen says.
Market data overview: Beauty 2020-2030.
Makeup
Makeup, along with fragrance, was the hardest hit. One bright spot: at-home nail care solutions.
Makeup will take longer to come back than originally predicted, says Jensen. In fact, 63% of women are currently wearing makeup as they shelter in place.
Fragrance
Fragrance, along with makeup, was hardest hit by beauty's downturn. The lone bright spot: home fragrance.
Jensen explains that fragrance is most impacted by store closures. Heading into March, fragrance had been outperforming beauty overall. Now, performance is highly subdued.
Skin Care
Skin care showed some resilience due to a desire for self-care, particularly in hand soap, body oils, supplements and devices, says Jensen. Skin care benefited from a desire for self-care, as seen in the popularity of spa-at-home products.
Hair Care
Hair care was also relatively strong, with sales resilient in shampoo and at-home coloring solutions.
E-commerce
In the video, Jensen calls e-commerce the "only game in town" amid mass store shutdowns and a consumer base reluctant to step inside physical stores.
In the wake of the pandemic, about 90% of sales in every category in final weeks of March were generated via e-commerce. This represents a near total reversal of the norm.
Looking ahead, store reopenings will be mixed by geography. And not all stores will necessarily come online once permission is granted.
The Future
Emotions are running high, says Jensen, and the brands that make lasting impressions, rather than those that offer the best deal, will be strongest on the other side of the pandemic.
In this moment, Jensen says, the strongest motivators for purchase are how companies treat their employees, communities and their charitable giving.
Clean beauty, meanwhile, is stronger than ever. Because safety is equated with clean, consumers are inclined toward the category. In fact, in a down market, clean beauty is posting double-digit growth.