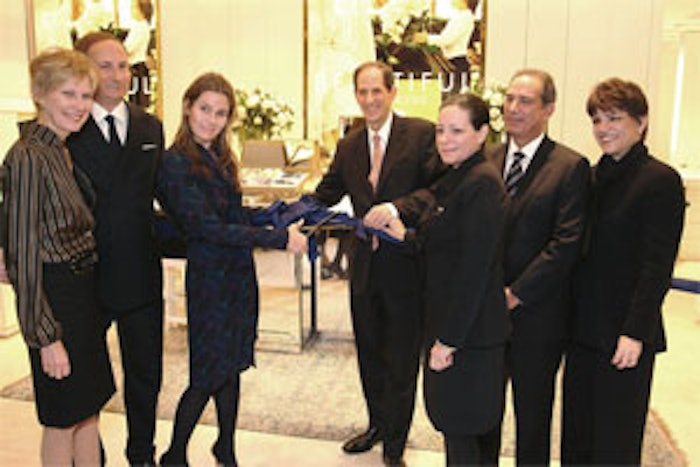 On November 20, Estée Lauder unveiled its redesigned counter at Bloomingdale's New York City flagship store on 59th Street. The open concept counter charts a new course for the Estée Lauder brand image by merging design elements from the Lauder heritage with a clean, modern aesthetic.
Aerin Lauder
, senior vice president, creative director, Estée Lauder, oversaw the design of the new counter and the uniform attire of the beauty staff.
"The new Bloomingdale's counter is an elegant new representation of modern Estée Lauder style. It's the perfect blend of luxury, heritage and service," said Lauder.
The 900-square foot counter features a faceted, mirrored makeup table that was inspired by founder Estée Lauder's very own dressing table. Makeup and skin care products are housed in tester units on the table, and illuminated makeup mirrors and blue suede upholstered chairs are available for one-on-one beauty consultations. Oversized visual transparencies change monthly, and promotional items are highlighted on crystal glass showcases bordering the table. Michael Gould, chairman and CEO of Bloomingdale's; John Demsey, group president, The Estée Lauder Companies, Inc.; and Thia Breen, president, Estée Lauder Americas and global business development, also were on hand for the ribbon cutting.
"The counter is especially inviting for color cosmetics and skin care, with beauty advisors on hand to individually suggest color and analyze your skin. That's what Estée Lauder is all about. It's our key to success," said Lauder.
"There's something here that you cannot find everywhere, and that's the beauty specialist," said Gould. He acknowledged the importance of all the Lauder beauty specialists gathered at the event.
Thia Breen noted, "This counter will do over $4 million this year, and it's all about the beauty advisor."