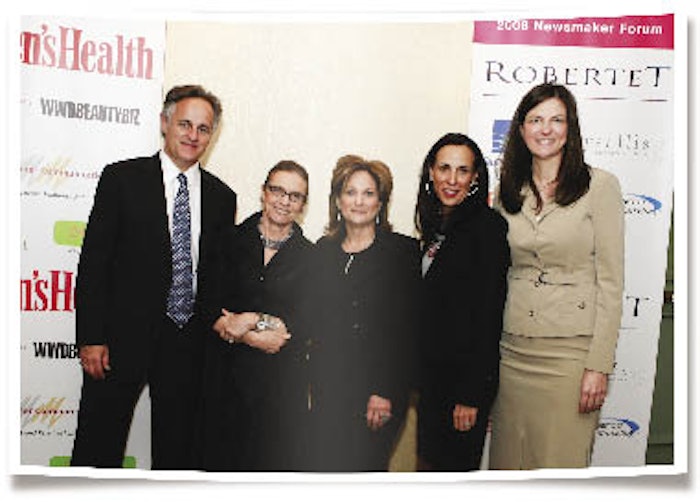 On May 21, Cosmetic Executive Women (CEW) held a newsmaker forum, featuring Susan Arnold, president, global business units, Procter & Gamble, at New York City's Hilton Hotel. Carlotta Jacobson, president, CEW, welcomed attendees, acknowledging the support of P&G for their time and resources. Christian Maubert, CEO, Robertet Fragrances and Mary Murcko, publisher of Women's Health, joined Jacobson in welcoming Susan Arnold. "Beauty is an important part of women's lives, and P&G Beauty has traditionally offered beauty and wellness products trusted by women," said Murcko.
Jill Scalamandre, CEW chairwoman, moderated the presentation and noted, "Susan oversees 300 plus brands at P&G— 100 of them are in beauty and 23 are $1 billion brands. Over the last five years, Susan has doubled P&G's business in beauty."
Arnold replied, "Beauty was natural for P&G. We've learned from each of our acquisitions about the design and packaging, and we've applied the lessons to drive our beauty business." In discussing the company's portfolio, Arnold said, "The breadth of our beauty portfolio is, I think, unparalleled, and our customer understanding is what differentiates us."
Arnold acknowledged the recent acquisition of hair care brand Frederic Fekkai. "We have a big time pipeline in hair care, and Frederic Fekkai is an excellent match," she said. Arnold also discussed the success of Clairol's Root Touch-Ups, and the consistent link between product success and customer understanding, noting that the company's retail channels encompass prestige, mass and masstige. "What we do is drive brands, rather than drive channels," she said. "Masstige is a pretty nice place to be. It feels pretty good. If you can deliver in rough economic times, you're doing pretty well. Beauty can become an affordable luxury."
While Arnold's comments touched on skin care, hair care, fragrance and sustainability, her philosophy returned to innovation and investment. "It's a success cycle. We invested in consumer understanding and innovation. Olay, for example, was on the forefront of starting an interactive dialogue and helped women design the next generation of skin care.
"At P&G," said Arnold, "we have committed to safe drinking water around the world, Pantene's Beautiful Lengths Campaign, cancer screening and environmental sustainability. Ninety-six percent of raw materials that come into P&G go out as finished products. The rest is recycled." Arnold concluded, citing the three pillars encompassed by P&G—safety, sustainability and humanitarian efforts.
The event was sponsored by Women's Health, Arcade Marketing, Wachovia, Chrysalis, Marina Maher Communications, WWD/BeautyBiz, WSL Strategic Retail, 24 Seven, Grey Group and Convergence Marketing, for their support.
Givaudan Creates a More Sustainable Future
Givaudan announced a partnership program that fosters economic stability and social development, while enabling the ethical and sustainable harvesting of natural raw materials from the Amazon, Australia and Laos. The event was held at The Rubin Museum of Art in New York City, and Robert F. Kennedy Jr. was the featured speaker.
Givaudan's executive vice president of fine fragrances, Cosimo Policastro, welcomed key clients to celebrate the ongoing partnerships and provided an overview of the fundamental benefits of environmentally friendly programs. "Our clients already realize that the movement toward a natural and more sustainable lifestyle is much more than a trend, it's the way of the future," he said.
Felix Mayr-Harting noted the four pillars of Givaudan's natural sourcing including organic ingredients OrPur, Origin Pure, which was created by Givaudan 10 years ago; Biotechnology and Naturals Transfer through green chemistry and ethical sourcing. "The fourth pillar has both environmental and social aspects. It is also about fair trade, assuring that local populations are protected," he said.
Under the aegis of Steven Gala, executive vice president, Givaudan, the program seeks to restore and invigorate regions and communities in which a variety of natural fragrance substances are extracted and ultimately become part of fragrance compositions.
Kennedy led a discussion on the state of sustainability, touching on the safety and health of waterways, the need to eliminate PCBs and other toxins from the environment and the necessity of harnessing alternate forms of energy.
"Protecting the environment recognizes that nature is the infrastructure of our communities," Kennedy said. "We've got to start protecting our infrastructure, the wildlife and the waterways for the future of our children. We have the technology, the scientific capacity and the economic capacity, but what we need is the leadership. We are fighting for the overarching vitality of all of humanity."
Camille McDonald Named Living Legend
The American Society of Perfumers (ASP) presented The Living Legend award to Camille McDonald, president, brand development and merchandising for Bath and Body Works, at its 54th annual Symposium on June 2. Pete Born, executive editor, Women's Wear Daily, presented the award. The Lifetime Achievement award was presented to Lambert Dekker, senior vice president/chief perfumer, Takasago International Corporation, by Gus van Loveren.
Additionally, there was a tribute to Roman Kaiser, research fellow at Givaudan, presented by Cosimo Policastro, executive vice president, fine fragrance, Givaudan.
The symposium featured a roundtable discussion led by master of ceremonies and symposium co-chairman, Jim Krivda, that focused on "How to Make Your Fragrance Customers Happy and Increase Sales."
Roundtable participants included Marian Bendeth, global fragrance expert, Sixth Scents, Toronto; Chandler Burr, fragrance critic for The New York Times; Ann Gottlieb, president, Ann Gottlieb Associates, Inc.; Marlen Elliott Harrison, creator/editor, perfumecritic.com; Jan Moran, CEO, Crescent House Publishing, LLC and creator of the Scentsa Fragrance Finder, as well as others.
Moran said the abundance of fragrances has the consumer confused. "Consumers are overwhelmed and don't have the frame of reference to gather the information they need," she said. "I think the future is predicated on technology. In that way, we can communicate the information around the world."
Naturals and organics were also on the agenda. According to Bendeth, "They're making very big inroads. It's another expression of fragrance. In order to be fair, we need to let the customers tell us what they're interested in."
Gottlieb added, "What the customer is asking for, however, could very well be unrealistic. We owe consumers an explanation of what is and what is not organic."
Burr noted, "There is disinformation out there. Perfume is not meant to be all natural, that's not perfume."
Sponsors of the symposium included Procter & Gamble, Firmenich, Givaudan, Robertet and Symrise, Bath & Body Works, Bedoukian Research, Takasago, Mane and Perfumer & Flavorist magazine.
Scentsa Fragrance Finder Debuts at Sephora
On May 19, 2008, Jan Moran, noted fragrance expert and author of the Fabulous Fragrances book series, introduced the Scentsa Fragrance Finder at the Sephora on Madison Avenue and 42nd Street in New York City.
Scentsa won a FiFi Award from The Fragrance Foundation this year for technological innovation, as the device utilizes touch-screen technology, offers speed and interactivity, features a large navigational screen and is easy to navigate. Users can search for information on new fragrances, discover fragrances from the same families, view images, run videos and find global fragrance reviews.
Betsy Olum, senior vice president of marketing, Sephora, said, "Scentsa will revolutionize the way we traditionally think about finding a fragrance. With this program, our clients will be able to quickly and easily locate a fragrance favorite or discover a new one." The technology allows searching by brand name, fragrance name, fragrance notes and best sellers. Moran said this is the first phase of a nationwide initiative, and plans are being made for international outreach.
Rechelbacher Launches Intelligent Nutrients
Horst Rechelbacher, founder of Aveda, launched his organic Intelligent Nutrients collection on June 11, 2008, at New York City's Espace. The luncheon featured organic cuisine prepared by chef Kurt Gutenbrunner of Wallsé Restaurant and Café Sabarsky. Rechelbacher referenced his journey from stylist to activist and the experiences that have impacted his philosophy and outlook. "It is very important to me to break the rules, because they need to be broken," he said. "Everything we put in our bodies must be nutritious and safe."
In fall 2008, the line will expand to include nutriceutical supplements, skin and body care, maternal/baby care, love therapy and pet care—all of which are certified organic.
Tone Launches New Line
On May 19, 2008, Tone launched a new line of mass market body washes and soaps at New York's Hammerstein Ballroom. In conjunction with the Gen Art Styles fashion event, which showcases emerging fashion designers, a reception was held to reveal the newest additions, including an Almond Milk Body Bar, Almond Milk Nourishing Body Wash and Almond Milk and Coconut Milk Liquid Hand Soaps.
The event featured special guest Sophia Bush, award-winning actress and star of the TV show One Tree Hill, who took part in the celebration of the launch and presented the Tone Fashion Vision award.
Nancy Jeffries is a contributing editor for GCI magazine, covering the industry from her New York vantage. Jeffries has been in the publishing business for more than 20 years. Her introduction to the cosmetics and personal care industry began as editor of GCI magazine from 1997–2000. [email protected]