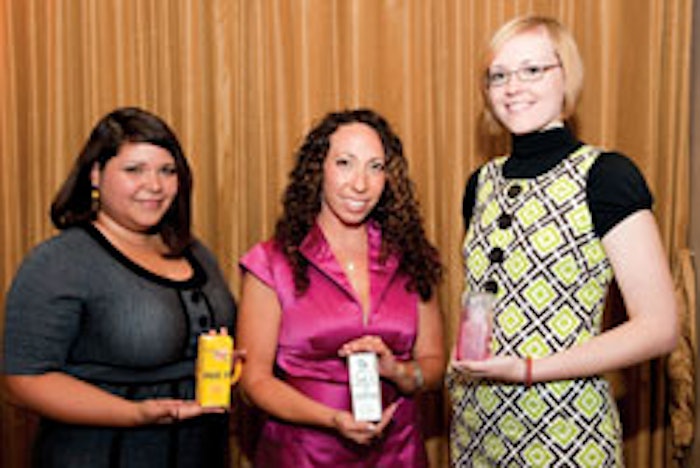 On September 10, International Cosmetic Manufacturers and Distributors (ICMAD) held its 2008 Young Designer Awards Dinner at New York's Twenty Four Fifth. ICMAD president David Schieffelin welcomed attendees, explained the design competition, acknowledged the professionalism of the students' packaging submissions and thanked the sponsors of the event, which included GCI magazine and HBA Global Expo, among others. He then introduced guest speaker Martha Brady, current president and CEO of Caudalie USA and former general manager of La Prairie.
Brady, who presented the awards to this year's winners, discussed the need for creative, effective packaging. "Today, presentation is everything," said Brady, noting that if packaging doesn't perform, the customer won't buy the product again. "You need a certain amount of intellectual curiosity, an understanding of the marketplace and the channels of distribution, as well as what will make your package stand out," she continued. "There's no other word for it; you are seducing with your package."
The first-place 2008 ICMAD Young Designer Award went to Netta Rubin from the Fashion Institute of Technology, New York City. Second-place was awarded to Maria Alexandra Maldonado of the Savannah College of Art & Design, Savannah, Georgia, and third-place was awarded to Katie Fowler of the American Academy of Art in Chicago, Illinois.
Redken Supports Colorful Neverland
Redken was the creative force behind many of the colors and hairstyles that graced the runway at this season's Mercedes-Benz Fashion Week in New York City, including at the Betsey Johnson runway event. Models wore pinafores, striped leggings, waistcoats and bowler hats, making for a colorful mélange. Pink, blue, gold and purple pageboys and short bobs made models' hairstyles an integral part of Johnson's message, while skulls and crossbones, crinolines, elephant-shaped balloons and the ubiquitous cartwheeling Johnson herself—dressed in neon green—stole the show.
Tarte's Fashion Week
This was the first time that Tarte Cosmetics participated in Fashion Week at Bryant Park. Tarte provided the key makeup for Charlotte Ronson's Spring 2009 show, which took place September 6. Beauty.com makeup artist Tina Turnbow's inspiration for the show was Madonna's Lucky Star song and grunge music. She was able to achieve the look with Tarte products such as Provocateur Pressed Mineral Powder with SPF 8 and 24/7 Lip Sheer with SPF 15 in Tea Time.
In addition, Turnbow was the lead makeup artist for Doucette Duvall's show. She created Tarte's look by using eco-friendly products such as Lash Hugger Eco-friendly Natural Mascara and Tarte's new straw palette, Spring Greening, which features a bamboo brush, mineral shadows and vitamin-infused glosses. The palette will launch in February 2009.
MAC Cosmetics in New York
Once again, MAC, a sponsor of Mercedes-Benz Fashion Week, was an arbiter of the key makeup looks on the runway. For Carolina Herrera, the look was dramatic but had an innate softness. "The inspiration for the collection was Botticelli and the contrast of black and white, so the look is a contrast of a strong eye and a soft lip," said makeup artist Diane Kendal. The eyes were made up with Smolder Eye Kohl from MAC and Lucky Tom eye shadow. MAC Pro Sculpting Powder contoured the face, swept along the cheekbone, and Tippy Powder Blush was applied to the cheek. Nude MAC Pro Cream Colour Base was patted onto the lips, with Lip Conditioner patted over Nude Cream Colour Base, and Bubbles Lipstick layered over the lip conditioner.
Makeup artist James Kaliardos designed the look for Nicole Miller with a plum, smoky eye as the focus. "The look is a soulful voodoo girl who can cast spells," he said. Zoomblack Zoom Lash Mascara applied to the top lashes and lightly touched onto the lower lashes, plus Fun and Games Beauty Powder Blush applied to the cheekbones, highlighted the face. Blankety Lipstick and C-Thru Tinted Lipglass blended onto the lips gave them a soft edge.
Kaliardos, who also created the makeup for Catherine Malandrino, drew on a French vibe for inspiration. "It's a bit Edith Piaf, but the skin and a sensual orange lip keep it contemporary," he added. For cheeks, he applied Fun and Games Powder Blush buffed into the upper portion of the cheekbones and Luna Cream Colour Base on the high planes of the cheekbones. He applied Gentle Coral Tinted Lip Conditioner SPF 15 as a base and top coat to the lips, blotted and finished with Rich Coral MAC Pro Cream Colour Base.
As with the colorful theme of much of the spring 2009 fashion collections, color popped in makeup, whether in deep red or orange lips, as well as in hair color, especially in the styles shown during Betsey Johnson's show.
Cargo Colors Caravan
On September 8, the Caravan Design Collection teamed with Tide Total Care for Style 360 New York during Mercedes-Benz Fashion Week. Cargo Cosmetics worked on the makeup, with hairstyle credits going to Rusk and Conair, as well as to Sarah Munoz, in charge of hair and makeup creative direction.
Peclers' Predictions
On September 12, Peclers Paris, known for its fashion-forward color forecasting, brand strategy, trend research and product conception, invited GCI magazine to a deskside interview with Dominique Assenat, beauty, luxury and accessories director for Peclers Paris, and Jeanine Milillo, managing director of Peclers Paris North America, at their New York City headquarters in the West Village. Assenat revealed the multisensorial influences integral to color and textural design, and ultimately future product development in the areas of cosmetics, beauty, packaging, apparel, consumer electronics and lifestyle design.
From architecture to anthropology, the creative process, which involves the shared experiences and impressions of the Peclers team from a wide range of disparate sources, ultimately results in the creation of 45 new colors each season. The company's exclusive colors are interpreted and come to fruition in a variety of products, both cosmetics, beauty, and beyond.
Assenat noted that forthcoming colors will blend art, nature and hard science with the visual and experimental aspects of their latest trend stories. These color concepts include, for example, "Fan Lab", an innovative and seductive concept; "Fancy Tech," which fuses radiance and futurism; "Arctic Attraction," melding the rustic with the fragile; "Power Full," balancing humanity and technology; and "Fun Therapy," transforming the everyday with humor, bright colors and graphics.
"Peclers integrates the holistic approach to beauty with color," Assenat said. "In cosmetics and beauty, the major issue is naturals and science—the natural and human side with the high-tech. To us, it is the best of both, and we demonstrate how they can interact with each other."
Assenat and her team translated new materials and perceptions into products found in packaging, cosmetics, beauty and color. Their study of the market and its surrounding influences may impact future product development.
For example, their exploration of ceramics comes to life in terra cotta-influenced makeup and beauty looks based on glazed earthenware; in addition, light effects and the refraction of pearls found in nature may be translated to luminescence in cosmetics. Woods, florals and frost also find new interpretation in beauty products.
These influences culminate in an orchestration customized for particular segments of the industry, reflecting the story that is to be expressed. Whether bronze-glazed makeup, subdued patina eyeshadows or the cool mineral notes of the arctic, the concepts expand and communicate in color, texture and light.
Nancy Jeffries is a contributing editor for GCI magazine, covering the industry from her New York vantage. Jeffries has been in the publishing business for more than 20 years. Her introduction to the cosmetics and personal care industry began as editor of GCI magazine from 1997–2000. bnjcasa@aol.com