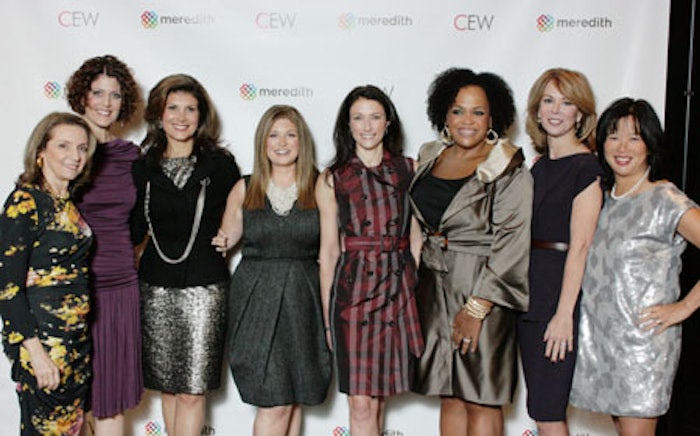 CEW
On Oct. 1, 2010, Carlotta Jacobson, president, Cosmetic Executive Women (CEW), welcomed attendees to celebrate industry excellence at CEW's 35th Annual Achiever Awards luncheon at New York City's Waldorf-Astoria. Jacobson, referring to the gender equality fostered in today's beauty industry, announced that the time was right to welcome men into its membership, emphasizing that the industry is poised to deal with the changes brought about by the current economic environment, and confirming that, despite changes, "We're still CEW."
In addition, Jacobson noted that CEW, while supporting the achievements of this year's women leaders, also acknowledged the contributions of companies supporting women in the industry. "We are delighted to also recognize Johnson & Johnson Consumer Companies, Inc. for actively helping women advance and achieve," said Jacobson.
2010 Achiever Award Honorees
Alex Keith, vice president, P&G
Janet Pardo, senior vice president, global product development, Clinique
Claudia Poccia, global president, Mark, Avon Products, Inc.
Lisa Price, founder, Carol's Daughter
Lori Singer, group vice president, global marketing, Coty Prestige
Johnson & Johnson Consumer Companies, Inc., the first recipient of the Corporate Empowerment for Women (C.E.W.) Award
Gina Drosos, president, global personal beauty, P&G, introduced Alex Keith, vice president, P&G, as the "engineering and analytical genius" who helped create the Olay business with Olay Complete. "She consistently builds strong, creative teams, which shows in the exceptional businesses she creates," said Drosos. Keith, who acknowledged the esteemed list of previous winners, compared her business philosophy with her passion for running. "My journey was fueled by so many mentors, and my running is a source of inner strength and confidence. These two passions, beauty and running, are intertwined," said Keith, citing the most important lessons she has learned in her career, beginning with, "Challenge accepted boundaries."
Regarding the kickoff of P&G's men's category with Men's Body Wash, and later, with Secret Clinical Strength, Keith acknowledged the importance of her team. "For me, running partners are critical," she said. In addition, Keith added, "Competition makes you greater. There's always someone out there that can inspire you in the world of beauty, and, finally, you've got to pay it forward," noted Keith—who currently works with a teen running program in Cincinnati, which helps build girls' confidence through sports.
Lynne Greene, global brand president, Clinique, The Estée Lauder Companies, presented the Achiever Award to Janet Pardo, senior vice president, global product development, Clinique, and characterized Pardo as creative, smart, collaborative, tenacious, tough and loyal to a family that anchors her. Pardo acknowledged her honor with a quote from Kahlil Gibran's The Prophet, "When you work with love, you bind yourself to yourself," she said, thanking William Lauder, Jane Lauder, Lynne Greene and Fabrizio Freda for their encouragement and guidance. "If you are not happy with what you do, find what nurtures your passion. Find what you love to do, and it will never feel like work," she said.
Ashlee Thomas, former intern for Mark, introduced award winner, Claudia Poccia, global president, Mark, Avon Products, Inc., who shared her desire to empower young women to succeed. "From the start, working at the counter, I learned that we get to make women feel beautiful every day," said Poccia. "With Avon and Mark, and CEW, we try to give women confidence to reach their full potential," she said, adding four steps to share your knowledge and help others be successful. "First, be present in the moment and make it count. Reach high and know no boundaries. Follow your passion, and, finally, always do your best. This award is an inspiration for me to keep doing my best," she said. Mindy Grossman, CEO, HSN, introduced Lisa Price, founder of Carol's Daughter, noting her passion, integrity, love, courage and resolve, and an approach to business that has always been personal. Price, who started making products in her kitchen and named her company for her mother, began with an almond cookie fragrance inspired by the scent of a Chinese almond cookie. From a niche selling proposition in 1993 to a success story in beauty, Carol's Daughter, with the support of Steve Stoute, has created a wide range of beauty products that have become among the five top beauty brands on HSN, which Price joined in 2008, and have been a catalyst for change, spurring product placement front and center on store shelves—as well as helping to inspire the creation of the first African-American princess for Disney.
Price was deferential, saying, "I'm not special, not born with a lot of money. I'm just an average woman who listened to the universe." She acknowledged that HSN has been a catalyst for making her a stronger person, and added, "To say I am humbled in this room is an understatement. I'm somewhat of an insecure person and a work in progress, and I thank everyone for their support and understanding." After thanking her entire team and Steve Stoute for always demanding excellence, she pledged to continue to do the work to make Carol's Daughter, "Stronger, bigger and better, and always do the work."
Lori Singer, group vice president, global marketing, Coty Prestige, was introduced by Catherine Walsh, senior vice president, American fragrances, Coty Prestige, who characterized Singer as a woman with tireless determination. Singer, who transitioned to the fragrance world at Coty after 12 years at Calvin Klein, says her family's lifetime passion is working on behalf of autism research. "Life gives you curve balls, but reminds me to always hit one out of the park," said Singer, whose youngest son was diagnosed with autism. In addressing her philosophy for success, Singer said, "You must make your own destiny and embrace change. You should absolutely love what you do and surround yourself with great people. Feed your curiosity and don't be afraid to ask a question."
Further Singer said, "I truly would not be here without my colleagues and my family." She acknowledged Ann Gottlieb, as a professional inspiration, and her children and family as the "light of her life," and concluded by saying, "I truly believe in paying it forward and hope I can impart my experience for those coming up in the industry today."
Jill Scalamandre, chairwoman, CEW, presented the first Corporate Empowerment for Women (C.E.W.) Award to Johnson & Johnson Consumer Companies, Inc. for developing programs designed to help women succeed in the beauty industry and for the company's Life 360 Program, which helps women achieve balance between work and family as they achieve their professional goals. The award was accepted by Susan Sweet, general manager, Neutrogena, a Johnson & Johnson brand.
The 2010 CEW Achiever Awards were sponsored by Meredith Corporation, International Flavors and Fragrances (IFF), Arcade Marketing, MANA, HSN, Rpr Marketing Communications, WWD Beauty Biz, ULTA, Maesa Group, Target, Wells Fargo Securities, Suite K, Indelible, Consultancy Media and Digital Plus.