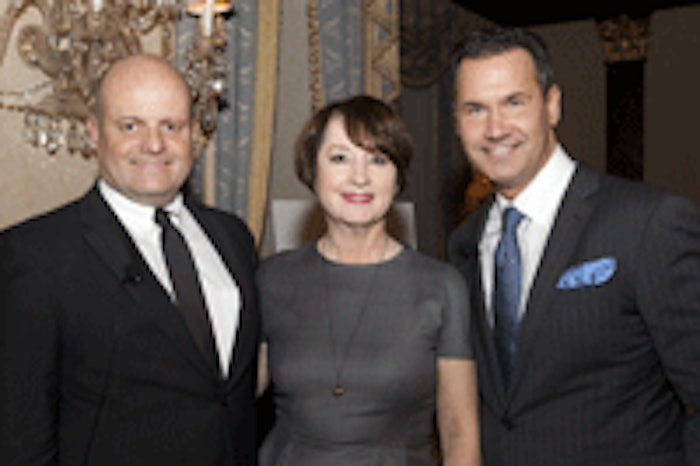 Photo by: Patricia Willis Photography
How did the global powerhouse LVMH become one of the top companies in luxury beauty? How is luxury ultimately defined and brands positioned for growth? These topics formed the basis of Cosmetic Executive Women's (CEW) discussion on November 18, 2013, at the last session of the 2013 Women & Men In Beauty Series, titled "LVMH: Defining the Luxury Landscape."
Lisa Klein, senior vice president with CEW, introduced the panel, consisting of Terry Darland, president of LVMH Beauty; Nicholas Munafo, president of LVMH Fragrance Brands and Acqua Di Parma; Jean-Marc Plisson, CEO of Fresh; and moderator Jenny Fine of Beauty Inc, who addressed the ever-changing luxury landscape and how to keep brands relevant in an environment impacted by social media and economic uncertainty.
Darland, a 33-year veteran of the luxury, cosmetic, skin care and fragrance industry, became the senior vice president of marketing, sales and education of Christian Dior Perfumes in 2004. She was promoted to general manager of North America in 2006 and to president in 2009, the same year she was awarded the CEW Achiever Award.
Munafo has dedicated more than 20 years to cosmetics and fragrance. He became the president of LVMH Fragrance Brands, US, in 2010, overseeing a portfolio which includes Parfums Givenchy, Fendi Perfumes and Parfums Kenzo. In addition, Munafo serves on the boards of The Fashion Group International and The Fragrance Foundation.
Plisson has been CEO of Fresh since March 2007. Before that, he was CEO of LVMH Perfumes & Cosmetics, North America, and has been with LVMH for 18 years. Each of the senior executives brings considerable experience to the luxury category and the underlying importance of a brand's story.
Luxury's Unique Proposition
Fine welcomed the luxury-loving audience with a look at the impact of Fresh and how it first appeared in 1999 on Oprah, where it was embraced by Oprah's considerable viewership. And looking at the overall market, whether it is the black lipstick created by Givenchy for Liv Tyler, Dior skin care products, or scents such as the Gentlemen Only fragrance for men from Givenchy, luxury translates as a unique experience. Darland defined it as a way of feeling. "I think that luxury is really defined by the experience you have. No matter what you're spending or where you've made your purchase, you feel good about it," she said.
Munafo commented, "It's abut the quality of the brand," and Plisson said it was about the experience and "how you connect with the brand." Darland also added that the service component is a resonant factor in the luxury experience. "We all know that Christmas is coming, and it's important to provide great sales service," she said. Plisson concurred, noting, "The most important thing is to engage the customer, and it's really about having the dialogue."
Darland cited the strength of the luxury skin care market, noting that women want to look good at every age, and that for Dior and Guerlain, skin care is doing very well. She noted in particular the facial skin care events held at retailers and the response by women to quality skin care. "For Givenchy, it's high quality and a rich history that resonate, like our Acqua Di Parma, which is 96 years young. We also launched Givenchy's Gentlemen Only fragrance with Simon Baker in the campaign, a true gentleman with that message," said Munafo.
Reinvention continues to be a factor in strategic growth, with all the panelists agreeing that focusing on trends, service and quality is key. "One of the most important approaches for us is selective distribution," said Darland. "We have repositioned, retrended, and gone back into specialty stores. We are focusing on what is important, including renaming our beauty advisors as beauty stylists, and we have also looked at how we provide service at the counter, which helped us through the recession. Specialty retailers and partnerships are important for us. We love our retailers. They are an important element of our success."
Plisson noted the importance of targeted messaging. "We spent a lot of energy during the recession on focused messaging, on our international products, and on our packaging. We reviewed the whole strategy. At Fresh, we don't have to imagine what the founders are doing. We have them with us and that strengthens the story," he noted.
"We are in the process of redefining our strategy to be a fashion and beauty collaboration. We are reviewing products, distribution and promotions," Munafo said, adding, "We've upgraded our distribution, and we are where Givenchy belongs. We've cut back on gifts with purchase and put that money into our products."
Plisson explained, "We are all programmed to run the business, which is a conjunction of a well-organized company with good strategy. It's this crossroad which gives us strength. We are complementary with our founder, Alina [referring to founder, Alina Roytberg], and we understand each other. We have a ten-year friendship, started with a fantastic product, and have maintained a great relationship."
Munafo also noted that small distribution and specific products, citing Le Rouge lipstick as an example, help to differentiate the brand. "Liv Tyler and Uma Thurman have made special appearances, for example," he said, while Darland, added, "When you have Charlize Theron for Dior, you're lucky." In addition, retailers like Barneys and Macy's have unveiled new beauty floors, and according to Darland, business is very strong at Macy's for Givenchy. "I think Christmas will be okay," she said. Munafo noted that Macy's, Barneys and Bergdorf Men were all performing very well.
Additionally, all the panelists agreed that retail partnerships were important, with Darland citing the relationship with Sephora as a great opportunity to learn about trends. "There's been a lot we've learned from our partner Sephora, including that under 25-year-olds love our brand, and we've learned how to make an item hot and a lot about new trends," she said.
Plisson agreed that Sephora's perspective is always consumer-driven, noting that, "We listen a lot, and we look through the consumers' eyes." Munafo said that Sephora is "amazing at picking out hero items."
Holiday and the Digital Presence
While everyone anticipates the holiday story with both excitement and trepidation, the luxury panel was cautiously optimistic. "I think it's going to be a challenging holiday," said Darland. "Speaking for my brands, we're in a good position with fragrance, but it all comes down to those last few days. It will be a nail biter until the last minute."
Munafo commented, "We're cautiously optimistic. At LVMH, creative passion is the LVMH philosophy, and we maintain that with the interaction and energy that comes from people. I say it's people and product that contribute to our passion, and we have an amazing portfolio." And Plisson noted that the DNA in the organization is fundamental to its success.
In responding to a question about what the luxury sector can learn from mass, as well as the digital environment, Munafo noted that it is important for the luxury category to listen to the young consumer as well, to reach a happy medium. Plisson noted that the digital world has had and continues to have a great impact. "It is a very important piece, and I think the power is on the consumers' side. It's up to us to provide consistency and quality in the luxury sector."
Munafo also noted that, with up to 300 new fragrance launches per year, "It's really key to have the most rewarding product. Social media is a moving target, and for Givenchy, we've done some collaborations to get the word out, but in general, you either have to play big or go home and be happy with a selective jewel." When all is said and done, and despite mixed messages from the media, Munafo said, "For the true luxury customer, luxury is alive and well."
The evening's sponsors were Shape, Givaudan, 24 Seven Inc., HauteLook, eXperticity, Grace Beauty LLC, Lord & Taylor, Beauty Inc, WWD, Kaplow Communications, and Digital Therapy.