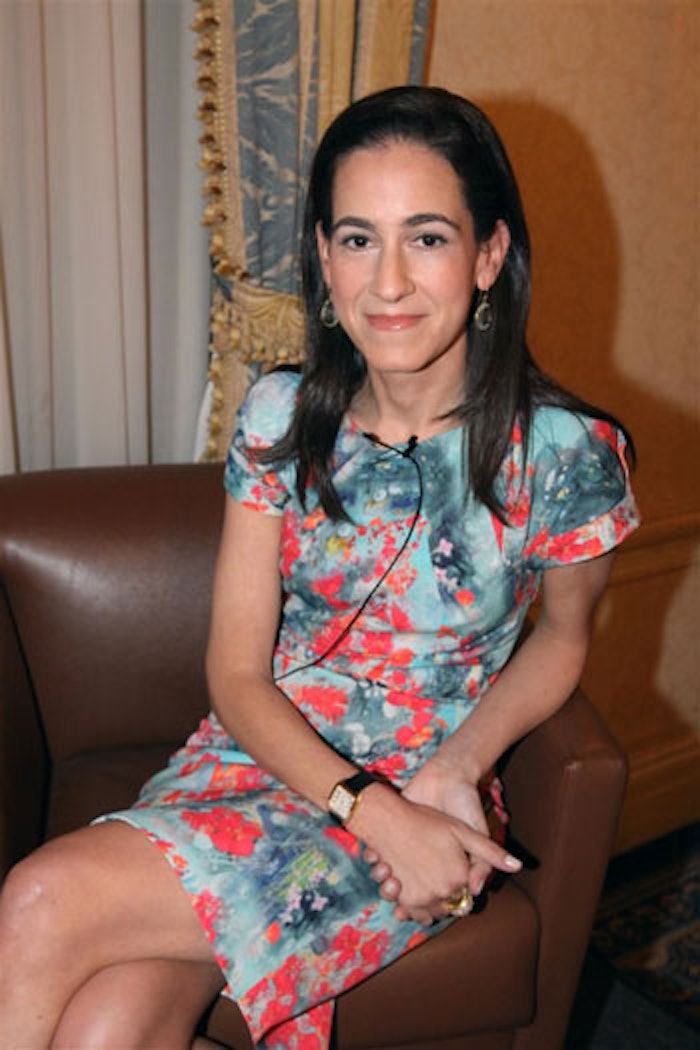 On June 9, 2011, Cosmetic Executive Women, (CEW) welcomed Jane Lauder, global president and general manager of Origins and Ojon, to discuss brand strategies, global presence and the current role of sustainability in beauty. Introduced by Carlotta Jacobson, president of Cosmetic Executive Women, who acknowledged the presentation as CEW's first Members Only Women in Beauty Series event, the discussion provided an opportunity for attendees to get an inside look at Lauder's experience and how she navigates the landscape of sustainability and consumer demand.
By way of introduction, Jacobson remarked that she had known Lauder's grandmother well enough to know that not only would she be extremely proud of the job she was doing with the company but might also suggest she wear "a little more lipstick." Jacobson introduced Diane Newman Shur, executive vice president and publisher of Shape magazine, and moderator, Jenny Fine, of WWD/Beauty Biz, and acknowledged the event's additional sponsors: Givaudan, Mark, 24 Seven, Hautelook, Script to Screen, Is That Odd, Kaplow, Consultancy Media, and LifeMinute TV.
Leadership and Direction
Jane Lauder, who was named global president/general manager of the Origins and Ojon brands in 2010, is known for her focus and entrepreneurial spirit. Before joining Clinique, she was vice president of marketing for BeautyBank, where she spearheaded the creation and launch of the skin care and cosmetics line American Beauty, as well as Flirt!, a color cosmetics brand. She previously worked for Stila brand from 2001 to 2003, and began her career at The Estée Lauder Companies with positions of increasing responsibility at Clinique, and held numerous summer internships as she was learning about the business. She is the granddaughter of the founding chairman and namesake of The Estée Lauder Companies, has been working in the beauty industry for more than a decade and holds a degree from Stanford University.
Lauder shared her thoughts on the brands, saying she was particularly happy to be working with Origins and Ojons, as the brands had resonated for her personally. "I've always loved Origins, and coming to the brand, I've really learned so much about its history. It was born in the 1980s during an explosion of excess, and it was thought at the time by industry leaders, including Joe Gubernick (of The Estée Lauder Companies), that people would want to have something more natural," she said.
In response to a question about how naturals have weathered the recession, Lauder said, "If you have products that people really love, they'll come back to them. While bath and body may have been [impacted], since it was considered a luxury, people have been buying Origins products because they are efficacious and good for the wallet." In describing the Origins customer, she added, "Our customer is a woman worried about aging, is health conscious and is a label reader. If she is looking for efficacy, as consumers across all categories are, then the idea is something you can't sacrifice," she noted, adding that performance, naturals and affordability were key.
In addition, she cited the draw of an open sell environment. "What women want in a shopping experience is important. Origins was a pioneer with an open sell environment, and we continued to go back to the roots of the brand with a community table in the center. We named our associates "guides," and with our new store, we're calling it a return to nature's laboratory." She added that Origins had launched its new store design in China, which she acknowledged was one of the most exciting things she had done in her career. "It's a dynamic market and we've opened eleven doors in that market, including stores in Shanghai and Taiwan," she said.
"There were a lot of 'aha' moments in the process," she said, primarily spending time listening to consumers and doing focus groups. "We found that a main concern was acne, which was surprising, and we've just launched an acne sub-brand, which is expected to be a huge seller in Asia." She also noted the interest in sustainability and naturals in Sweden. "We launched last week in Sweden and Norway, where they are very interested in Origins and the green market."
Looking Ahead
Regarding Ojon, Lauder cited a growing interest in the prestige hair care market. "I think hair care is so exciting, especially regarding e-commerce and digital opportunities. There are more hair care searches on Google than other cosmetic categories, " she said, noting that the company's research has shown 17 million Google searches per month.
Regarding retail, "Two of the biggest barriers are choice and convenience. People run out of shampoo more quickly than blush. I think that these two areas will change the dynamic." Naturals and hair care are the fastest growing beauty categories, said Lauder, who noted that new technologies are coming for battling frizz and other hair care needs.
In addition, she cited sampling and sampling programs for Ojon as key parts of the brand's outreach. "One of the things about sampling for Ojon is that everybody wants a great product and the opportunity to try it. She mentioned Sephora's Ojon trade-in program, which provided new Ojon hair care products for trade, and also highlighted the importance of initiatives for tree planting, as an Origins initiative to offset energy consumption. The Origins tree planting initiative has resulted in the planting of more than 150,000 trees. In addition, the brand fosters recycling initiatives, one of which gave away 97,000 cleansers in one day in eleven countries, as part of the recycling program, which encourages handing in empty cosmetic containers for trade.
Social media has also been a contributing factor in growing the Origin fan base. In addition to organizing the Origins Rocks Earth Month concerts in New York, Seoul and Shanghai, the brand emphasizes social media as a tool to get useful information to site visitors, including offering a segment by Andre Weil dealing with health and lifestyle. Lauder believes this is an important way to give something extra to consumers. She strongly believes, however, that while "Retail enables purchase at the click of a button, nothing replaces the one-on-one of the shopping experience." She added that one of the brand's successes was to send an old-fashioned mailer, which was surprisingly well received.
"We're also using gaming as a new aspect of retailing. It's a concept that relieves stress," she said, likening it to the game of Scrabble. When asked how, as the granddaughter of the founder of the company and a major stockholder, she was able to integrate into the team, Lauder responded candidly. "Being a part of the family has definitely made it easier, and I was always surrounded by the business, however, my favorite part is being able to produce something that the consumer really wants. I loved creating the products based on listening to what the consumer wants, and I am still thrilled to see someone using a product that I have created," she said.
In response to spotting trends, Lauder said, "You get a lot of ideas just being out and traveling and getting inspired by different cultures. There is always something new. For example, there's so much growth in naturals and thousands of species yet to be discovered and utilized. We continue to have serendipitous moments when specific ingredients do things you didn't expect them to do. There's so much that we don't even know about yet."
When asked what her dream job would be, Lauder replied, "It's not about the dream job, it's about who you're working for to enable great learning and growth."