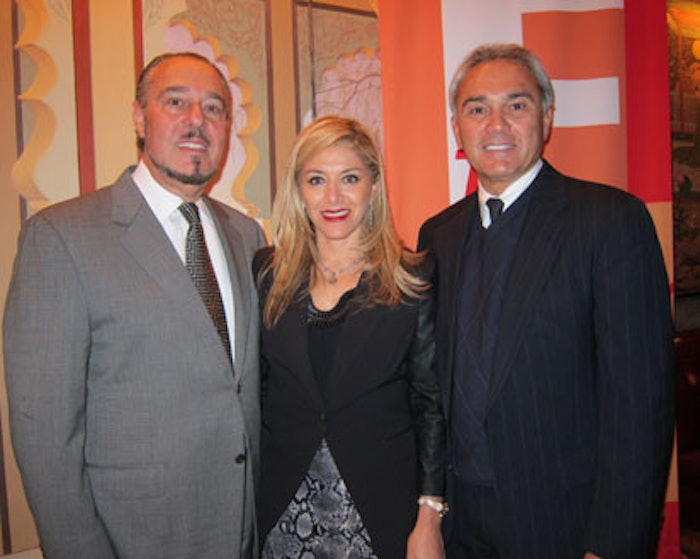 Marc Rosen—designer, seven-time FiFi award winner, president of Marc Rosen Associates and GCI magazine advisor—welcomed colleagues, industry executives and press to a celebratory launch of his book "Glamour Icons—Perfume Bottle Design" at New York's Doubles Club in the Sherry-Netherland Hotel, November 2, 2011. Rosen, who also teaches a course on fragrance packaging in Pratt Institute's graduate program in communications design, lends an insider's perspective to the world of fragrance and iconic design. In addition to being a celebration, the event—hosted by The Fragrance Foundation, Givaudan, SGD and Eastman—was a meeting of the minds (and hearts) of the beauty industry.
The book recognizes and celebrates perfume bottle design as an art form, and traces the resonant history of fragrance and its myriad and diverse packaging through the stories of glamourous individuals, personalities and fashions of the times, antiques and luxury to create a sensory journey. Rosen, who refers to perfume bottles as "small pieces of glass architecture," strove to capture the gestalt of perfume bottle design in a beautifully produced homage.
Process and Passion
Rosen pointed out the need for true collaboration in the creation of a fragrance, and ultimately the design of the bottle and packaging that captures its essence. "There's a chapter in the book on the process of design, in which I talk about the glass companies and suppliers, including Brosse, SGD and Pochet. I give the suppliers credit for taking on the challenge of creating the products, and what they do to make my designs a reality," said Rosen. "Part of being a designer is being able to inspire the suppliers to go the extra mile, and to make it a friendship."
For more than 30 years, Rosen has been passionate about this industry. His early career at Revlon, his work with Elizabeth Arden, and his insight into the collaborative process based on his personal experience, make the publication unique. While the book is a chronicle of art and design vis-à-vis fragrance in a historical context, it is also a reflection of the author's intention, clearly influenced by Rosen's pedagogical bent, to bring inspiration to a new generation of creative individuals who will carry the torch. "This book helps to remind us of how essential the glamour quotient is. People who remember it, and like it, like myself, know its importance. Hopefully, those who don't remember that glamour will find a new way of re-inventing it."
Rosen acknowledged his colleagues around the room and thanked his wife, Arlene Dahl, for her inspiration and Kevin Marshall for his assistance with the publication. "I am passionate about this industry, and I wanted to remind myself and everyone else how glamour has been such an important part of the fragrance heritage. I'm hoping that young people will be able to be inspired to excite the consumer, and I don't think the fifth flanker is going to do it. Here's to bringing glamour back to the industry."
Apropos of consumer outreach, Rosen explained how the retail environment will also be affected by this publication, as it provides a historical frame of reference for consumers of all ages, and an opportunity to experience the creative, cultural and artistic dimensions of the fragrance design process. Rosen, who spoke to numerous retailers and cosmetic and fragrance buyers in the hope they would sell the publication in their fragrance departments, was delighted to announce a retail initiative being facilitated by Barbara Zinn-Moore, senior vice president, general merchandise manager, cosmetics & Home, Lord & Taylor. "Creating excitement at the store is key," said Rosen, "and Barbara Zinn-Moore, at Lord & Taylor, is going to be giving the Glamour Icons book as a gift with purchase."
Zinn-Moore explained that the book is to be a gift with any $100 fragrance purchase at Lord & Taylor. "We are thrilled to be able to partner with Marc and to give our fragrance customers this special treat. We think the fragrance collector, as well as newer customers, will love to receive this special gift."
Rosen noted that Bloomingdale's will be selling the book online, on its fragrance page; Neiman's and Saks are also on board in the U.S.
Suppliers Support Creativity
Suppliers understand Rosen's passion for the art of fragrance bottle design. According to Sheherazade Chamlou, vice president of sales and marketing, perfumery division, SGD North America, "Rosen is promoting fragrance bottles as an art, not just for their packaging components. It is really an art to be able to create iconic bottles that are so difficult to produce, and designs are getting more and more complicated to produce. Marc is like a historian who's documenting the whole fragrance industry in his book. Everyone's looking at the sales numbers, but he's summarizing the evolution of the industry in a nutshell."
Cosimo Policastro, executive vice president, fine fragrances, North America, Givaudan, familiar with Rosen's publication, said, "Having spent time with the book, I found that it is a great reminder that there is no substitute for quality—quality in the fragrance, quality in the design. Quality is what sustains the test of time."
"Both the book and the fragrance business are about design," said Kate Greene, vice president of marketing, fine fragrance, Givaudan. "They're both about craft. The synergies between them are what create a successful product. There is a relationship between the perfumer and the designer. The perfumer always wants knowledge of the design. The power of the vessel that holds the precious liquid is key. We spend a lot of time with our clients, and as soon as they know what the bottle design is, that helps impact the creation of the fragrance; and when the bottle designer and the perfumer share ideas it all comes together."
Marc's book supports the relationship between the perfumer and the designer—whether it is a design emblematic of his collaboration with the fashion houses of Chloé, Perry Ellis, Karl Lagerfeld or Fendi;his experiences working with Princess Grace of Monaco; or his relationships with such celebrities as Christina Aguilera and Celine Dion—the context of each period is revealed in both the design of the fragrance and the bottle's design. The collection of Marc Rosen's bottles, the selection of historic bottles he has showcased, his description of the design process and unique collaborations offer a gateway to a highly specialized world where life and art intersect.
"The bottle is the first thing the consumer sees, and we recognize that," said Greene. "The bottles are the invitation to experience what is contained within."