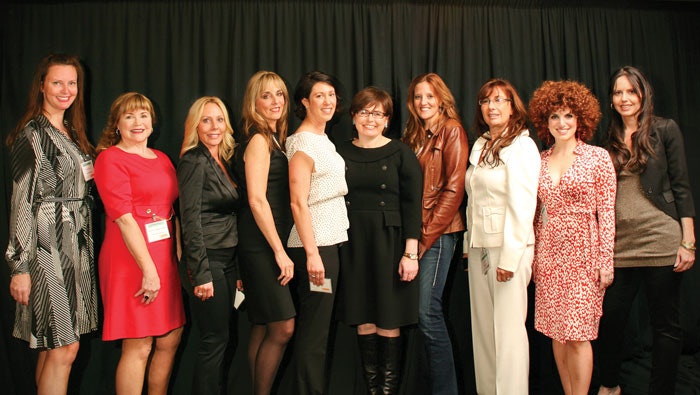 Mazur Group continued its successful Beauty Biz Roundtable (BBR) series with its seventh event, co-hosted by Beauty Industry West (BIW), March 13 in Santa Monica, California. The sold-out event featured Suzi Weiss-Fischmann, executive vice president and artistic director, OPI Products, Inc., who delivered her keynote address on "What Inspires You."
Citing nail lacquer as "a fashion accessory," Weiss-Fischmann told the audience she looks to various resources every season for inspiration—including fashion designers and their runway collections, celebrities and red carpet events, plus social media and emerging street trends.
But her major inspiration comes from her mother and daughter. "My mother represents the wise-woman stage of life; still loving beauty and its pleasures, though at a much deeper and soulful level while my daughter represents womanhood's ground zero. Both these women need what we offer; they just want it for different reasons. What is common to both is the fact that looking good helps them feel empowered."
She also told the audience that women expect more from their brands today. "Not only must brands help them look and feel more beautiful, they are also seeking out products and services from companies that do good for the world, especially for other women," she advised. "Brands that—directly or indirectly—promote physical and emotional well-being, protect and preserve the environment, provide education and care for the needy, and encourage love and connection will be the companies that are able to reach the female consumer, in particular."
"L.A. has an incredible amount of executives in the beauty industry who are all passionate about what they do, but have very limited networking opportunities," said Frances Mazur, president, Mazur Group. "We created the BBR series to give beauty industry executives a chance to meet and connect with each other on a more intimate level."
The evening began with a cocktail hour for open networking followed by the keynote, and then guests were able to interact directly with thought leaders and other attendees in three rounds of roundtable discussions. "BBR is unique in its roundtable format and informal, relaxed environment for networking. Attendees really have a chance to get to know each other and the thought leaders," said Weiss-Fischmann.