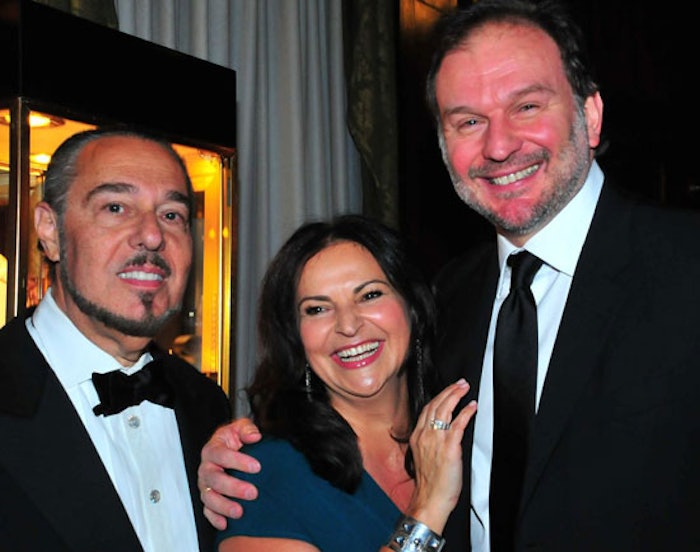 The 2013 Pratt Institute Art of Packaging Award Gala, which benefits the Marc Rosen Scholarship and Education Fund for Packaging by Design at Pratt Institute, honored Veronique Gabai-Pinsky and the Aramis and Designer Fragrances division of The Estée Lauder Companies for their outstanding commitment to package design this year. Gabai-Pinsky is the global brand president, Aramis and Designer Fragrances, BeautyBank and IdeaBank.
More than 300 guests attended the gala at a private club in Manhattan on April 30, 2013, and the event raised $350,000 Marc Rosen Scholarship and Education Fund—the only scholarship in the world available to college students looking to pursue careers in cosmetics and package design. The event has raised more than $3.5 million over the last 24 years.
Introduced by Carol Alt, supermodel and skin-care entrepreneur, Trey Laird, chief executive and creative officer of Laird+Partners, presented the Art of Packaging Award to Gabai-Pinsky, who accepted on behalf of the company and spoke about the inspiration of great design. She noted that the initial success of a product is "linked to the creative expression" of the brand through design. She encouraged Pratt communications and package design students to "stay hungry for the thrill of discovery and creative process."
At Pratt, Rosen teaches a course on cosmetic and fragrance package design. As part of the course, students select a floral, green or Oriental fragrance. They name the fragrance and design a perfume bottle from sketch to clay form to prototype, along with a scent card, box, shopping bag and advertisement. Based on their work, the 2013 student scholarship winners were:
Kyle Calvert (Illinois): Calvert designed a modern, oval-shaped bottle using silver and pink for a calming floral scent that he named "Serene."
Vivi Feng (China): Feng's scent, which she named "Vertigo," was influenced by the mystery and allure of the classic Alfred Hitchcock film of the same name and Art Deco style; the bottle was a faceted design inspired by origami.
Alexandra Haime (Florida): Haime's work, for an Oriental scent she named "Kahlia," was inspired by the idea of clarity and replicated the form of natural quartz crystal.
Kashfia Rahman (Bangladesh): Rahman chose a green scent, which she named "Belle Journee," and utilized a green leaf motif that translated the light scent into a graceful design.