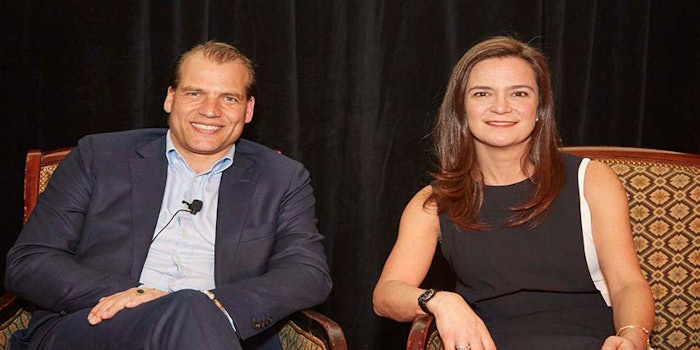 Every day, 2 billion people around the world use Unilever products—including more than 400 personal care brands. This creates a significant opportunity to impact the lives of consumers, employees and suppliers.
It also presents a challenge to brands to stay relevant and alive. During a recent Cosmetic Executive Women Newsmaker Forum in New York, two Unilever executives -- Kees Kruythoff, president, NA, and Tamara Rogers, Unilever's executive vice president of personal care USA -- explained how the company is reworking its portfolio to compete with today's consumers.
Boosting Skin Care Holdings
Roughly half of Unilever's US business lies in personal care, said Kruythoff, adding that every part of the portfolio plays a different role. Recently, that portfolio (which added the Sara Lee and Alberto Culver brands in 2010) has grown, with prestige skin care acquisitions such as Murad, REN, Kate Somerville and Dermalogica, which, according to comments from CEO Paul Polman, account for about £400 million.
As Kruythoff put it: "These brands have a natural home at Unilever."
Natural Consolidators
In today's fast-changing world, there will always be natural consolidators, Kruythoff said. "We see opportunities," he continued, noting that Unilever is in a strong cash position that supports acquisitions.
However, Kruythoff explained that synergies are everything. Noting the 2002 sale of the Arden business by Unilever, the executive noted that fragrance had provided insufficient opportunities for the company, while more recent acquisitions such as Murad presented significant opportunities. He concluded, "You always need to be in the right moment."
Looking ahead, Kruythoff said that there is no overarching strategic philosophy at Unilever regarding buy vs build. The company simultaneously possesses the ability to acquire more brands while bringing "craftsmanship" to those it already owns.
Unilever's Top Portfolio Opportunities
In terms of the portfolio mix, Kruythoff added that companies must account for the growing tribalism of global consumers and provide "local" brands that are relevant to them. He also noted that there are gaps that can be filled in skin care, particularly Asia, as well as male grooming, which is particularly "behind" in the United States.
Similarly, Kruythoff identified under-leveraged opportunities in Africa, Indonesia and other emerging personal care markets.
But would Unilever ever venture into color cosmetics? Kruythoff noted that "the rules of the game in color are different," and that synergies in Unilever's current portfolio are relatively low. He concluded, jokingly, "Never say never and never say ever."
Read previous stories in this series: