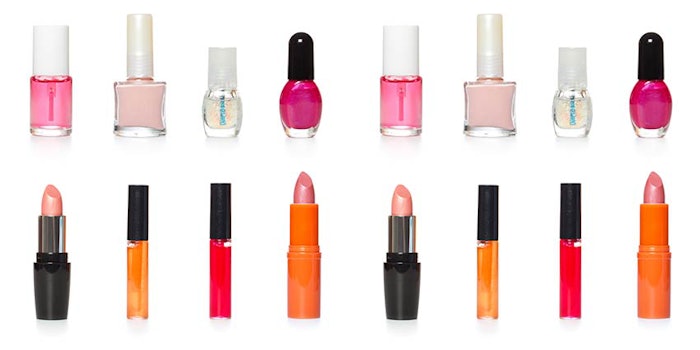 Finalists for the 2018 Cosmoprof and Cosmopack Awards have been announced.
The projects or solutions were selected from 582 proposals submitted by exhibiting companies. The nominees, chosen for their technological appeal, creativity and sustainability, are sorted into five categories each.
Winners will be chosen by a jury of 26 international experts, and will be named at a special ceremony held Friday, March 16th. Cosmoprof  Worldwide Bologna will be held March 15th-19th, 2018.
The Cosmoprof Awards 2018 nominees are
Make Up Product
Bonne Co., Ltd—Metallist Liquid Foil Lipstick Duo
Full Brow—Brow Crayon
Celebeau—Black Serum Pact SPF 50+, PA +++
Riju World Int'l Co.—1Foundation- One Drop Miracle (Air Tint Foundation SPF 22 PA++)
Skin Care Product
Warew—SUSSH Ocean Microbiome Technology Memory Shape Serum
Comfort Zone—Body Active Booster
Lesielle Cosmetics—Lesielle Adaptive Skin Care
Hyundai IBT Co., Ltd—Vitabrid Dual Serum
Nail Product
Nesperta Sp. Z.o.o—Semila Extend Base
Glamlac LLC—GlamLac Nail Concealer, 15 ml.
Beter—Nail Care Overnight Nail Repair Mask
Cosnova—Nailfix & Chill
Hair Product
Laboratorios Valquer SL—Ice Hair Mask 300 ml.
Celeb Luxury—Celeb Luxury Colorwash with Colorposit
Treda Hızlı Tüketim Ürünleri Satış ve Dağıtım Ltd. Şti. —Remove Retouch Pen Facial Liposoluble Wax
Gamma Piu' S.R.L.—Aria and Blade Art Air
Natural & Organic
Qadyp (Perfrance)—Natural Oils with Biodynamic Linseed from France
Previa Spa—Organic Green Walnut Color Shine Treatment
My White Secrte—Day & Night Whitening Toothpaste
Miln Cosmetics S.L.—Aromatica Orange Cleansing Sherbert
The Cosmopack 2018 nominees are
Make Up Formula
Gotha Cosmetics—Second Chance Mascara Drops
Intercos Group—Prisma Lit Highlighter Duo
Regi SRL—Absolute Transformist Foundation
Italcosmetici—Jelly Hydrating Make Up Cream
Skin Care Formula
Cosmax Inc.—Cerimide Cool Keeper
Karys Due SRL—Mask No Mask
Pink Frogs Cosmetics—Warm & Cool Program
Cosmoproject SRL—Petals
 Skin Care Packaging Technology
Toly—Single Bead Dispensing Jar
Baralan—Maria Cristina
Yonwoo—Ampoule Dropper
Lumson Spa—MET-Microchip Embedded Technology
Make Up Packaging Technology
MYC Packaging Innovation Co., Ltd.—Side by Side
Yonwoo—Cushion Lipstick
HCP Packaging—HCP Glitter Storm
Omnicos Group SRL—Bye Bye Brush
Packaging Design
Intercos Group—Graphic Effects Stylographic Pro Eye Marker
Marino Belotti—Brush with Me
CMI Advanced—Hologram Engraving Technology
TaeYang Renew—Airless Cosmetic Dispenser-Lip Glass Bottle