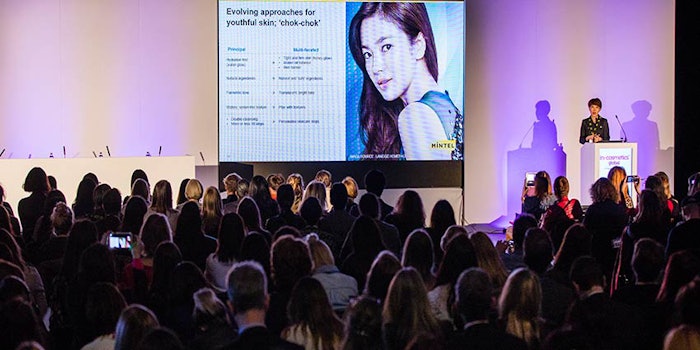 More than 20 new speakers will share their knowledge and expertise at in-cosmetics Global 2018, the event announced.
These include:
A sun care protection workshop moderated by Kal'idees president Karl Linter, Ph.D. featuring Mathias Rohr, Ph.D. and four other experts. Along with a discussion on non-invasive in vivo SPF testing by Hybrid Diffuse Reflectance Spectroscopy (HDRS), the panel will examine the segment's hottest topics, including protecting skin against radiation of the electromagnetic spectrum and regulatory action regarding blue light and infrared irradiation claims.
Emma Fric, head of research and future insight for PeclerParis, will speak at in-cosmetics for the first time. She will lead a Latin American marketing trends session, discussing the culture and beauty trends that will shape consumer desires in the coming years.
Paula Cardoso, head of innovation acceleration at Bloomoon, and Houda Lazaar, innovation business developer, will speak on the acceleration factor for innovation in the industry, and the challenges of rapid innovation on a long-term basis.
A roundtable featuring new speakers Camilla Marcus-Dew, co-founder of ethical luxury personal care brand The Soap Co. and Zeze Oriaikhi-Sao, founder of luxury fragrance, bath and body care line South Africa Malée Natural Science. Each will present their answer to the question "Are Indie Brands Still Worth the Hype?" The panel will be moderated by COSSMA editor Angelika Meiss, and will also include DewGibbons + Partners partner and creative director Nick Vaus.
Additionally, there will be a number of new educational program concepts, including:
'Silent' R&D tours sponsored by Mibelle Biochemistry and Novacap, focusing on two major industry trends: biotechnology actives and the future and anti-aging.
A half-day conference in partnership with Consubat, geared toward regulatory and compliance professionals.
A formulation challenge sponsored by Croda, featuring six leading manufacturers tasked with creating an innovative formulation from a box of mystery raw materials in just 90 minutes. The challenge will be judged by a panel of market specialists.
"Boost Your Test," an interactive area spotlighting human testing, in-vitro testing, and testing through high tech devices. Presented in partnership with Skinobs, categories included anti-pollution, microbiome and anti-aging.
The 2018 in-cosmetics global will be held April 17-19, 2018 in Amsterdam.