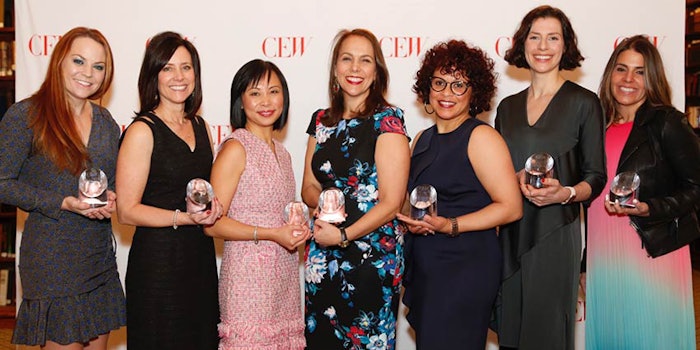 CEW's Top Talent Awards honored the industry's emerging leaders and offered a glimpse into the drive, determination and support necessary to make it in the beauty industry.
Related reading: [update] CEW Announces 2018 Beauty Award Finalists
During the often emotional and celebratory ceremony, Dr. Rukeyser Thompson, PhD, global hair care section head, research and development, Procter & Gamble, detailed her childhood, which included time spent harvesting cucumbers with her family. Her distaste for the work drove her focus on school, she noted.
As for the keys to success, Dr. Thompson said, "Do what you say you're going to do." She added that successful leaders must treat everyone with respect, and thanked her mother and husband for their support.
Ada Lien, senior vice president, global marketing, La Mer, thanked her mother for her strength and drive, which allowed her to bring Lien and her siblings to the United States from war-torn Vietnam. Lien also noted that she broke through in the beauty industry in part by sending a personal note to Leonard Lauder. That personal touch, she said, helped lead to a successful career.
Molly Landman, global brand director, Love Beauty & Planet and ApotheCARE Essentials, Unilever, said that working to create her current brands was a thrilling and fulfilling experience. She encouraged people to be sure to have a great team in order to achieve success.
Sophie Lilley, VP, global business development, Urban Decay, revealed that she balances her personal life and career through running. Running taught her to stop focusing on performance by mile and to concentrate on each individual step and running as hard as she could.
Lilley said it was transformative for her to stop obsessing on keeping pace and to focus on the larger goal. The same happened when she joined Urban Decay unexpectedly and trusted that she could make a contribution.
Lilley concluded by encouraging young women to be free from constraints and to always be open. She thanked CEW for helping mentor her through her career and to "know better."
Barbara Green, head of F&D, NeoStrata Company Inc., a Johnson & Johnson Company, Green, spoke about "mom guilt" and the need to realize that it's OK to work. She noted that women, in particular, require support from their significant others in order to pursue their career goals. 
Similarly, Doreen Bucher, vice president global marketing – fine fragrance, Symrise, said that having a strong support system at home helped her succeed.
Brooke Banwart, VP/DMM fragrance, Sephora, meanwhile, told CEW that the best advice she'd received was to "focus on meeting your clients' needs and enabling your team to deliver; the business will follow."