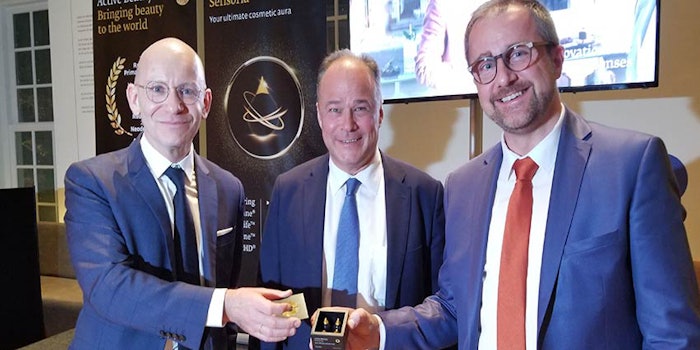 During a private party at the Hermitage Amsterdam during in-cosmetics Global, Givaudan Active Beauty presented Sensoria, a new sensory concept that merges ethical sourcing, cosmetics and fragrance in a single product.
The formulation comprises 10-15% fragrance with active ingredients. Vetivyne is derived from vetiver grown in Haiti, which is produced by a local cooperative.
After the vetiver roots are processed to derive aromatic oil for use in brands such as Diptyque and Love Beauty and Planet, the "exhausted" plant material is reprocessed, or upcycled, using a water-based process to derive Vetivyne.
The multifunctional patent-pending ingredient reportedly restores the whole skin lipids synthesis and increases hydration, decreases skin fatigue, reduces perilabial wrinkles and boosts fragrance long-lastingness.
The Sensoria formulation also comprises Neurophroline, an Ayurvedic extract with stress blocking and anti-pollution activity; BisaboLife, soothing and sustainable bisabolol; and BlurHD, a gardenia extract with anti-aging and antioxidant properties.
The formulation is housed in black and gold droplet packaging and is intended to rejuvenate the skin, while also imparting a fine fragrance aroma.
The multifunctional concept marks the intersection of technology, sustainability and multi-faceted beauty products that offer several benefits simultaneously.