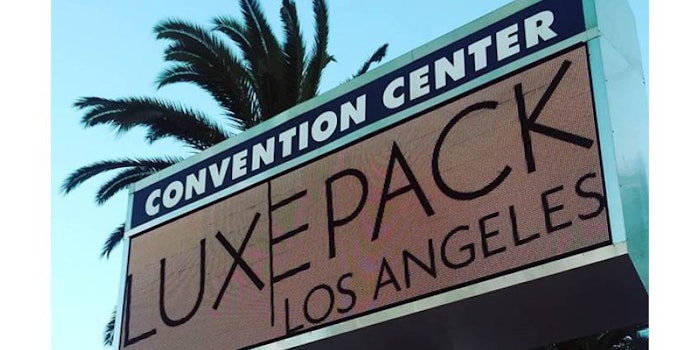 Photo courtesy Luxe Pack's Instagram (@luxepack)
Luxe Pack and MakeUp in Los Angeles welcomed 5,055 attendees between both shows, a 12% increase from 2019. The alliance between Luxe Pack, which hosted 114 exhibitors, and MakeUp in successfully provided the added value to meet the brand's 360⁰ business objectives.
Previously: 23 Must-see Packaging Solutions from Luxe Pack LA 2019
Highlights
The debut of Luxe Pack's Exploratorium was a huge hit. The 32 packaging products showcased at the show entrance guided visitors to the appropriate suppliers with the specific capabilities they were sourcing. From intricate decorative finishes, to high end promotional packaging, to sustainable glass.
Also, well received was the Turbo Talks Green Tour. For the first time, visitors were invited to join a one hour guided tour that took them to specific suppliers that presented their novel sustainable initiatives along with experts in creating packaging elements for CBD brands. The tour took place daily and brought brands directly to the participating exhibitors.
Conference session attendance
Another exciting milestone is the 40% increase of conference session attendance, leaving 11 out of the 13 sessions with standing room only. In addition to having the iconic Frederic FEKKAI himself at the event, pertinent topics and industry pain points were addressed, including the circular economy, refillable and reloadable packaging as sustainable options and white space within the CBD brand landscape.
Luxe Pack New York 2020
Previously: 5 Things You Need to Know About Luxe Pack 2019
Due to its success, the Exploratorium will make a slightly larger appearance during Luxe Pack New York, which is taking place May 6 and May 7, 2020. Similarly, due to the great engagement between the speakers and audience after each session, a Meet the Speakers event may be in the works for Luxe Pack New York 2020.