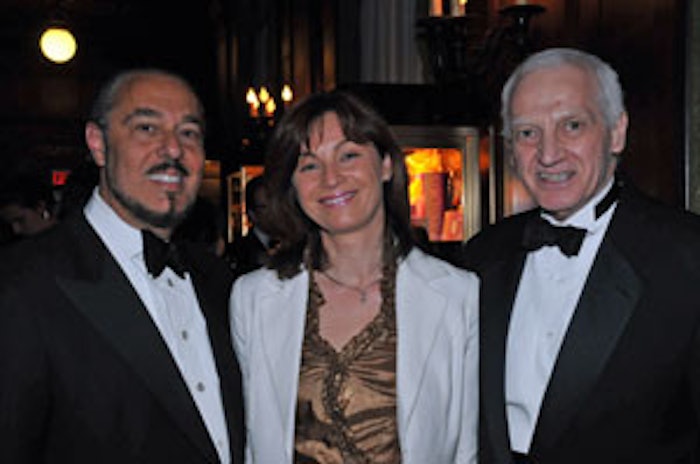 On April 21, the Pratt Institute - Luxe Pack "Art of Packaging Award" Gala, which benefits the "Marc Rosen Scholarship for Graduate Package Design" at Pratt Institute, celebrated the 20th anniversary of the scholarship and raised $250,000. To date, the scholarship has raised more than $1.5 million.
The scholarships are awarded to promising students. Many of the program's graduates have gone on to illustrious careers in bottle and packaging design for the fragrance and cosmetics industry. The 2009 scholarship winners were Daniella Burr, Libardo Molina, Christine Yoon and Jin Ryu.
For the first time, the annual black-tie gala paid special tribute to its previous honorees including Dior Beauty, Clinique, P&G Beauty, Bath & Body Works, Estée Lauder, Coty, Inc., Ralph Lauren Fragrances, Calvin Klein, Lancôme and Avon.
"The Art of Packaging celebrates cosmetic packaging design as an art form," said Rosen, who is also the president of Marc Rosen Associates. "Each unique design creates an image for the brand, and becomes the personification of its style. All of our past honorees exemplify this philosophy in all categories of their beauty business. Their contribution to the art of packaging is a remarkable example to our young designers. All of us here tonight reflect the diversity of our wonderful business. The manufacturers, the fragrance houses, the packaging suppliers, the designers and the press."
In addition, Pratt Institute president Thomas Schutte announced that Pratt has established the Marc Rosen Distinguished Visiting Professorship in Design. The City of New York, Office of the Mayor also recognized Rosen with a citation for his dedication to Pratt's packaging design students and for his contributions to the cosmetics and packaging design industry. Kate Levin, New York City Department of Cultural Affairs Commissioner, presented the citation and Katherine Oliver, New York City Commissioner of Film, TV & Theater, also attended.
Actress Arlene Dahl, who is married to Rosen; her son Lorenzo Lamas; Robert Osborne, Turner Classic Movies host; and WABC-TV "Eyewitness News" anchor and mistress of ceremonies Diana Williams were among the other celebrities and VIPs attending the event.
Speakers, in addition to Schutte, included: Lynne Greene, president, Clinique Worldwide; Rochelle Bloom, president, The Fragrance Foundation; Nathalie Grosdidier, executive director, Luxe Pack New York; and Jason Pivovitsch, Pratt graduate and New Day interactive creative director.