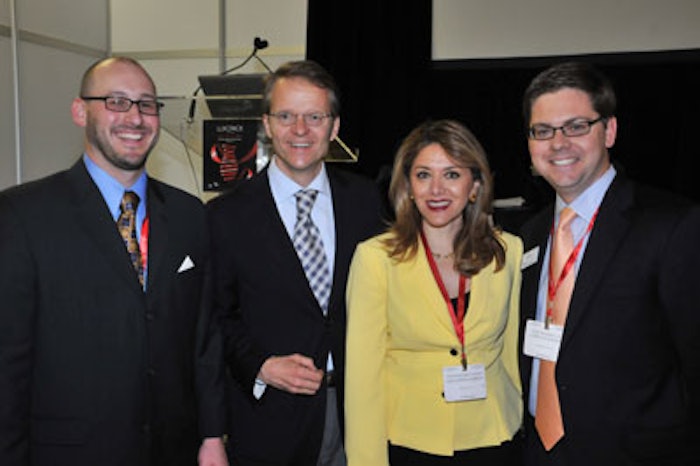 Luxe Pack New York's seventh edition, held May 21–22 at the Altman Building and Metropolitan Pavilion, drew a record crowd of 2,110 visitors—an increase of 5% compared to 2008. The event spotlighted 109 packaging manufacturers, showcasing packaging innovations in the luxury market.
"Luxe Pack New York 2009 was a very strong event, despite the fragile economic situation," said Nathalie Grosdidier, executive director, Luxe Pack New York. "We're delighted that attendance grew and that we maintained a sold-out show. Visitors were met with new products, especially new standard line launches or technologies, which is more important now than ever before."
The Fashion Group International's "Inspiration & Creativity: The Birth of A Brand" seminar featured fashion designer Catherine Malandrino; Nicole Fischelis, vice president, fashion director, Macy's; Fabrice Penot, founder, Le Labo; and Sharon Graubard, vice president, creative director, ESP Trendlab. It was moderated by Pascale Richard, vice president, external affairs, Fi:aF. Material ConneXion also presented "Sustainable Materials for Luxury Packaging."
Panel discussions included "Iconic Packaging ... Defining the Brand" and "Creating Brand Loyalty." Presentations by exhibitors included Alcan Packaging Beauty's "Innovation as a Means to Survive the Crisis" and "What's New in Sustainable Packaging from Exhibitors," moderated by GCI magazine's Jeff Falk and featuring Donald R. Droppo, Jr., senior vice president, marketing and sales, Curtis Packaging; Florian Kohler, CEO, Buttenpapierfabrik Gmund GmbH; and Sheherazade Chamlou, vice president of marketing and global Account Executive, SGD N.A.
On the show floor, Material ConneXion's Innovation Lab—an interactive exploration center designed to provide insight into novel materials—emphasized the essential link between advanced materials and successful design while showcasing the latest material developments alongside a selection of materially distinct products and packaging examples. A display of the 2009 FiFi Award winners, co-sponsored by The Fragrance Foundation, was showcased, and the work of the recipients of the Pratt Institute's "Marc Rosen Scholarship for Graduate Package Design" provided a sneak peak at the future of packaging design.