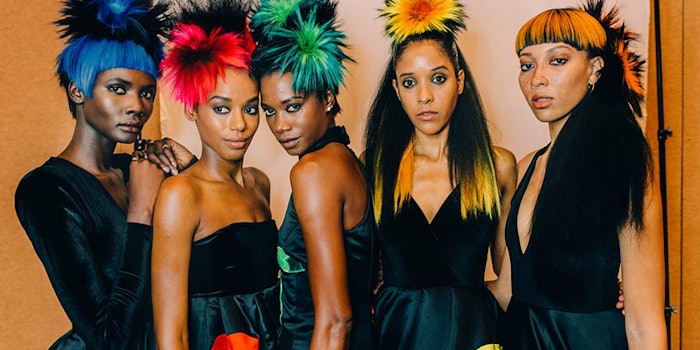 Aveda offered an exclusive preview of its 40th anniversary Aveda Congress global event at the 2018 North American Hairstyling Awards (NAHA) in Minneapolis.
During Aveda's NAHA presentation, five models took to the stage in custom gowns featuring large, hand-embroidered flowers mirroring the colors of the flowers in their hair—flowers made of hair, created by hand-sewn colored wefts of bundled hair, cut to resemble big blooms. The performance was inspired by the brand's tagline, "The Art and Science of Pure Flower and Plant Essences."
Styles showcased Aveda's high-percentage naturally derived hair color. Ian Michael Black, Aveda global artistic director, hair color, was inspired by the "kaleidoscope of colors in exotic orchids in India."
Using the brand's makeup and skin care products, Janell Geason (multi-year NAHA Makeup Arts of the Year and Aveda global artistic director, makeup) led a team to create luminous, neutral-glam looks on the models created to complement, not compete, with the colorful hair and dresses.
A version of the presentation be among the many at Aveda Congress, taking place Oct. 6-9, 2018 at the Minneapolis Convention Center. The event, themed "Know What We're Made Of," will recognize top talent and offer technical and creative presentations.
At the NAHA, Aveda student Ali Haller of Aveda Institute Denver in Highland Ranch, Col., was awarded Student Hairstylist of the Year; her achievement marked Aveda's fourth consecutive win in the category. NAHA awards talent and creative artists across fifteen categories; Aveda artists from the United States and Canada were nominated in seven categories.
"The art is our craft, the science is our hair color, and the plants and flower essences became the visual theme. We're in the middle of our 'Know What You're Made Of' campaign, as well as our 40thanniversary, and bringing plants to life on the stage is the perfect representation of what makes Aveda different," said global artistic director Antoinette Beenders, who spearheaded the presentation. "Congress, people can expect visually rich performances bringing all of Aveda's core values to life. This was just a sample of what to expect at my evening performance, and we can't wait to show everyone what our team has been working on."