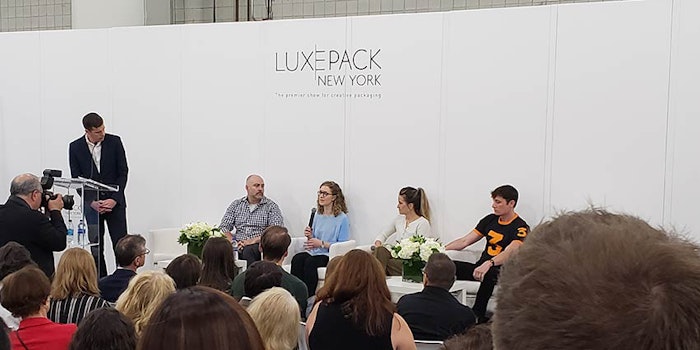 Luxe Pack New York hosted its 17th edition May 16-17, 2019, at the Jacob K. Javits Center in New York City. Here's what you need to know.
The show welcomed more than 3,700 attendees, up 4% over the previous year.
Among the 200 exhibiting companies—who specialize in premium packaging elements for all luxury sectors—were 48 new exhibitors.
Sustainable packaging was front and center: 28 participants submitted their eco-friendly products and CSR initiatives to the 2019 in green Awards. The winners were Nate Packaging, for its 100% PP Resin Stick, which can hold a water based/alcohol based solid formula without drying out; and Ecological Fibers, awarded Best in Green Initiative for its water based, 100% hazardous solvent-free coating operations.
The conference programs recorded record attendance, featuring speakers from Google, Estée Lauder, Cannuka and more. The most popular among the standing room only sessions: Packaging for CBD, Hemp, & Cannabis Premium, moderated by Global Cosmetic Industry editor in chief Jeb Gleason-Allured, during which guests learned the ways premium brands are entering this growing, booming market with compliant and relevant packaging.
Tech Talks, debuting this year, showcased a select group of packaging experts demonstrating technological advances designed to give packaging a competitive edge, including the latest in brand protection, smart packaging and digital solutions. The successful program will return in 2020.
Luxe Pack New York will return to the Javits Center May 6-7, 2020.