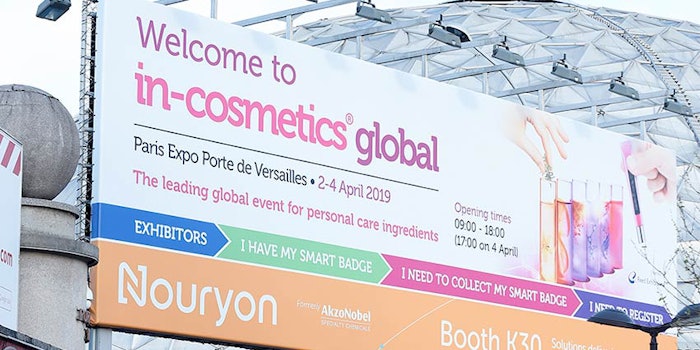 Returning for its 30th year, in-cosmetics Global will feature a heightened focus on beauty tech as the industry is increasingly affected by consumer-targeted innovations and apps. The show is set to take place from March 31 to April 2, 2020 in Barcelona. (Are you launching something at the show? Let us know!)

Related: in-cosmetics Global to Celebrate 30 years

The event is launching the Beauty Tech Zone, which will focus on eight key segments and functions, including smart advisers, smart dispensers, AI driven profiling and visualization tools. The Beauty Tech Zone will bring together relevant tech suppliers, buyers and retailers.
Previously: in-cosmetics Global 2019 Innovation Preview
The Zone will also cover the latest digital and technology solutions for cosmetics manufacturers to enhance consumer experience by improving personalization, selection process or application process of cosmetic products to those in the innovation and strategy roles.
Previously: in-cosmetics Global 2019 launches Global Beauty Day
There will also be a beauty tech focused session within the event's Marketing Trends Theatre, which will run on March 31. The topics will cover the role of technology in personalized beauty, smart beauty and what is driving the latest consumer trends.
Related: The Future of Beauty Tech Has Arrived
Since organizations working on similar concepts often come together to share information, the Beauty Tech Zone will also feature a networking platform for encouraging collaboration and long-term connections between tech suppliers and cosmetic brands.
Additionally, in-cosmetics Global 2020 will also host the #PitchPerfect competition, a new event that will give three exhibitors from the Beauty Tech Zone the opportunity to present concepts to a panel of judges. The most innovative concept, solution or ready-made product will receive the "Best Technology 2020" award.
"We've witnessed a growing demand for beauty products to align with the latest technological advancements, enabling a new breed of personalized beauty and personal care," Roziani Zulkifli, exhibition director of in-cosmetics Global, said. "Recognized as an industry-leading platform for innovation, we felt it was right that in-cosmetics Global 2020 directly addressed this growing sector and made it easily accessible for our visitors. The beauty tech sector is predominantly driven by brand and supplier connections. Recognizing this, we've provided a networking platform that will enable new relationships to flourish."
To receive event updates, or to register to attend visit, www.in-cosmetics.com.