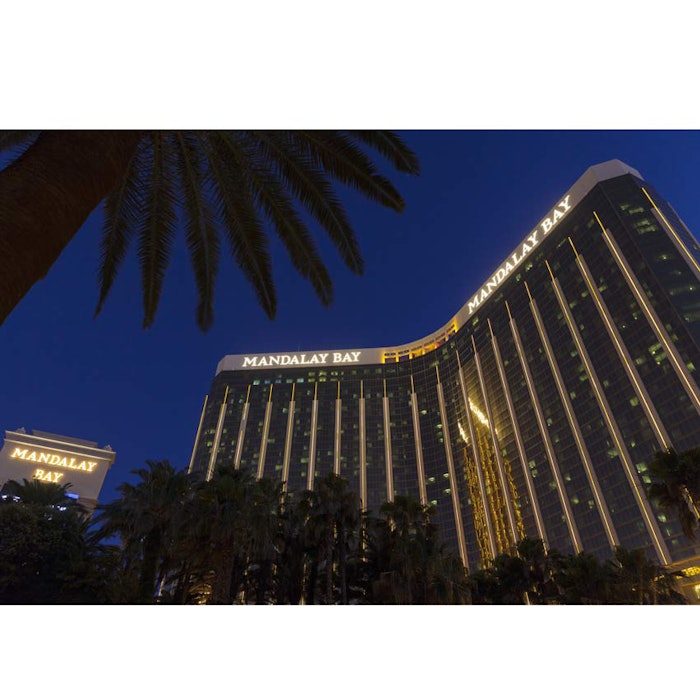 It was a night of beauty, music, innovation and colorful hair. 
The Independent Cosmetic Manufacturers and Distributors (ICMAD) honored three beauty business experts, as well as more than 40 beauty industry finalists (from a pool of 120 entries), during its 12th annual Cosmetic Innovators of the Year (CITY) Awards in Las Vegas on Monday at the Mandalay Bay Resort and Casino.
Who are the top innovators of 2016?
Kicking off the evening's festivities, ICMAD honored three beauty insiders who have made indelible marks on the $56-billion cosmetics industry.  
Harlan Kirschner, The Kirschner Group, was the master of ceremonies during Monday's event. Kirschner started in the beauty business with a few small lines servicing the West Coast in 1984, which ultimately grew to become a thriving global professional sales organization, The Kirschner Group, Inc.
The company offers complete global coverage to manufacturers with more than 100 sales and educational personnel. Kirschner is on the board of the Professional Beauty Association, and is a 2014 City of Hope Honoree.
With their hair colorfully styled in a rainbow of colors, Tish and Snooky Bellomo from MANIC PANIC, who were also former backup singers for Debbie Harry of Blondie, took to the stage. They showcased their musical talents and their story of how they started from a small shop in New York City that sold hair coloring, clothing and other fun items, mostly to punk rockers and club kids, and later evolved into a global sensation featuring their rainbow assortment of MANIC PANIC hair color and cosmetics. 
What was the key to their success? The Bellomos told the audience they were adaptable and learned things along the way such as selling their product to record stores, tattoo parlors, and at nightclub and fashion boutique shows because they didn't really fit in the traditional beauty space. Initially, they didn't know what niche marketing was, but they did it, they said.
Finally, ICMAD CEO Pamela Busiek concluded the evening's festivities by telling the audience, "I encourage you to think out of the box."
Here are the finalists with the winners in bold:
Product Innovation
Product Color Cosmetics: 
Cover FX, Cover FX Custom Cover Drops

IT Cosmetics, IT Cosmetics Superhero Elastic Stretch Volumizing Mascara

Palladio Beauty Group, FIFTY-FIFTY Cat-Eye Liquid Liner + Smoky Kajal

Product Facial Skincare:
Bioelements, Plump Start

BioMimetic Laboratories, Inc., Erasa XEP30

Patchology, Patchology SmartMud
Product Bath/Body/Fragrance:
Coastal Salt & Soul, Blissful Body Butter

Vita

Liberata

, Vita

Liberata

3-In-1 Self-Tanning Dry Oil SPF 50

Whish

Beauty, Rice Milk Firming Body Cream
Product Haircare: 
Fairy Tales Hair Care, Fairy Tales Rosemary Repel Line

HATCHBEAUTY

PRODUCTS

LLC

, Body Breakthrough Volume Boosting Hairspray

Lotus Rx, Lotus Rx Hair Solution
Product Accessories & Tools: 
Clarisonic

, Alpha Fit

FOREO

,

FOREO

IRIS

TEMPTU

,

TEMPTU

Air
Package Design 
Innovation
Package Color Cosmetics: 
gloProfessional

, Suede Matte Crayon

HCT

Packaging,

Lilah

B. Divine Duo Lip And Cheek

IT Cosmetics, IT Cosmetics Superhero Elastic Stretch

Volumizing

Mascara
Package Facial Skincare: 
AMOREPACIFIC

, Age Correcting Foundation Cushion SPF 25

Elizabeth Arden, Elizabeth Arden

Superstart

Skin Renewal Booster

World Wide Packaging,

NuFACE

24k Gold Gel Primers
Package Bath/Body/Fragrance: 
Besame

Cosmetics, Decades of Fragrance

Eau de Parfum

50ml

Defineme

Fragrance,

Defineme

Fragrance Oil Collection

Thymes

,

Frasier

Fir Ceramic Poured Candle 3-Wick
Package Hair care: 
amika

,

amika

Silken Up Dry Conditioner

FHI

Brands, Stylus

World Wide Packaging,

StriVectin

Hair N1A114 Technology
Package Accessories & Tools:
invisibobble

,

invisibobble

POWER

IT Cosmetics, IT Cosmetics Love Beauty Fully Love is the Foundation Brush

Japonesque

,

Japonesque Kumadori

Brush Collection
Marketing/Advertising Innovation Print
Best Cause Marketing:
Iredale

Mineral Cosmetics Ltd, Rise Above With Love: Breast Cancer Awareness Campaign For Living Beyond Breast Cancer

MENAJI

WORLDWIDE

LLC

, Clear Shave 3-in-1 Formula

Obliphica

Professional,

Obliphica

Professional
Innovative Launch Campaign: 
Cover

FX

, Cover

FX

Custom Cover Drops

Gavee

Gold Collection,

NewBeauty

Innovative Launch Campaign

IT Cosmetics, IT Cosmetics Superhero Elastic Stretch

Volumizing

Mascara
Member's Choice Product: 
Amazing Cosmetics, Amazing Cosmetics Corrector

Elysee Scientific Cosmetics, Inc., Elysee Time Out-

Ap

Age-Defying Moisturizer

Flip-It! Cap Company, Flip-It!

Luxury Lady Ltd.,

ChinUp

Mask
Member's Choice Package: 
Bellapierre

Cosmetics, Precious Diamonds Instant Cellular Wrinkle Eraser

HYNT

BEAUTY, Aria Pure Lipstick

Nosco

,

Modere

I/D

RST

, Inc.,

Oreve

Beauty LED

Peptide

Correcting Serum