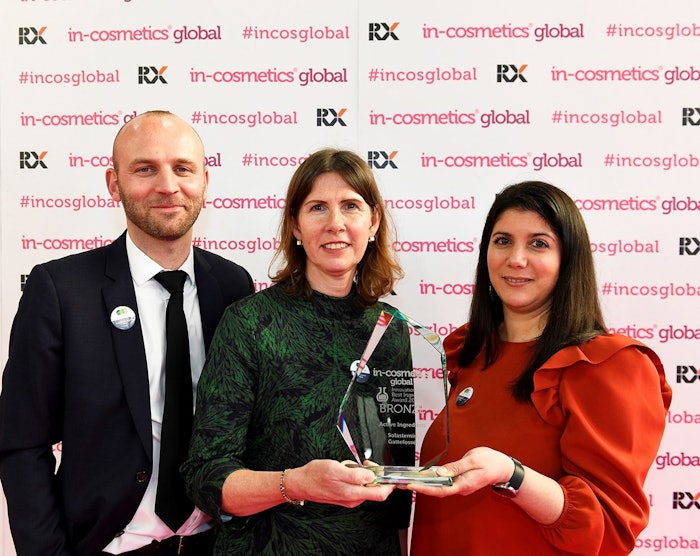 in-cosmetics Global has announced the 2023 finalists for the Innovation Zone Best Functional and Active Ingredient, Green Ingredient and Rising Star awards. The winners will be announced at the event in Barcelona on March 28, 2023.
For the Innovation Zone Best Ingredient Award, judges will be looking for the ingredients that best combine science and product features in a way that demonstrates substantial benefits to both manufacturers and end-users when compared to existing ingredients.
The Green Ingredient Award, in partnership with Ecovia Intelligence, is set to recognize ingredients that make a significant contribution to the industry's efforts to be more sustainable. The ingredients were required to have been launched within the last two years and have current applications in cosmetics products.
And finally, the Rising Star Award recognizes a first- or second-year exhibitor for their range of offerings, innovation and commodity, as well as how solutions-orientated their product range is.
Innovation Zone Best Ingredient Award Finalists
ALGAKTIV  Collage by ALGAKTIV
Altheostem by Provital, Do Care
BICOBIOME by Bicosome
CALMandrin by Mibelle Biochemistry
Evermoist AGG-50 by Sino Lion USA
HOLOBIOSYS by Greentech
Immunight by IFF - Lucas Meyer Cosmetics
PHOTOBIOME – The Microbiota Photoprotector by VYTRUS BIOTECH
ReviScalp by IFF - Lucas Meyer Cosmetics
V/WA by LipoTrue
 Functional Ingredient Award Finalists
Aristoflex Eco T by Clariant
AURIST AGC by IFF
Emulium Dermolea MB by Gattefossé
EstoGel Max by PolymerExpert
SEPILIFE G305 by Seppic
SilSense Bio 5 emollient by Lubrizol Life Science
SOFTISAN MagicPOWDER S by IOI Oleo GmbH
SymEffect UV by Symrise AG
TEGO FILMSTAR One MB by Evonik Operations GmbH
WorléeSuspens Eco by Worlée-Chemie GmbH
Green Ingredient Award Finalists
Aristoflex Eco T by Clariant
A-Sensofeel MFC by Minasolve SAS
Betafib ETD by Cosun Biobased Experts
Faba TONIQ by The Upcycled Beauty Company
GREENQUAT BT by SOCRI – Greengredients
Rootness Awake by Clariant
SeaBalance 2000 by Carbonwave
SWEETONE LIQUID BIO by Laboratoires Expanscience
VITACEL CS 30 Oat by J. Rettenmaier & Söhne GmbH & CO KG
Xpozuki biotech ingredient by Lubrizol
Rising Star Award
·ACTV Biotechnology
Atanor 118
Carbonwave
Glia Innovation
Microphyt
MyMicrobiome
SCENTMATIC,inc
Sequential Bio
Swedish Algae Factory AB
The Upcycled Beauty Company
Roziani Zulkifli, exhibitions director at in-cosmetics Global, said, "Congratulations to the shortlisted exhibitors. The awards are the culmination of so many months of hard work for R&D teams across the world and we can't wait to see all of this innovation come to life at the show."