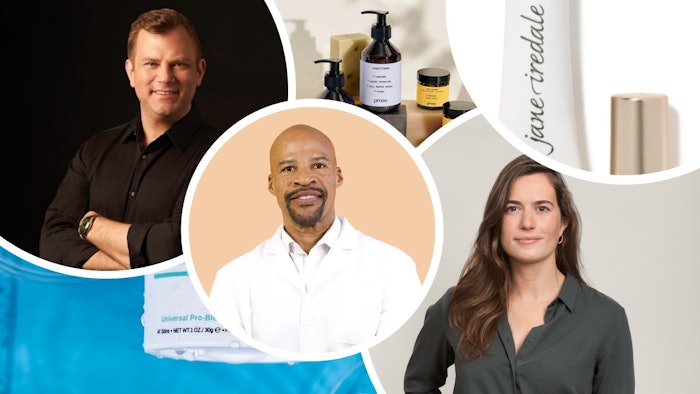 [WATCH THE FULL VIDEO BELOW] Fifty-three percent of U.S. beauty and personal care users research ingredients to better understand the effectiveness of products, according to Mintel, highlighting a growing focus on efficacy. Meanwhile, a Euromonitor report found that 25% of respondents want brands to be transparent regarding ingredients, a 5% jump between 2021 and 2022.
In addition, "38% of consumers said they prefer natural or botanical ingredients to a lower price," signaling the primacy of "clean" over "cheap."
Finally, in Q1 2023, clinical brands grew faster than natural brands in the prestige sector, driven by an array of new launches.
Collectively, this data points to the need for clean, clinically proven beauty without tradeoffs. And, notably, the trend is expanding beyond the bounds of skin care, impacting the hair and makeup sectors.
These topics were the subject of Beauty Accelerate Virtual''s recent "Cleanical Beauty" mini forum, featuring Marie Mignon, chief scientific officer, Prose; Ron Robinson, CEO and founder, BeautyStat; and Chris Payne, CEO of jane iredale. While the full event is accessible on-demand for current and new Beauty Accelerate registrants, we are providing a free preview of the full conversation above.
About Our Experts
Marie Mignon is the first-ever appointed Chief Scientific Officer at Prose, the direct-to-consumer beauty-tech company pioneering the next generation of CPG; one that offers truly customized products and counters mass production. In her role as Chief Scientific Officer, Mignon is responsible for setting scientific priorities that align with the vision of our company, and overseeing scientific operations including Data Science and R&D. Marie now leads a merged team of Prose's two main areas of expertise: R&D and Data Science and will continue to strengthen Prose's unique approach to product development combining Chemistry and Algorithm Learning. Mignon joined Prose as one of the first employees, and has demonstrated over the last five years her extensive scientific knowledge, extraordinary management capabilities onboarding and mentoring the R&D leadership team, and expanding her scope to new verticals with scientific measurement and scientific communication in 2022. She has led the development of Prose's whole product portfolio and instilled the Review and Refine feature, the feedback loop that enables Prose chemists and data scientists to continuously optimize the ingredient list and algorithms. Prior to Prose, Mignon was at L'Oreal where she led breakthrough innovation projects, worked on disruptive technologies in hair care and hair color domains, and filled out over 30 patent applications. After nine years, she left to join Prose, even before the website had launched and there were final formulas, because she believed Prose could affect a change of paradigm in the cosmetic industry. Mignon graduated with a Master's Degree in Science and Engineering from AgroParisTech. She currently resides in Paris, France. 
Recognized as one of the world's leading cosmetic chemists, Ron Robinson, CEO and founder of BeautyStat, set his goal to develop a revolutionary new technology to stabilize active ingredients such as pure vitamin C. After spending his entire career trying to solve this problem and five years in the lab, he finally did. And, as a result, his brand, BeautyStat, was born with the world's first 20% stable vitamin C serum, the Universal C Skin Refiner. No other product on the market contains the same potency. Since its launch in 2019, BeautyStat has grown rapidly as a company, developing a whole line of award-winning skin care products—from the Universal Skin Refiner to eye cream, cleanser, moisturize, and facial oil. The line has won 11 beauty awards from Allure, Good Housekeeping and Women's Health. Robinson also recently won Glossy's 2022 Glossy 50 award for being one of the industry's biggest movers and shakers and won the Byrdie Award for Best Formulator. BeautyStat has found tremendous success on-shelf as it expands its distribution into several retailers, most notably, Ulta Beauty. This year alone, as a direct result of its sales performance, over-delivering on the sales forecast, BeautyStat went from being in 260 Ulta Beauty doors to more than 1,300 doors nationwide. Robinson has accomplished so much in his more than 20 years of experience in the beauty industry, including developing Clinique's best-selling products, leading the product development roles for L'Oreal, Revlon and Avon, and advising on Hailey Bieber's Rhode skin care line. Having launched BeautyStat just three years ago, he is only getting started. 
Chris Payne is the CEO of jane iredale – The Skincare Makeup, the pioneering clean beauty brand best known for makeup that improves the health of the skin. Having served more than 20 years in beauty executive roles, Payne has a proven track record driving brand growth and engagement with an eagerness to improve the status quo. Since joining jane iredale in 2019, he has worked to uphold the brand's iconic role within professional beauty while fostering brand loyalty in a new generation of clean beauty enthusiasts, driving more than a 130 percent increase in retail account openings within one year. Prior to jane iredale, Chris served as CMO for PCA Skin where under his leadership, the brand more than doubled its revenue within two years and was successfully acquired by Colgate-Palmolive. Chris was also Senior Vice President at Arcade Beauty and Vice President at Clarisonic. He helped build the Clarisonic brand into a household name and was instrumental in its sale to L'Oréal in 2011. He has held various roles with L'Oréal and began his career in the buying office of Dayton's, Hudson's and Marshall Fields. He credits this start in retail for his ability to deeply understand consumer behavior and improve the operational experience between retailers and brands. Chris holds a Bachelor's Degree in Anthropology from the University of Michigan, and splits his time between the company's headquarters in Great Barrington, MA and New York City. Chris enjoys traveling to new countries and experiencing new cultures, is an avid fisherman, golf enthusiast and a die-hard fan of the Michigan Wolverines.