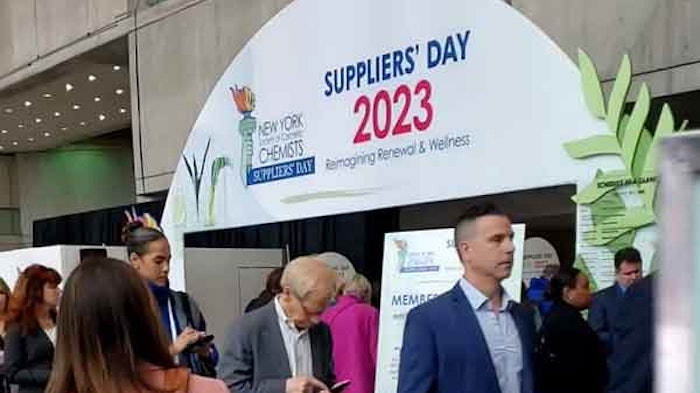 More than 7,800 in-person and 300+ virtual attendees pre-registered to attend NYSCC Suppliers' Day 2023, held May 1-3 in New York. The first day of the exhibition, many companies reported good booth traffic even with attendees spread out across additional exhibit space, compared with last year.
See related: 15+ Trends in Cosmetics Innovation at in-cosmetics Global 2023
Some suppliers observed that more conservative manufacturers have lifted travel restrictions, permitting key customers to attend this year's show. In relation, many companies shared that they had good and meaningful conversations and meetings. 
8+ high level key concepts shared and showcased this year included the following.
1. Skin Health and Wellness
DHA for self- tanning as an alternative to UV exposure
A phage to target C. acnes, which also relates to the microbiome
Improving skin glow (not brightening but natural radiance)
Barrier repair
"Knowing your skin's boundaries"
"Forgotten" body parts (i.e., face ingredients moving to the body)
Peptides for skin
Live probiotics, postbiotics
Sleep to improve skin health, immunity through the melatonin pathway
Boosting innate antioxidants
Cellular/mitochondria targeting - biological beauty
Microbiome "exploding" in personal care - used to be niche but is now more widespread (but how to educate consumers?)
2. Replacement Ingredients
D5 to replace D4
Natural bakuchiol alternative to retinol
Bio-based surfactants; for example, one derived from upcycled beet processing waste
3. Emotion in Beauty
Measuring galvanic response to both products and ingredients
Including neuro-experts in product testing
Ingredients to de-stress and focus on psychodermatology
Product forms to aid in the de-stress process (e.g., lotion beads massaged into skin)
4. Sensitive Skin
Sensitive skin testing
Identifying biomarkers for sensitive skin
Skin model with human nerves
Skin allergen testing
5. 'Rinse-ability,' Hair Repair and Growth
"Rinse-ability" claim (e.g., lower carbon footprint, less water use, cooler water required)
Hair testing for bond-like efficacy
Hair growth and examining the hair bulb
Improving hair softness and strength
Hair conditioning
Oat peptide for hair damage
6. Indie Focus
Collections created for indie brands to teach growing brands about ingredients early (before they grow big)
Indie brands are leading the industry because they are closer to consumers
7. Texture and Sensory
Emulsifier in gel that can create light, medium and heavy formulas by changing only the water content
Thickening
Non-whitening and powdery feel sunscreen
Shine and softness in hair
8. Sustainable and Natural
Natural/sustainable + performance/efficacy (sacrificing some naturality for efficacy)
Sustainability testing
Testing biodegradability
"XX% Biodegradable" claim - the numeric value must be  given for the Green Deal in Europe - not just a claim of "biodegradable"
Natural alkyl benzoate
"Different dimensions of sustainability" - traceability, transparent, etc. - all interpretations must be taken into account in ingredient/formula development
Water savings
Upcycled ingredients
Cold processing
"Re-imagining natural"
Responsibility and socially progressive programs
Honorable Mentions
Azelaic acid
Skin brightening
Nutricosmetics
Synthetic biology/green biotech
Multifunctionals - e.g., preservative "boosters" that also act as solubilizers; ingredients that work across various product categories for multiple effects
Inclusivity
Advocating for sunscreens in the U.S.
Liposomal delivery - phospholipids
Interest in scalp care especially in North America
Lightweight and sensorial sun protection/SPF-boosting
Digital technology to trace ingredients or select ingredients based on performance parameters, sourcing parameters, etc.