WWP Beauty
15 Vreeland Road
Ste. 4
Florham Park, NJ 07932
United States
Company Description:
WWP Beauty is committed to developing future-focused, sustainable solutions for the global beauty industry through close collaboration, exceptional agility, and unparalleled scale. The company's full-service offering of formula, packaging, and accessories, paired with their in-house manufacturing capabilities allow them to stand out as the source for everything beauty. Through a worldwide team of beauty experts that span across North America, EMEA, and APAC, WWP Beauty offers their customers global support at the local level. To learn more, visit our website at www.wwpbeauty.com.
Products and Services:
We have solutions. You have options.
Packaging, formulation and accessories for every category of beauty.
Color cosmetics
Skincare
Haircare
Body Care
Fragrance
Personal Care & Wellness
WWP Beauty 6R's of Sustainability: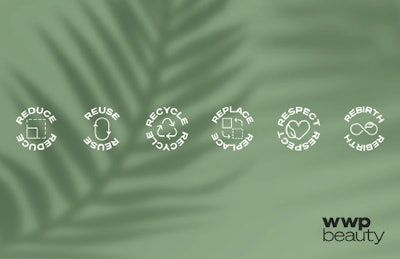 WWP Beauty is the ideal partner to deliver on your sustainability targets with measurable improvements in the following categories:
Reduce: Lighter components with less parts and reduced GHG emissions
Reuse: Designs that can be easily refilled to meet the growing demand for reusable packaging
Recycle: Material and design to improve recyclability including mono-materials, disassembly, and natural labeling options
Replace: Replacing conventional plastics with high performing bio-resins and post-consumer recycled materials to reduce environmental impacts
Respect: A company-wide commitment to source, design and produce with respect for the earth
Rebirth: Giving what would have ended up as waste a second-life/ rebirth back into the packaging or material stream.
2021 Product Launches
2021 Sustainable Stock Packaging Launches – Cutsie Collection, Mindful Collection, Mono-Material Jars, Touchless Sustainable Tubes Collection, Refill Revolution Collection, ColorVue Lipstick, & Side Effect Dropper
2021 Turnkey Launches – Es•sence, BlueLight, TwiLight, Zero+
2021 Award-Winning Design – ColorVue Lipstick, 2021 Pentawards Winner; Re•fil Beauty Balm by Birchbox, 2021 Pure Beauty Awards Winner; Refill Revolution        Multi-Use Body Stick, 2021 GWBA Hygiene Award Winner; Refill Revolution Multi-Use Cheek Stick, 2021 GWBA Makeup Winner; Eco-Pac Tube, 2021 GWBA Skincare Winner