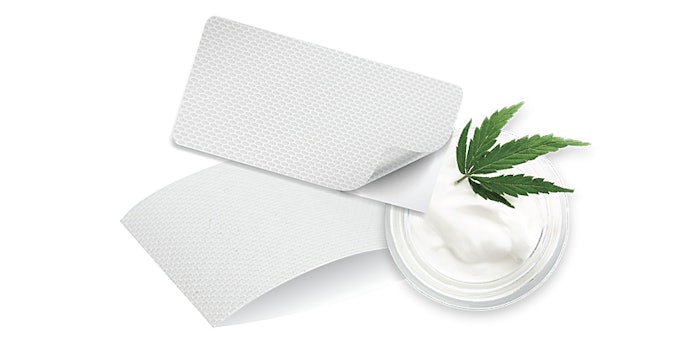 Image source: TaikiUSA
TaikiUSA's Bōshi Fiber uses a nanofiber manufacturing process, creating dissolving waterless products.
Featured: Formulating Forum: Creating Waterless and Water-efficient Cosmetics
Bōshi Fiber is a sustainable, patented delivery system for waterless products, cutting out the need for emulsifiers, fillers, modifiers and other additives.
Two technologies that are currently offered by Taiki are Bōshi Nano Strips and CBD Soothing Nano Strips.
 Bōshi Nano Strips 
There are four nano strip offerings: a 3-in-1 cleanser; a hyaluronic acid moisture booster; an anti-acne solution; and a skin soother. 
The Electro Spun Bōshi fiber technology uses just a few active ingredients to create simple formulas. 
Multi-function 3-in-1 cleanser: The jojoba oil in the formulation helps to break down makeup as a massaging motion initiates product transformation into a gentle exfoliator using biodegradable cellulose. This then shifts to a foaming form that lifts away all makeup residue, leaving behind cleansed, moisturized skin that is also treated with Abyssinian oil and vitamin E.
Hyaluronic acid moisture booster: Formulated with sodium hyaluronate, the ingredient ensures quick and effective delivery of moisture with reportedly no preservatives. Pair with a moisturizing toner for double-duty delivery of actives and hydration.
Blemish preventer: Taiki developed as a full-face blemish treatment with efficacious levels of salicylic and mandelic acid plus cica, allantoin and hyaluronic acid to soothe, moisturize and brighten skin.
Calming irritation & inflammation soother: Infused with cica and oat extract to calm skin irritation and provide soothing benefits, this soother is ideal for use after a chemical or mechanical peel, waxing or as an after-sun treatment.
Bōshi CBD Soothing Nano Strips
These waterless wellness nano strips dissolve to deliver 10 mg of CBD with a blend of hyaluronic acid to soothe, calm and hydrate the skin. Similar with other nan strips, the company's Electro Spun Bōshi fiber technology is used to create the formulation. 
Currently offered are CBD soothing patches made with a blend of CBD and hyaluronic acid to promote balance and wellness as well as to absorb quickly, leaving the skin moisturized. These strips are a solution for troubled, stressed out and irritated skin. According to the company, the CBD strips are open to customization using the brand's own source or blend of CBD.
Previously: TaikiUSA Appoints Executive Director of Sales